A beautiful woman is one thing, but when she's also fit and athletic, we start ogling, oohing and aahing. We just can't help ourselves. The girls that do this to us without fail are babes from the world of sports.
So, let's look at our choice of the sexiest female athletes and tell us if you feel the same. Of course, don't forget to tell us about your favorites in the comments.
By Category
Quick navigation won't work without allowing this page to load fully.
Hottest Female Athletes
Michelle Jenekke
Born in 1993, Australian sprinter and model Michelle Jenneke became an internet sensation way back in 2012 with her hot little warm-up routine. Besides a cute face and incredible smile, this Aussie brunette has a tight athletic ass that will leave you at a loss for words.
Winifer Fernandez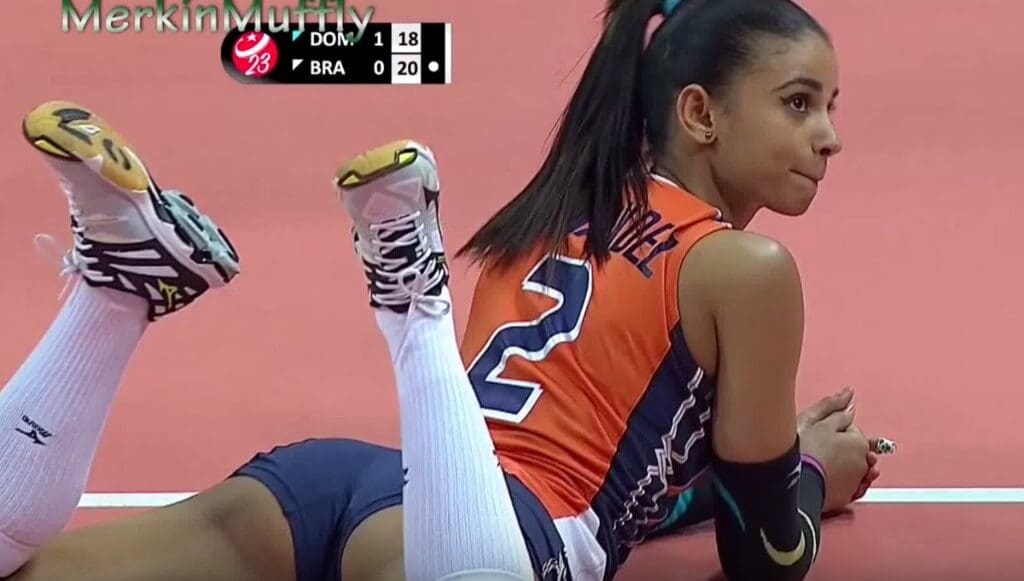 If this photo of Winifer Fernandez doesn't get you hooked on female volleyball, we don't know what will. Born in 1995, this Dominican babe is among the hottest female athletes to play in sports. You can check out even more of her sexy photos in shorts and bikinis on her Instagram account.
Caroline Wozniacki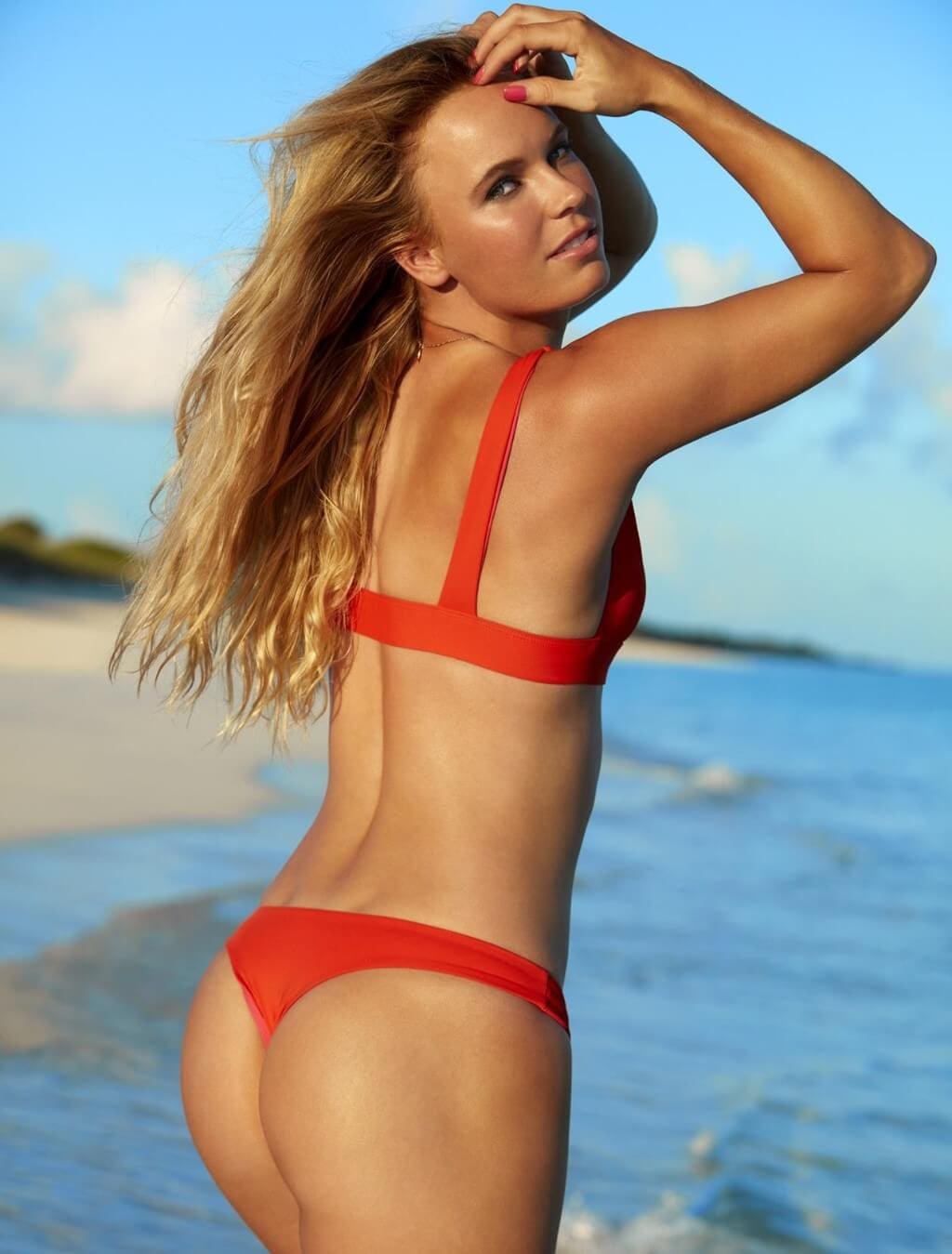 Look again because that's not a swimsuit. Top Danish tennis player Caroline Wozniacki decided to show off her natural body on a beach in bodypaint for sports illustrated and left us with jaws dropped. Anyone that wants to see more of her mouthwatering body and what she is or was up to, from the start to this day,
Amandine Hesse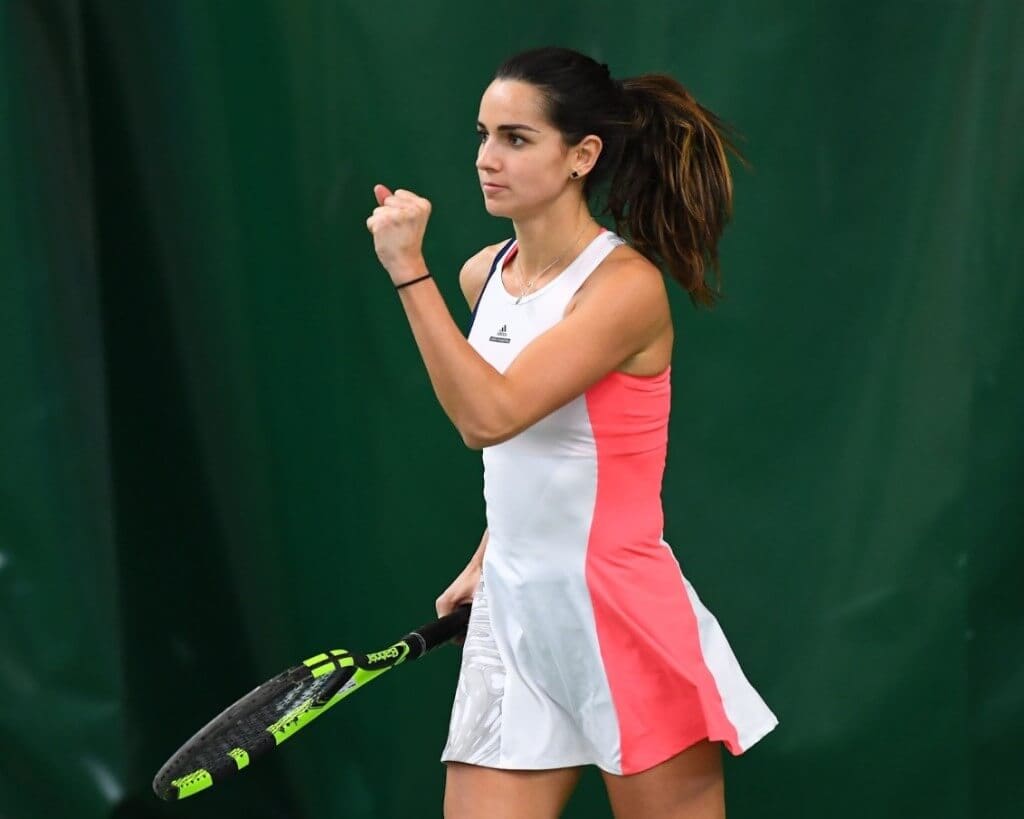 Imagine being the ball boy behind a brunette babe like Amandine Hesse. I, for one, would be running into walls and tripping over my feet. This French tennis pro was born in 1993 and has had only moderate success by reaching 154th on the ITF rankings.
Hilary Knight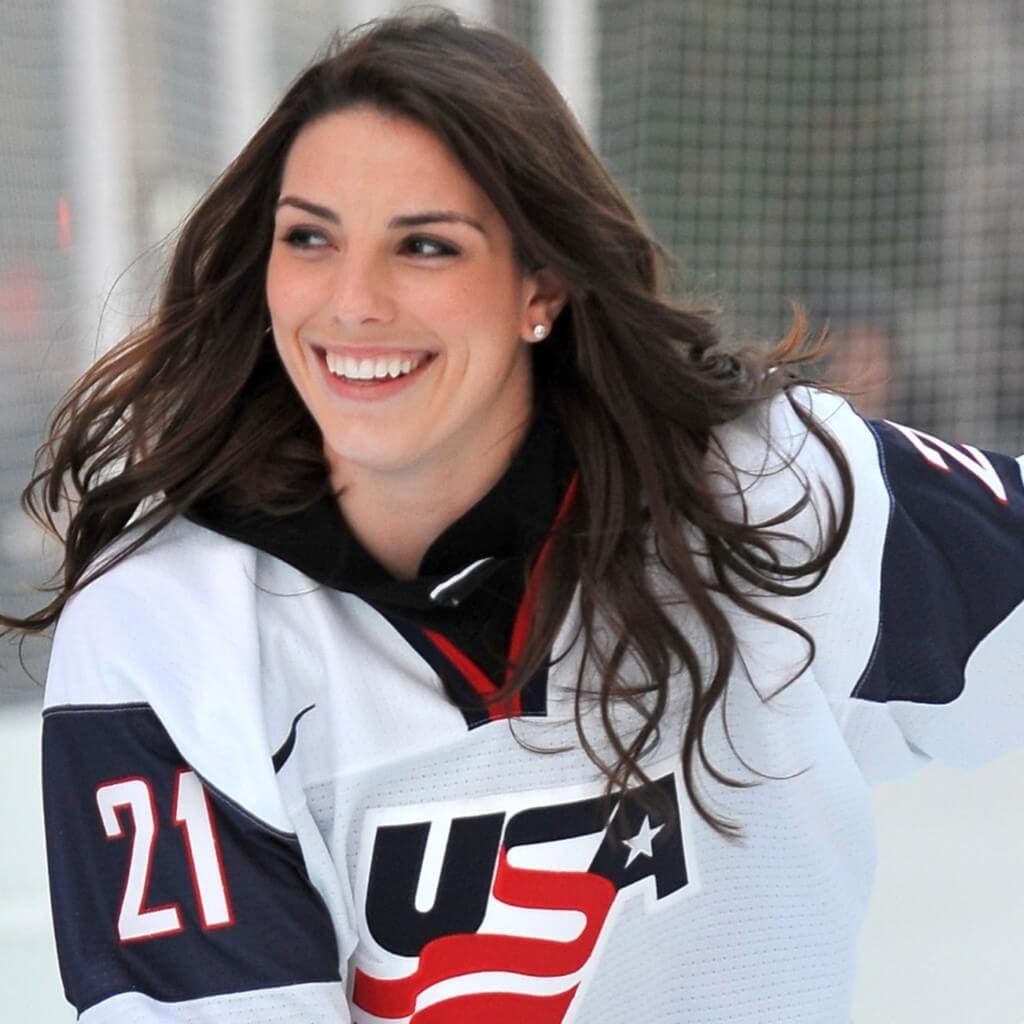 Those are some great abs and strong arms, but Hilary Knight also has a sweet pair of tits, even though she's hiding them. As an ice hockey star, Hilary plays forward for the US women's national team and Les Canadiennes de Montreal. You can follow her on IG, but you'll probably sleep off after a few photos.
Anastasia Ashley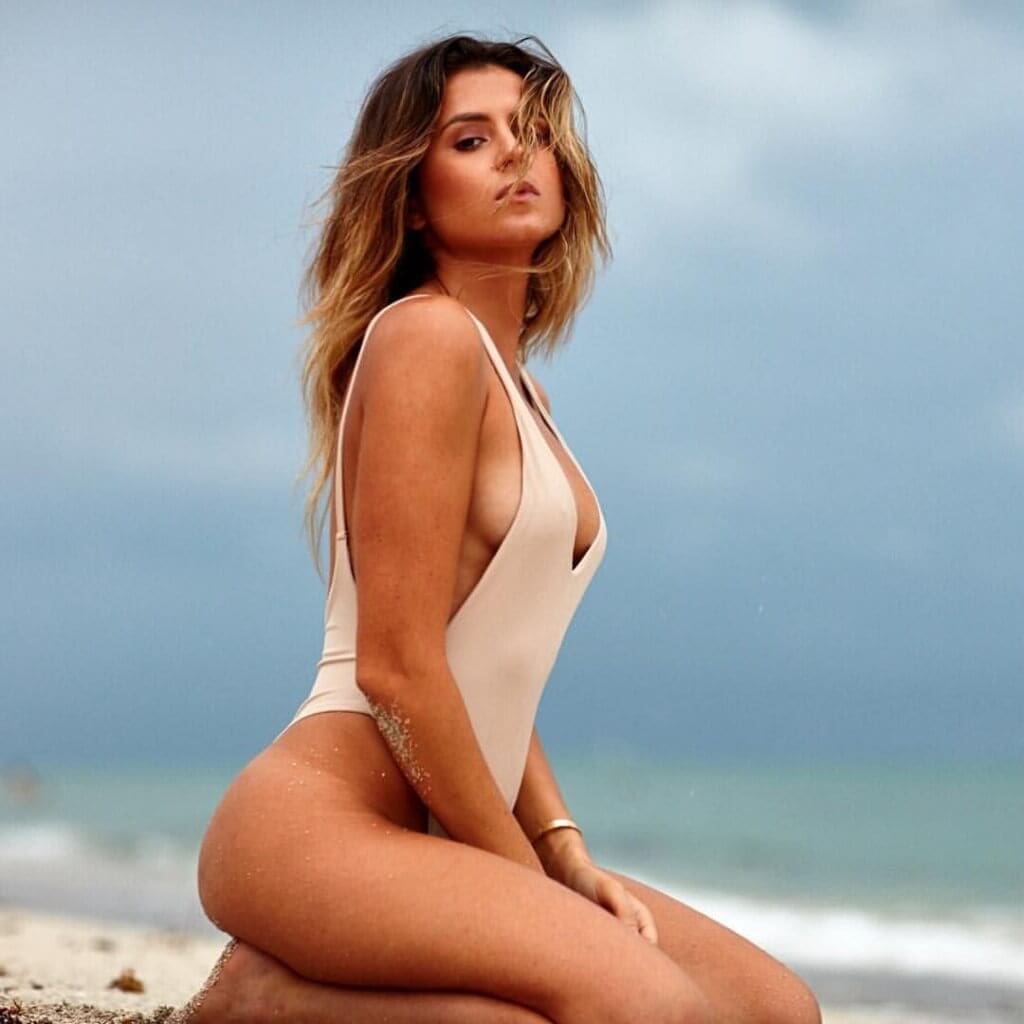 San Clemente, California, Native Anastasia Ashley is a pro surfer who was born in 1987. As you can imagine and see, a babe that surfs for a living has a great body. Don't miss out on her sexy Instagram photos.
Allison Stokke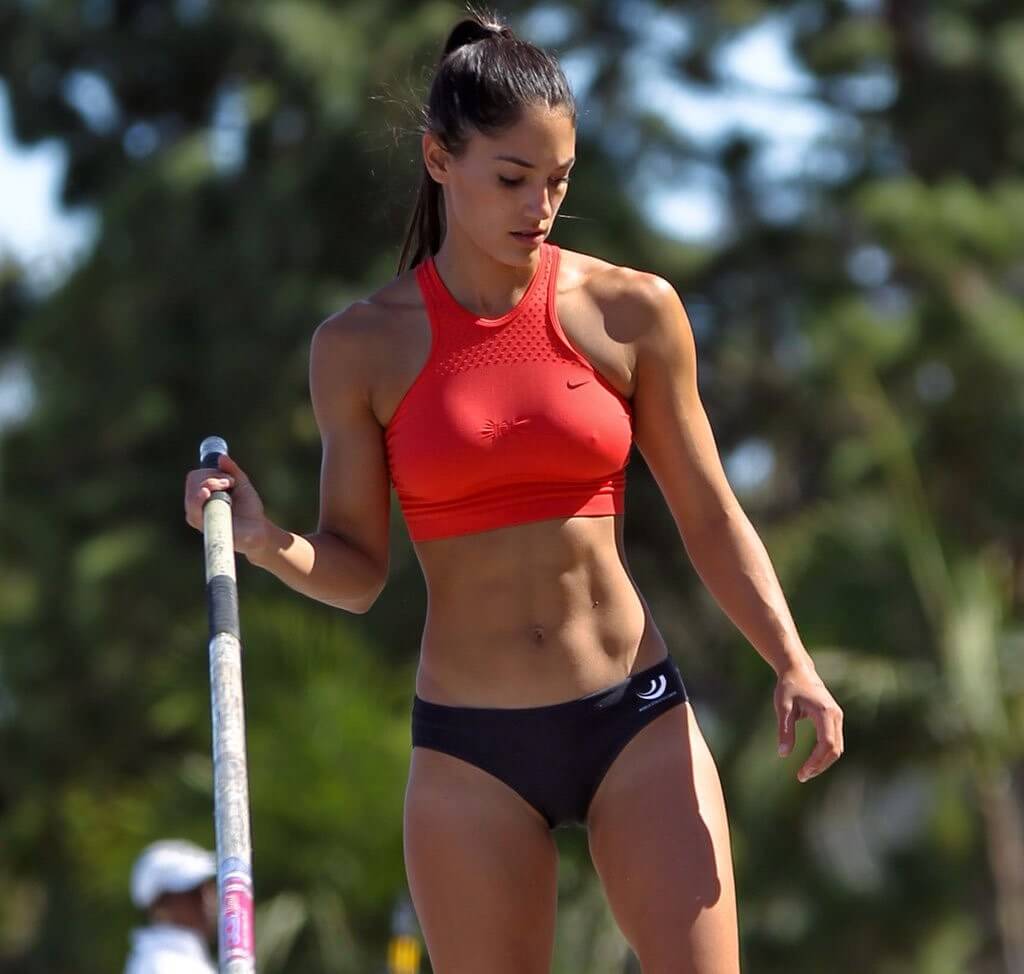 If anyone mentions sexy female athletes, we instantly imagine Alisson Stokke. This track and field college athlete born in 1989 broke numerous records and gained countless fans with her pics in tight spandex.
Since leaving college, she has modeled for Nike and continues to show off her perfect athletic body.
Natasha Hastings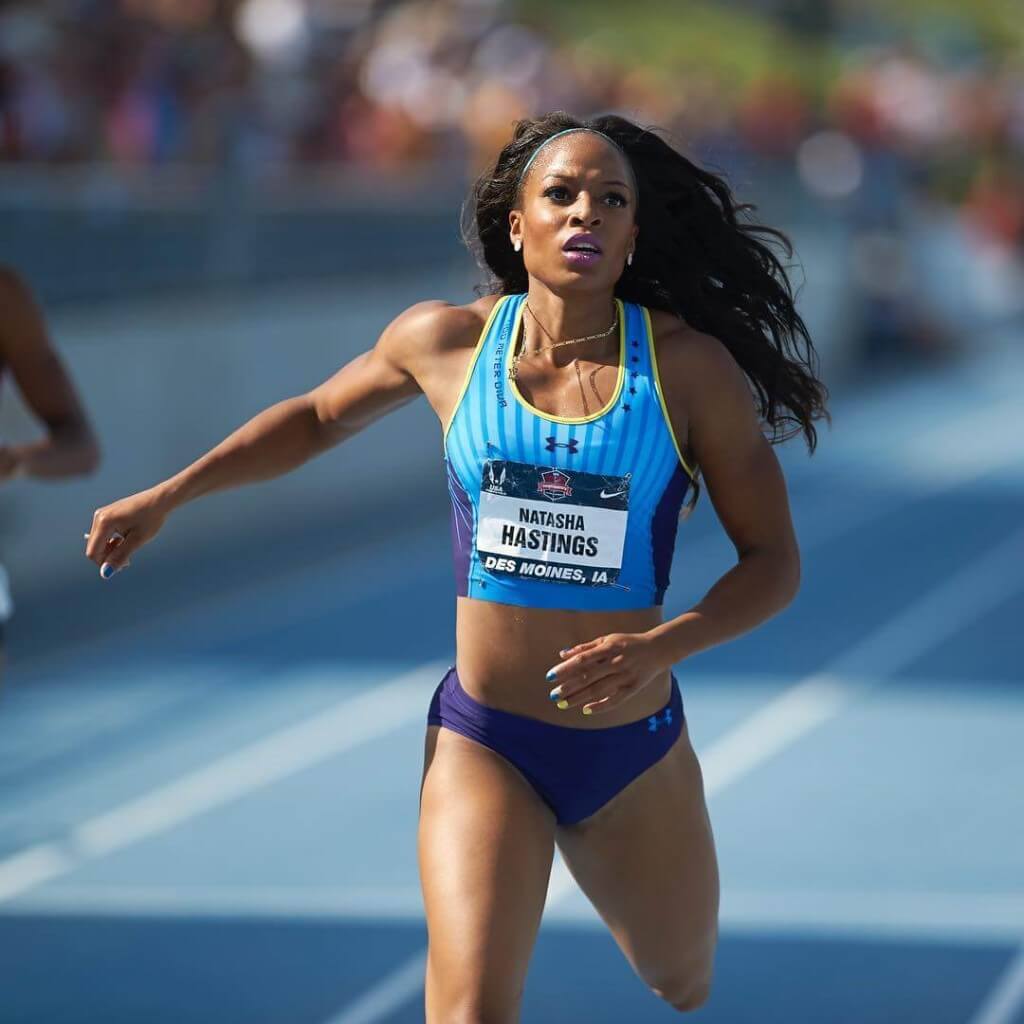 A 30-year-old by now, Natasha Monique Hastings is a successful American track and field sprinter with a long list of podium finishes at the Olympics. But, as you can see, we aren't as fascinated with her medals as with her slim, toned body.
Paige Spiranac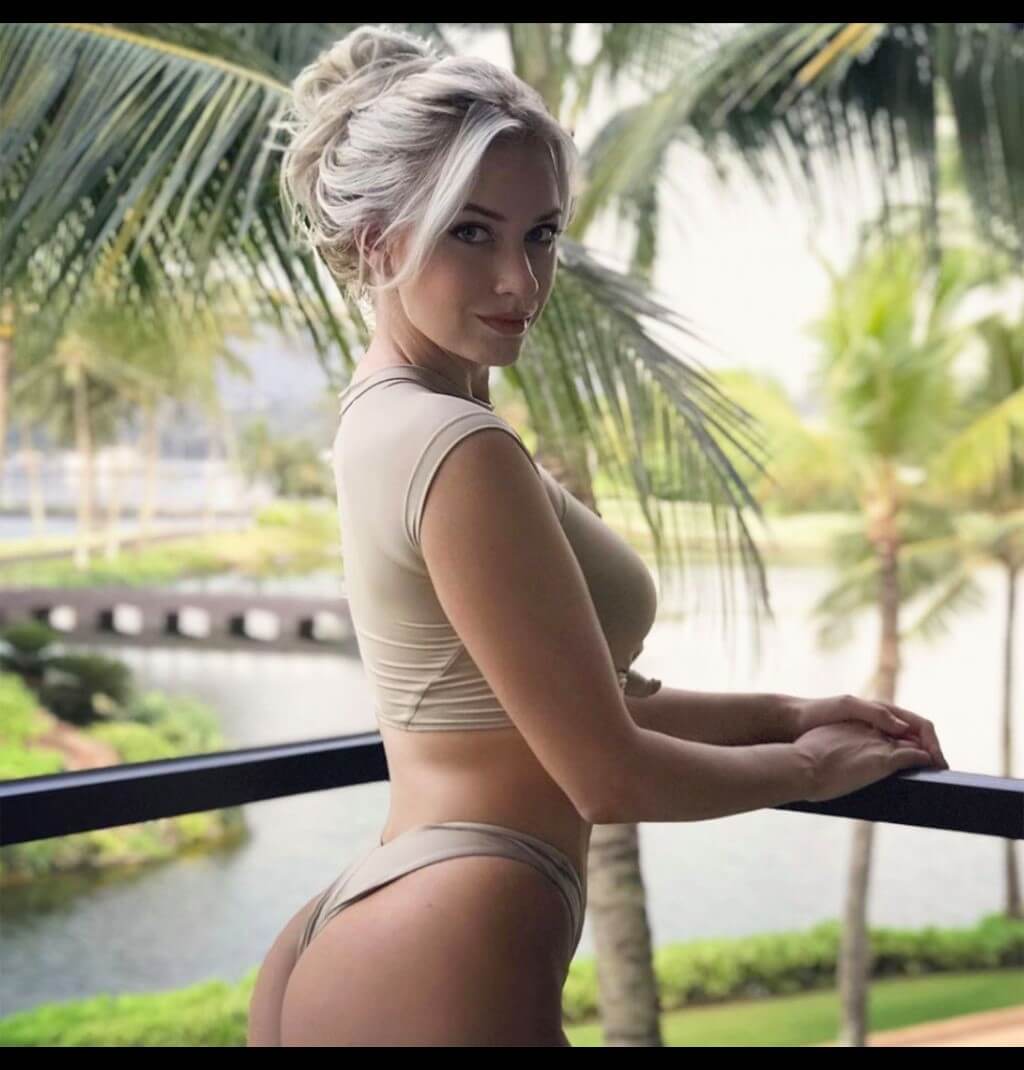 If you had to guess what busty blonde Paige Spiranac does for a living, would you ever say she's a golfer? That's right, this 25-year-old babe posing for Sports Illustrated played in college and now works in golf media. She shares many hot Instagram photos in sexy golfing outfits, dresses, and bikinis.
Sloane Stephens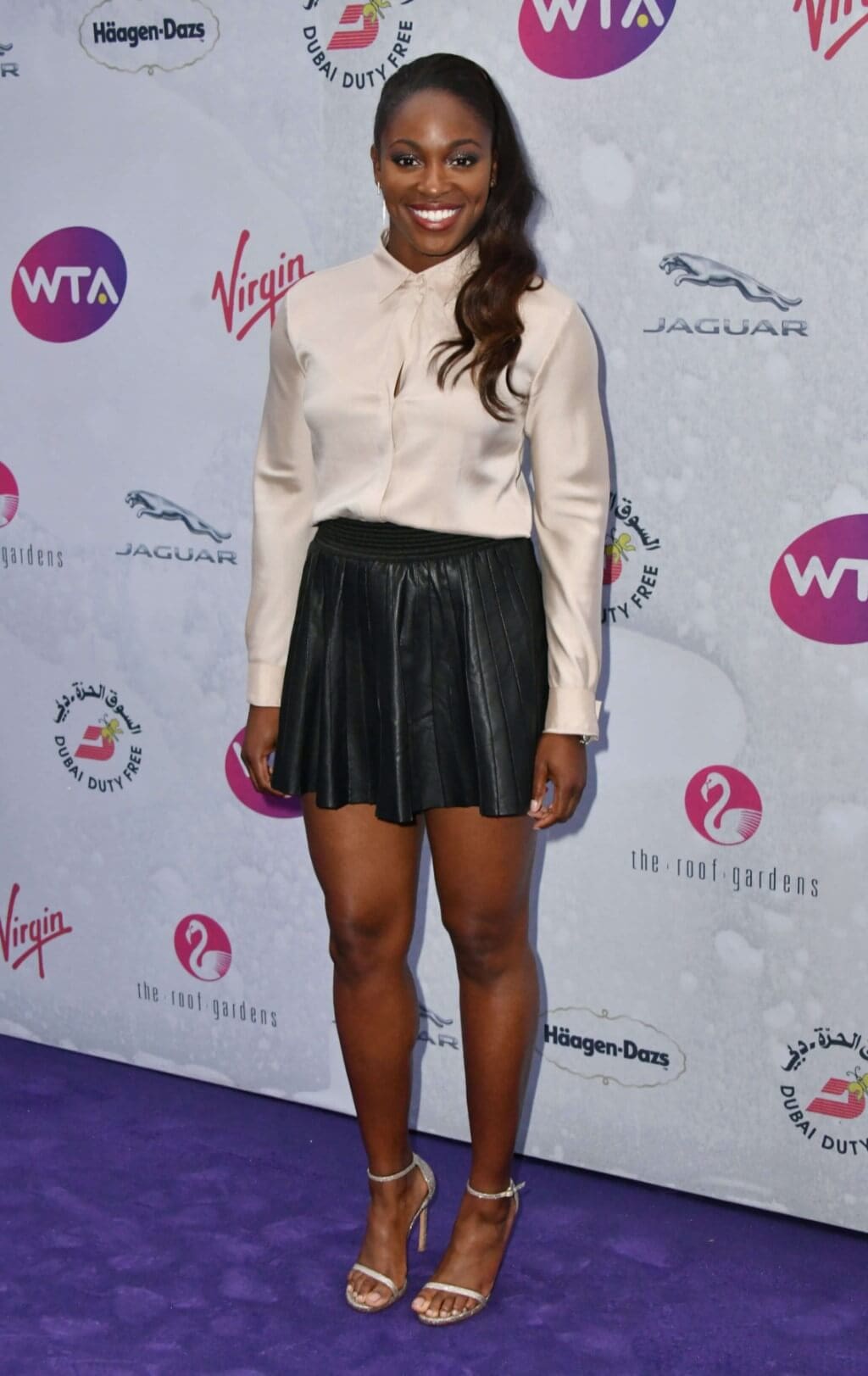 It was about time we found another sexy black tennis player to drool over. Young American pro, Sloane Stephens is ranked #3 in the WTA and smashes people when she's not showing her delicious body in tiny bikinis. For more of this hottie, go to her Instagram profile.
Anyone who follows female sports knows this is just a drop in the sea of sexy female athletes. So if we've missed a babe you're excited about, let us know.
MMA Babes
We've prepared a special treat for anyone that likes fit and athletic pornstars. Take your turn-on a step further and check out our list of hot UFC girls.
These babes aren't only in prime physical condition; they are also deadly with their fists. Besides femdom fantasies, MMA girls make us daydream about wrestling them to the ground, working up a sweat, and smashing their asses and pussy with dick. Now, let's see who we got here.
Tecia Torres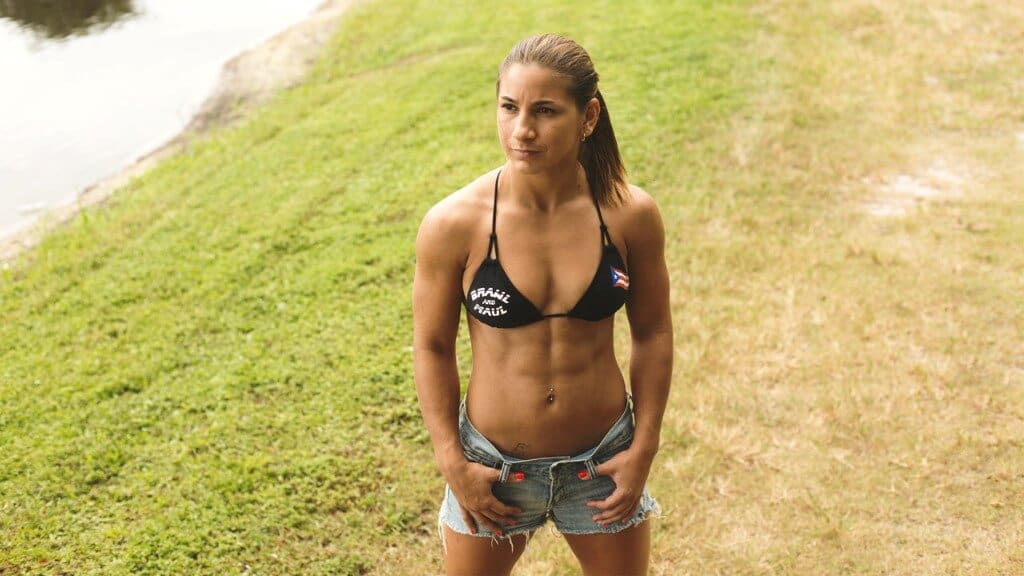 28-year-old Tecia "The Tiny Tornado" Torres is a UFC female fighter in the strawweight division carrying a 10-2 record. Tecia is tiny at five foot one and 115 lbs. Best of all, she is a lesbian and engaged to Raquel Pennington, another UFC fighter.
Michelle Waterson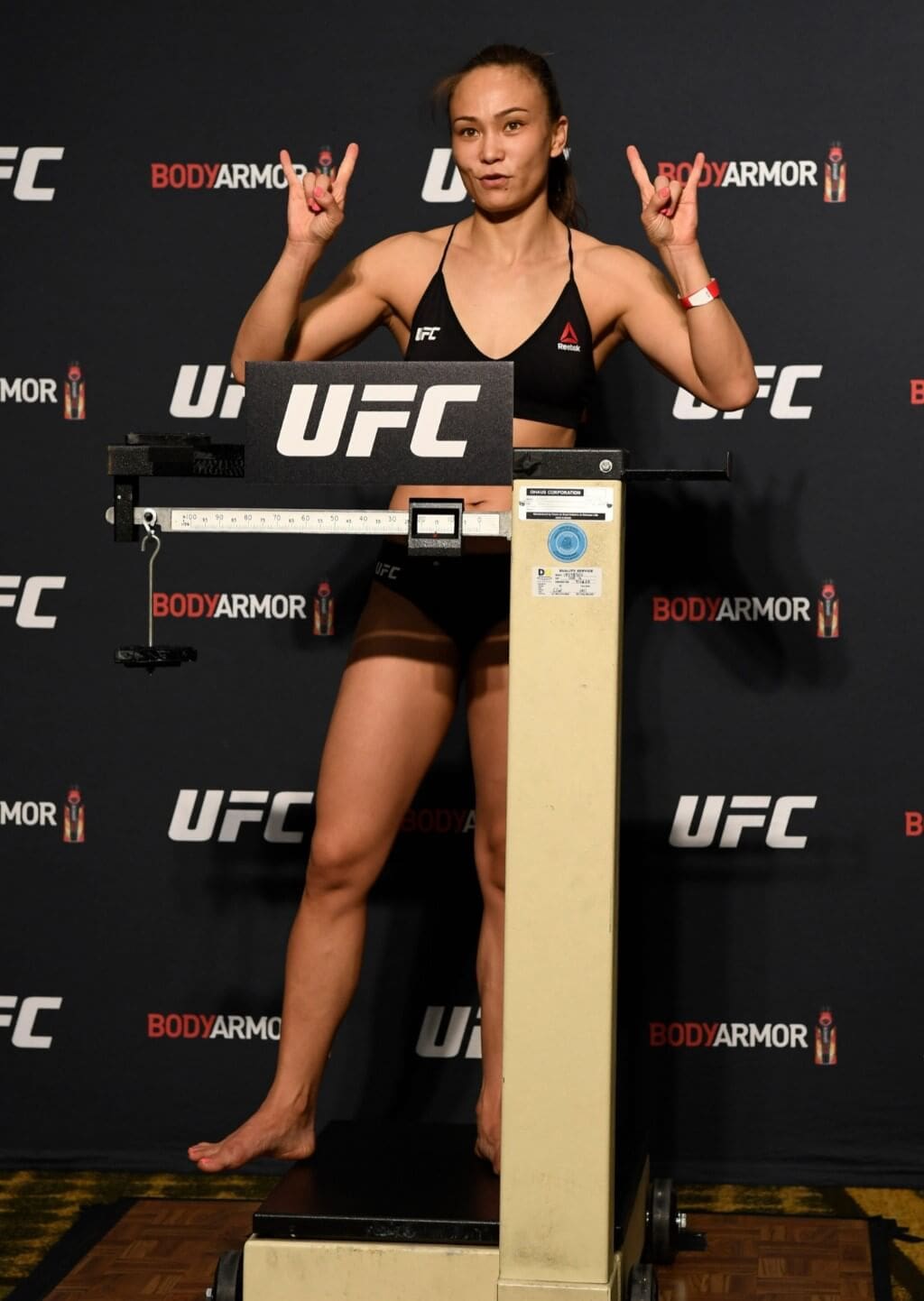 Michelle Waterson, also known as the "Karate Hottie," comes from Colorado and has Thai roots which explains her incredible, exotic looks. She competes in the strawweight division but finds time to snap sexy bikini shots like this one. If we didn't know better, she was a centerfold.
Felice Herrig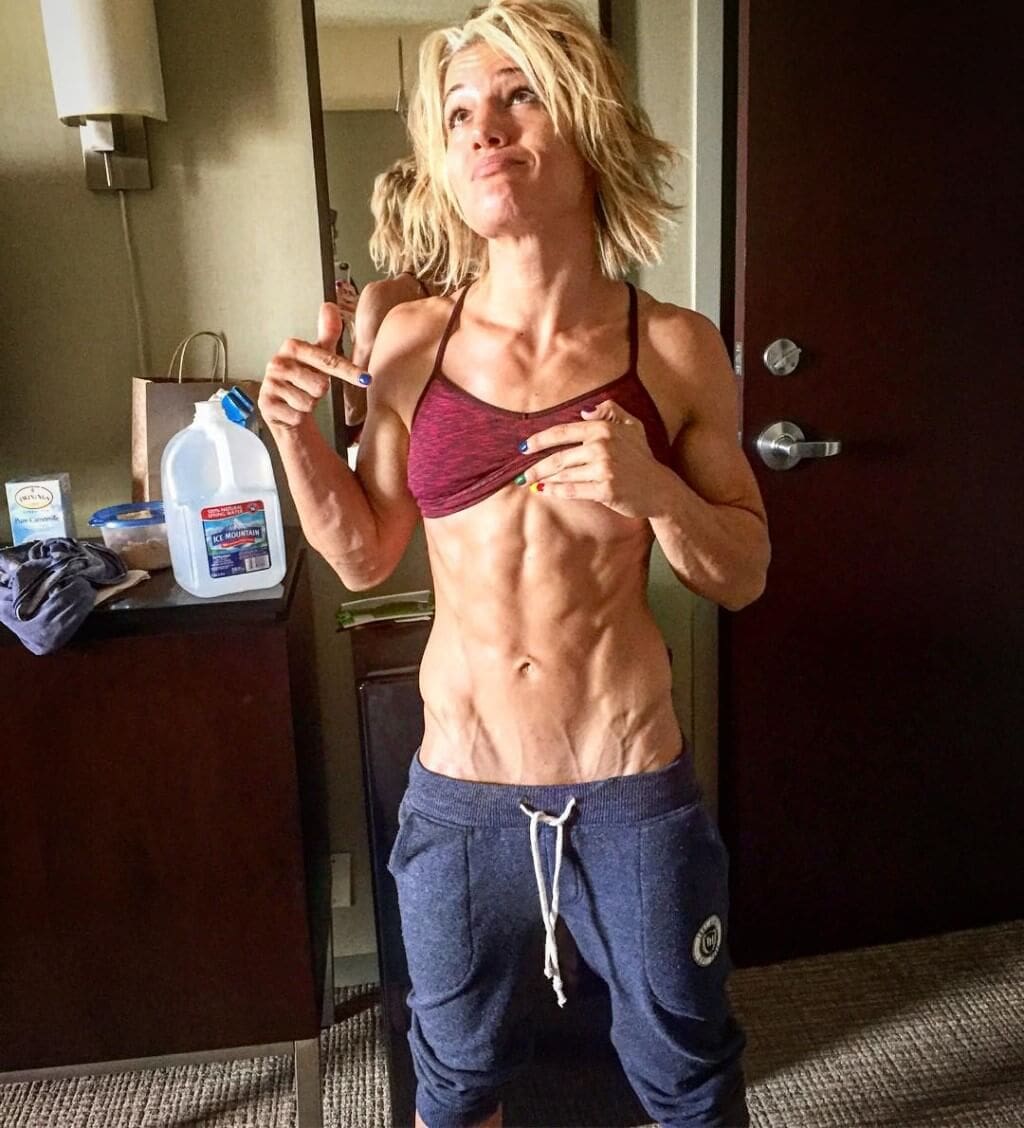 Felice Herrig has been a female UFC fighter in the strawweight division for the last four years. Known as the "Lil Bull Dog," this babe is ripped and scrappy in the ring. I mean, look at those abs! We bet she's tough on the streets and a slut in the sheets.
Julianna Pena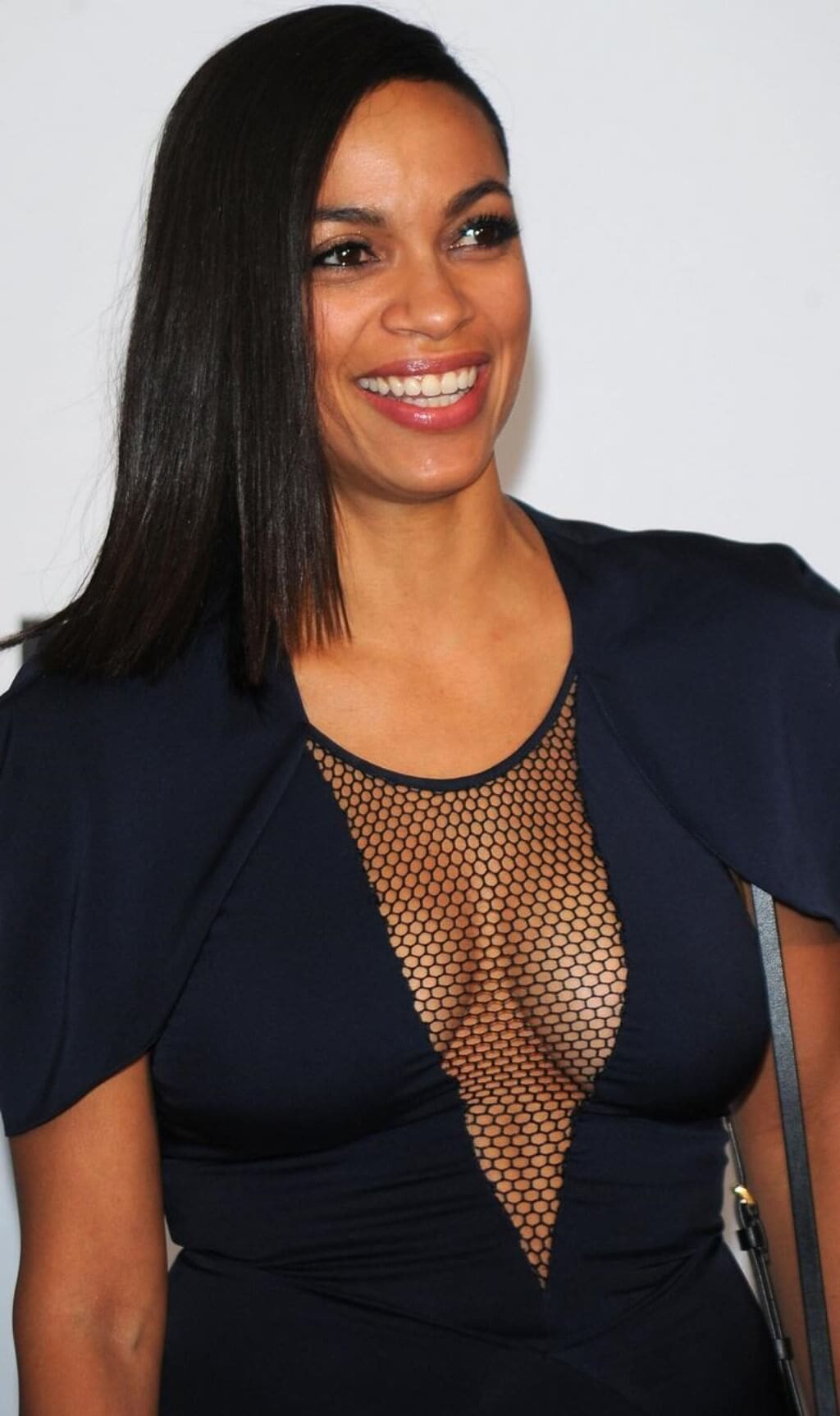 When it comes to martial arts, this is as close as you can get to seeing MMA girls naked. Bantamweight Julianna Pena posted this on Instagram a while back and showed off her tight ass to the world. Regarding fighting, The "Venezuelan Vixen" has an 8-3 record and was the first woman to win The Ultimate Fighter.
Paige VanZant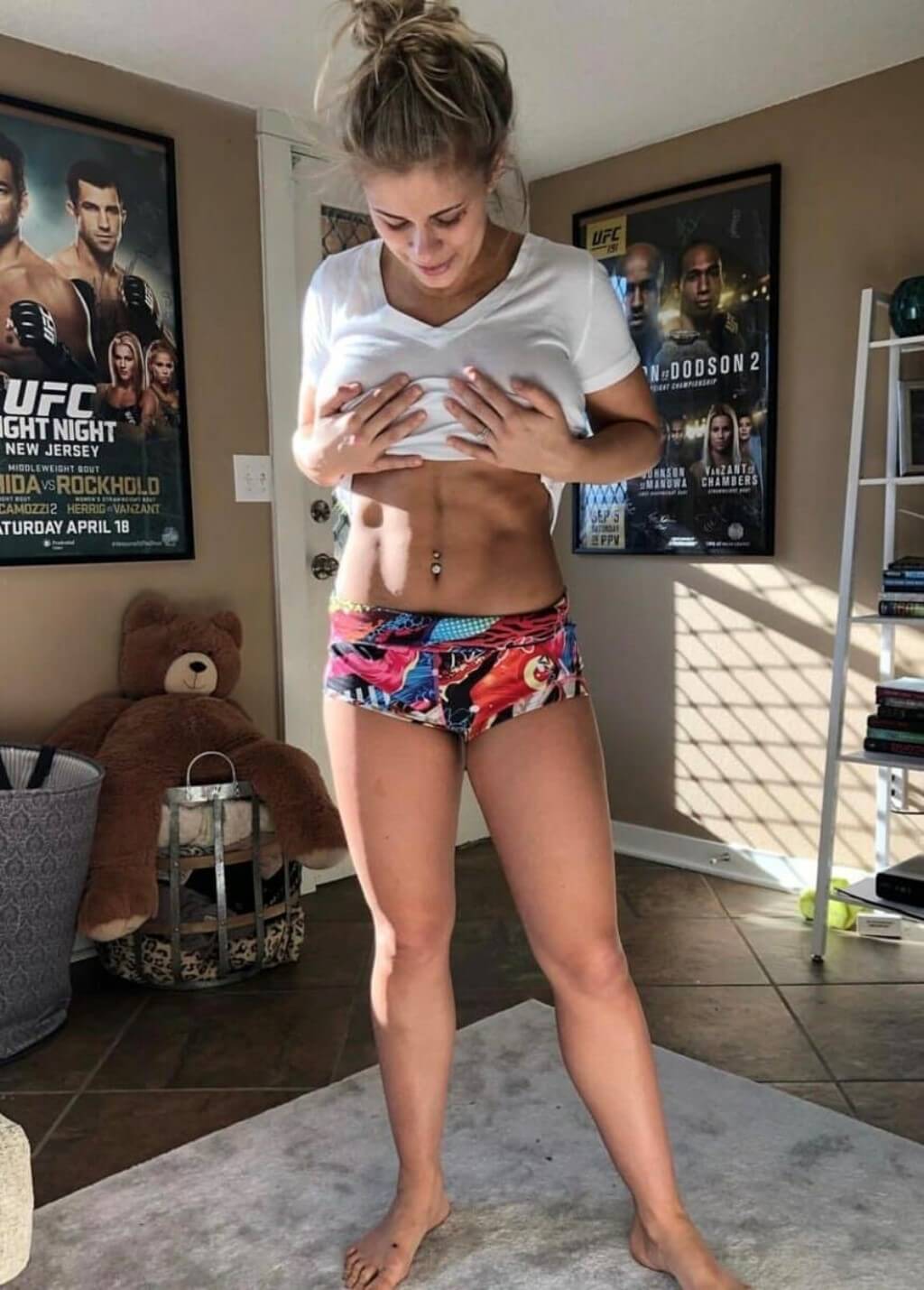 Flyweight Paige "12 Gauge" Vanzant seems way too cute and sexy to be an MMA girl, but she's a natural-born killer. At 24, this skinny blonde hottie is old enough to know what men want. How else can you explain her unzipped jeans?
Cat Zingano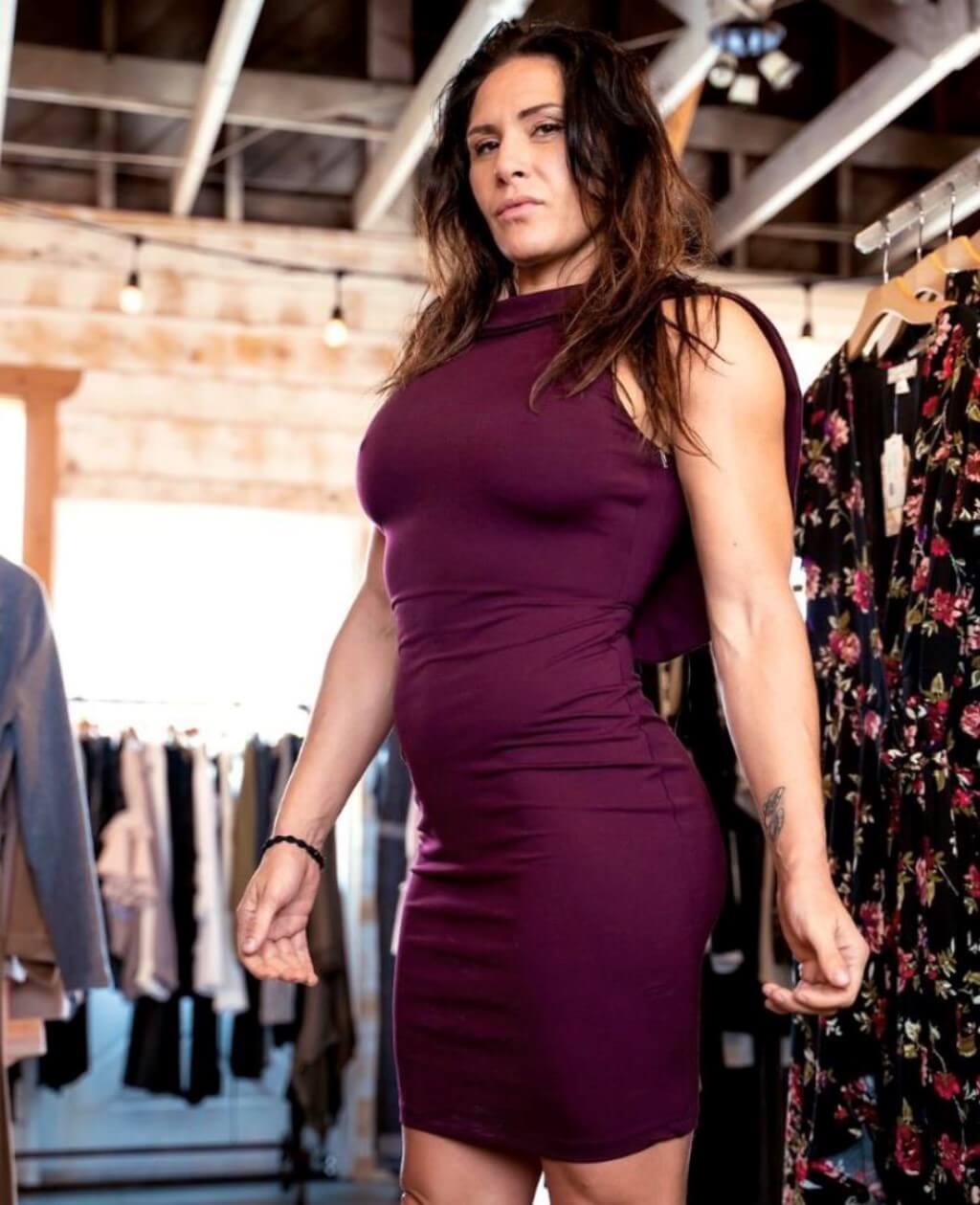 Bantamweight Cat "Alpha" Zingano is an MMA MILF at 36 with a tight, athletic body made for dick. She's the first mom to compete in the UFC after having her son just a few years ago and holds a 10-3 record.
Anastasia Yankova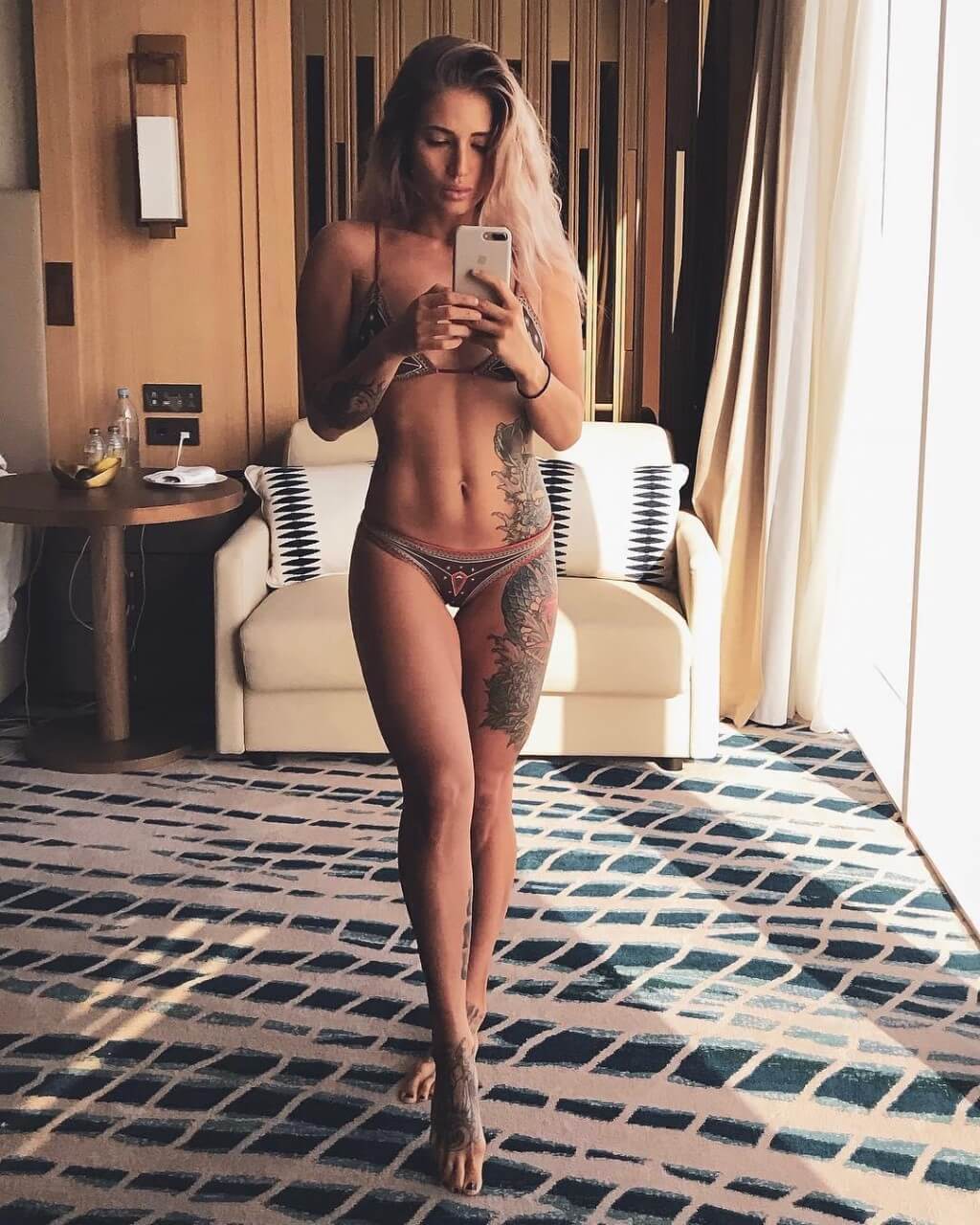 If we didn't know better, we would think that Anastasia Yankova was a tattooed pornstar or Suicide Girl. This flyweight competing in Bellator MMA has long blonde hair and tattoos on her arms, thighs, and ass. She's smoking hot, deadly in the octagon, and likes to pose in her panties and bra.
Mackenzie Dern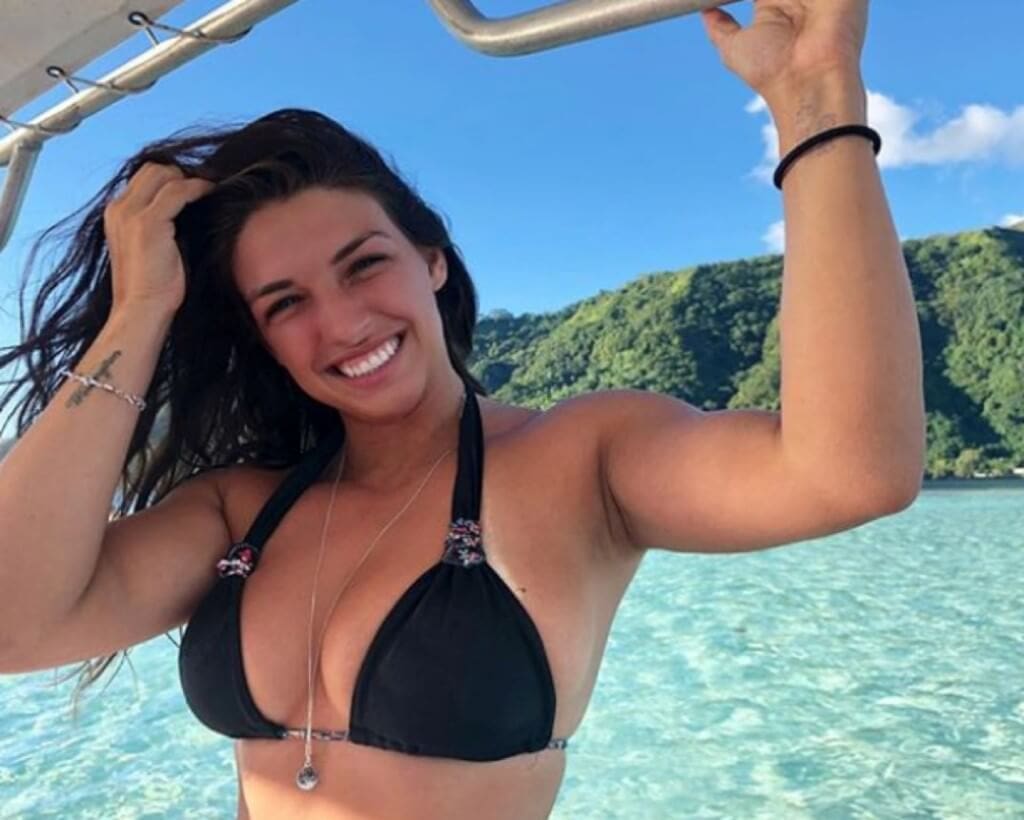 Mackenzie Dern is a Jiu-Jitsu badass that started her UFC career earlier this year. If you ask us, this 25-year-old flyweight's best attribute is her big tits. Even though she's attracted the anger of her colleagues for missing weight, we can't be mad at a specimen like her.
Ronda Rousey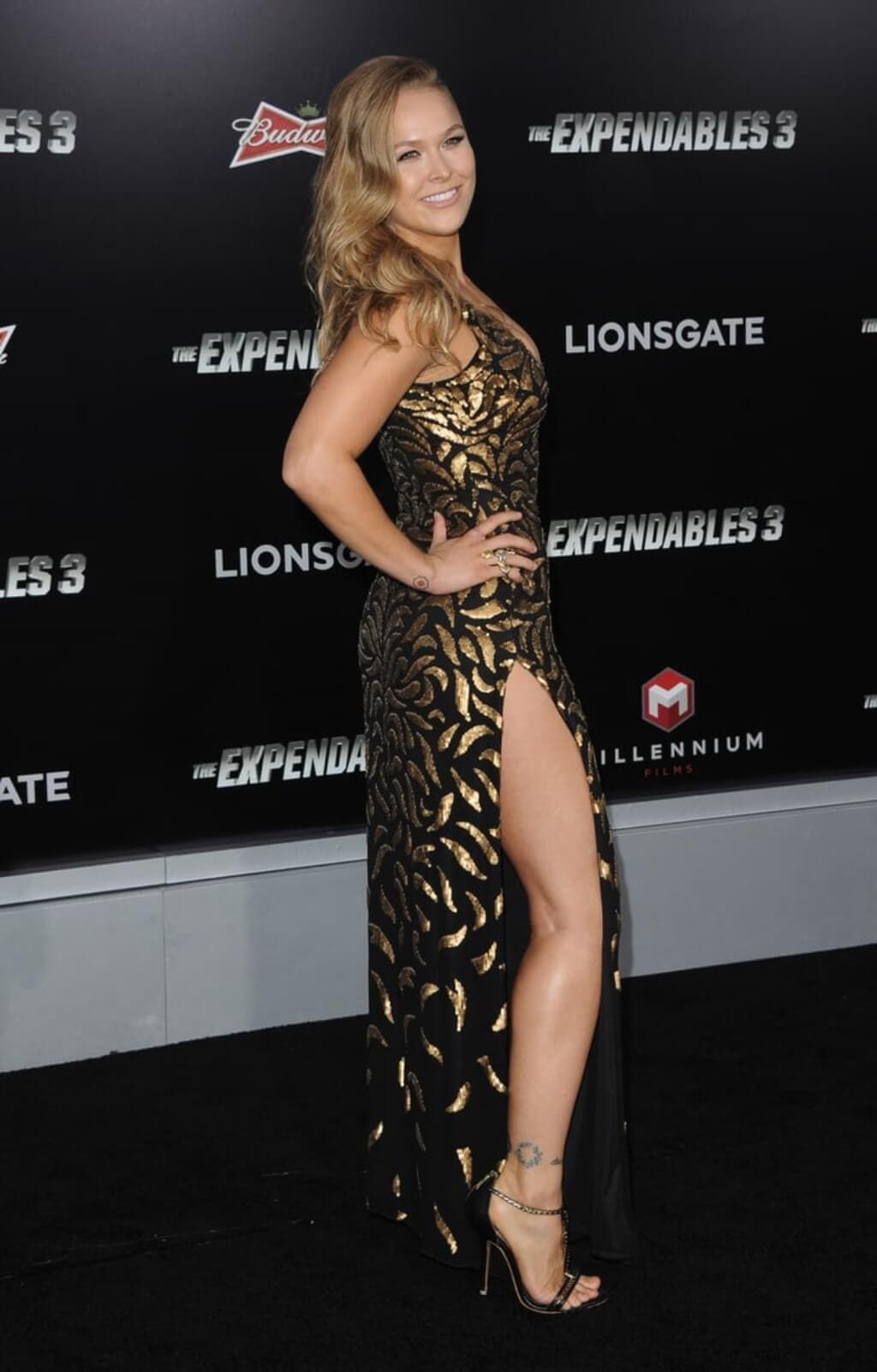 "Rowdy" Ronda Rousey was the first female UFC superstar. This bantamweight champion dominated her division until some real competition stepped in and outclassed her in her last two fights. Despite her losses, she still likes Ronda and can't get enough of her sexy photoshoots. Nowadays, she's in the WWE and wearing even hotter outfits in the ring.
Gina Carano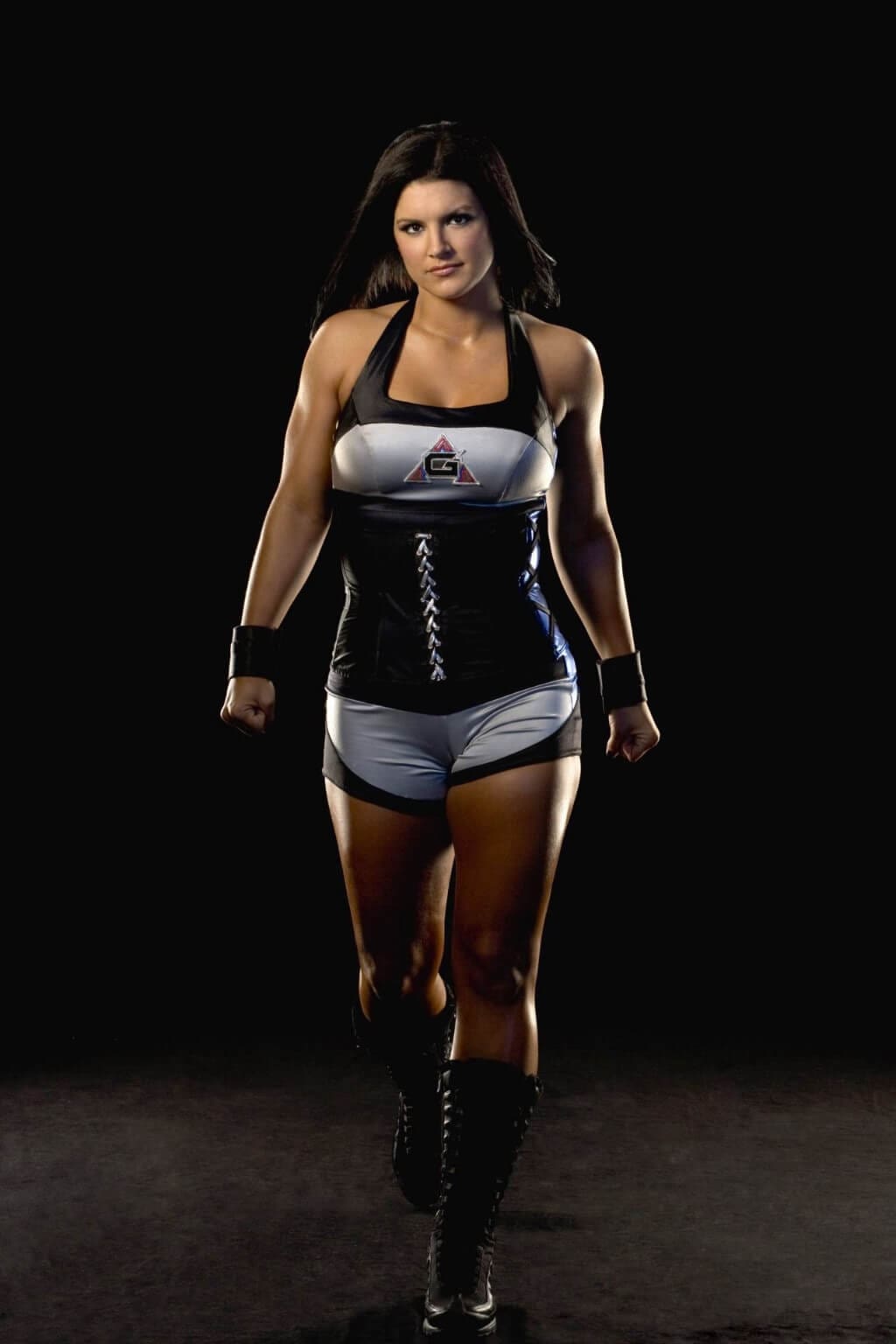 Gina "Conviction" Carano is a former featherweight MMA babe famous for fighting Cris Cyborg and, of course, for her massive tits. Look at those babies! We can't imagine an MMA fighter hotter than her or one that we would rather see butt naked. So until she slips up and gets a sex tape leaked, we'll be ogling her sexy photos online.
If these female UFC fighters have you pitching a tent in your pants, don't bottle up your pent-up passion, let it flow with MMA porn. To find it, take a look at our list of the best free porn sites.
UFC Babes
The UFC (Ultimate Fighting Championship) has become a mainstream sport in the last few years and is watched by millions worldwide. But as much as we enjoy seeing two top athletes clash in the octagon, we also can't keep our eyes off of all the hot card girls. That's why we made this top list of the best UFC octagon ring girls. 
During the fights, they stroll past in between rounds and show off their gorgeous bodies in skimpy two-piece outfits. However, if you dig deeper, you'll see them showing off much more skin. Check them out and enjoy.
Edith Larente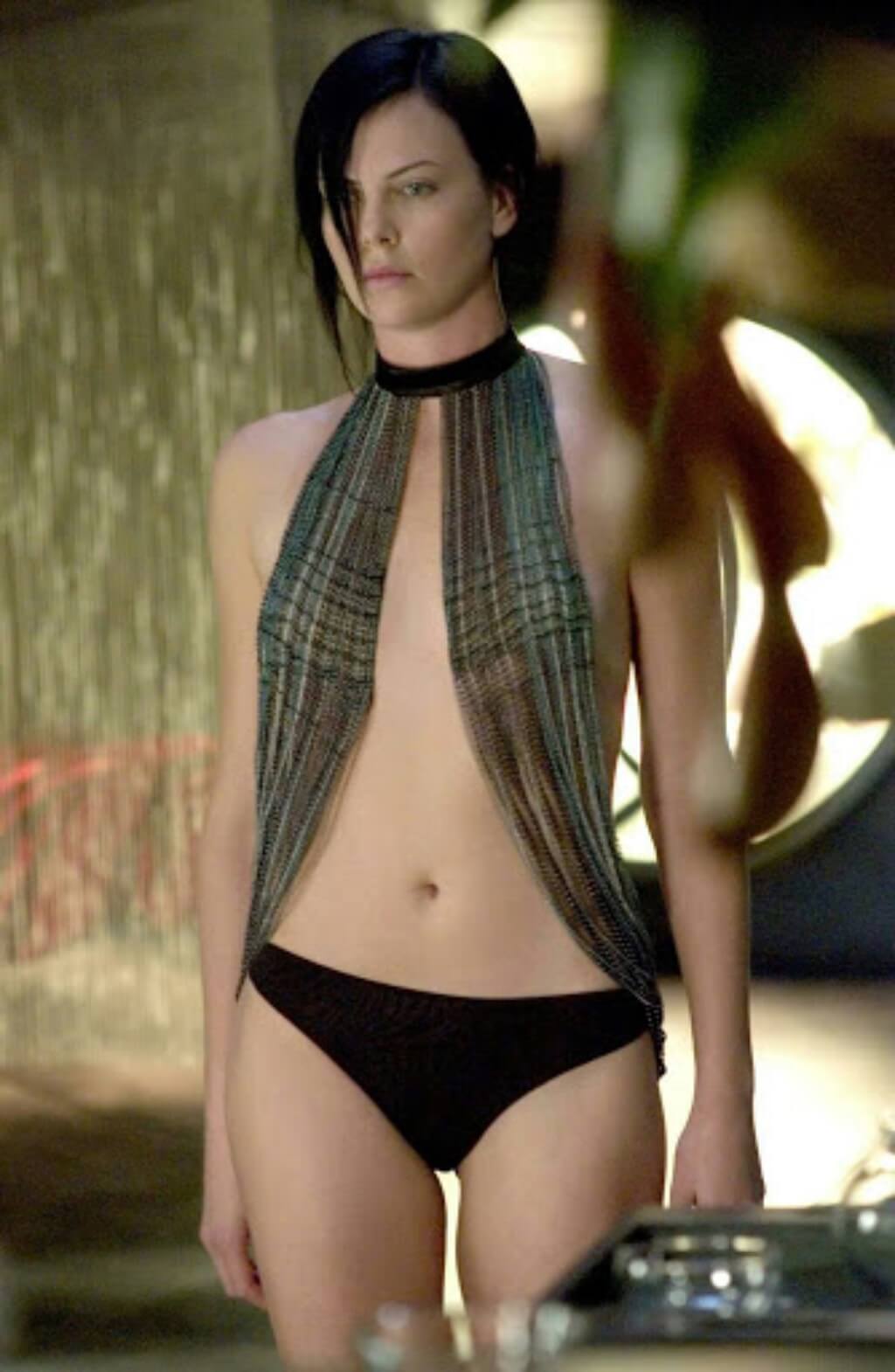 Born in 1982, French Canadian brunette Edith Larente, or Edith Labelle, is an actress and model, perhaps best known as a UFC octagon girl. But besides announcing rounds, she also likes to show off her moves on the mat. This hottie can be seen wrestling and grappling with other girls on YouTube in more than one video.
Kang Ye-Bin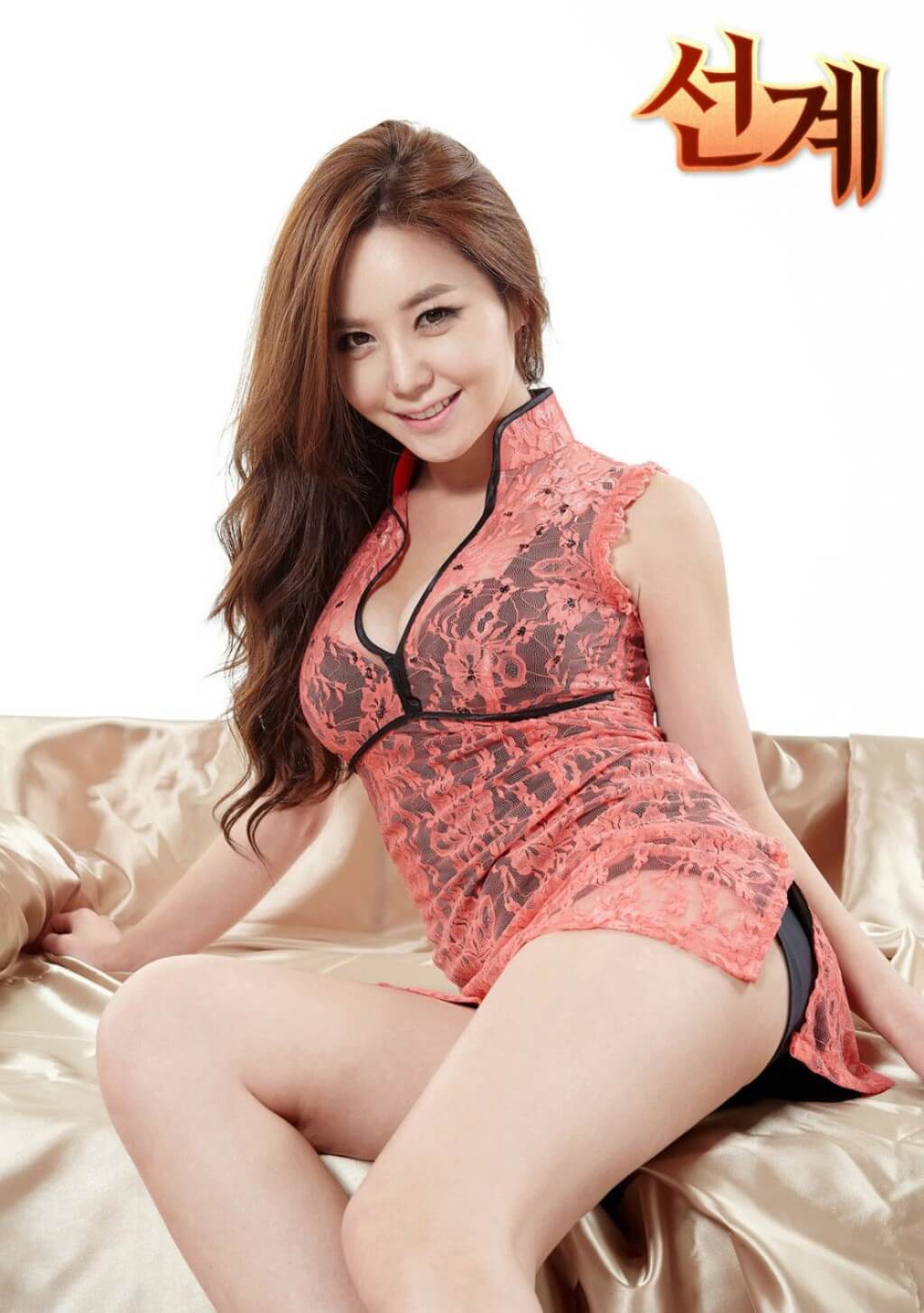 Kang Ye-Bin is a South Korean model, MC, actress, and, most importantly, card girl for the UFC. She has a cute face, a great body, and a set of big tits that could win anybody over.
Brittney Palmer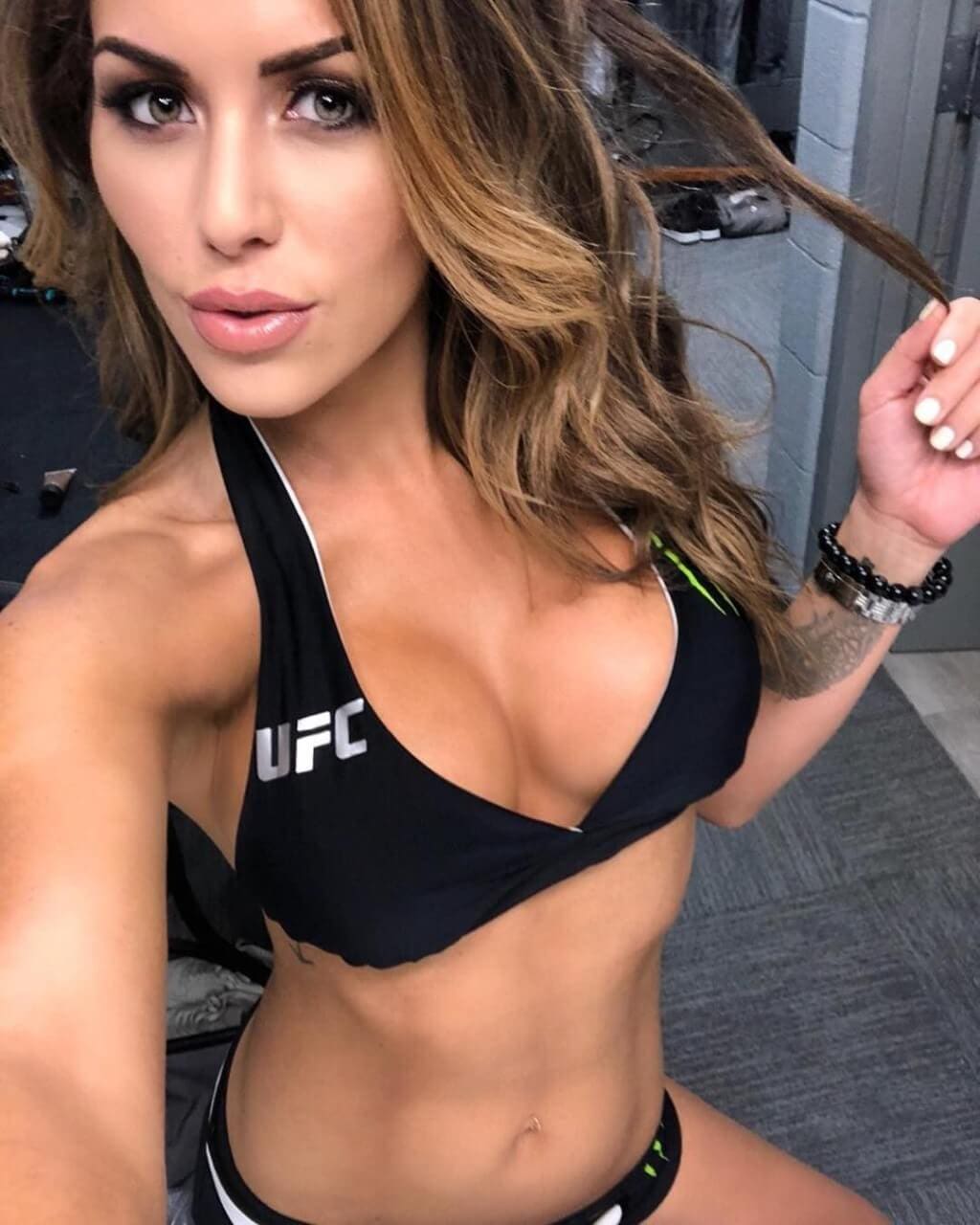 31-year-old blonde Brittney Palmer is a model, performer, and card girl working with the UFC. She's worked for Playboy and under magicians and now runs her clothing line called Stone Free. Being around professional fighters has influenced her to start training in Brazilian Jiu-Jitsu.
Vanessa Hanson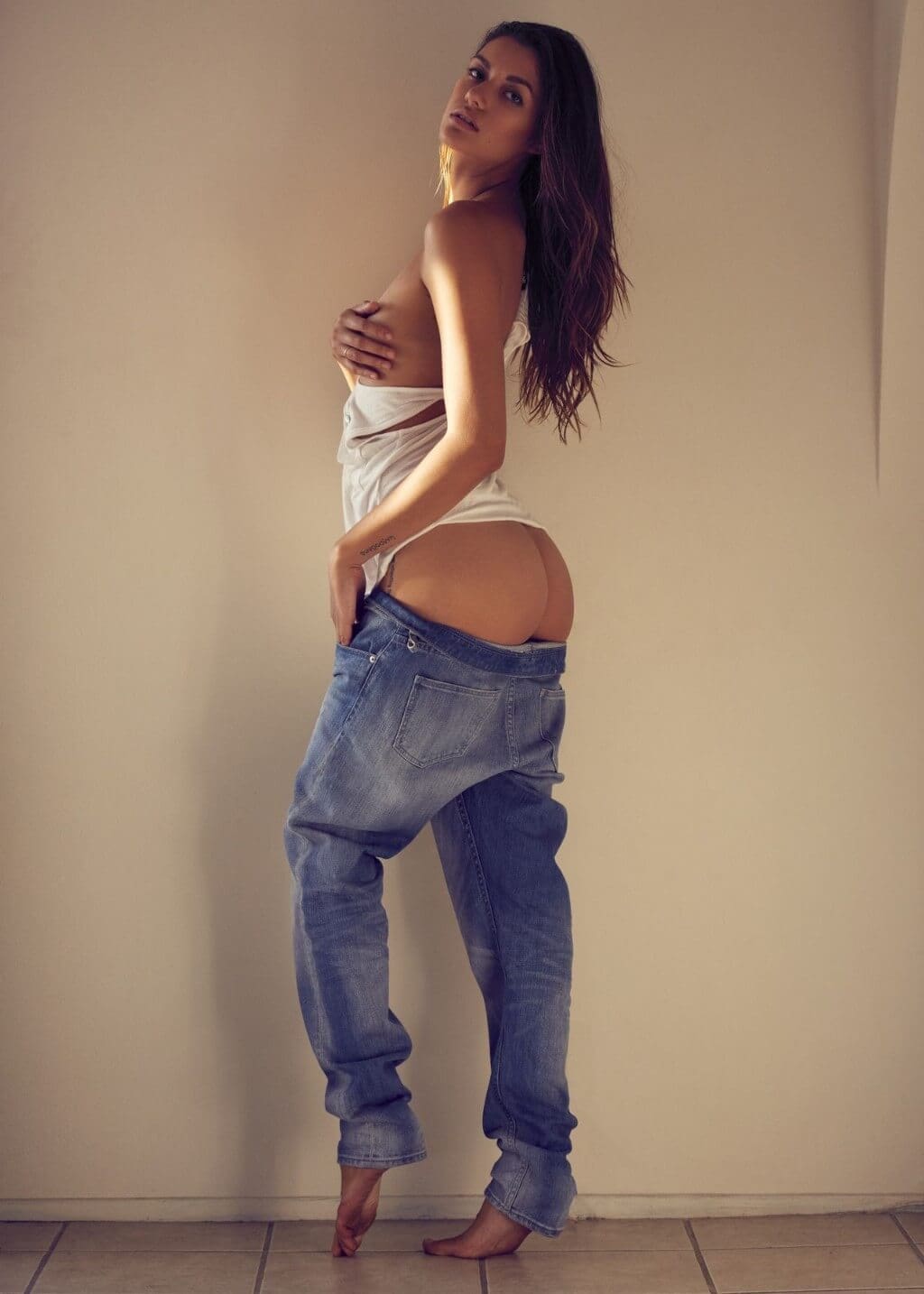 At 27, Californian babe Vanessa Hanson is one of the most popular UFC octagon girls. Besides her gig for UFC, she has posed for magazines such as Cosmopolitan, Maxim, and GQ, but also worked with Ford and Sketchers.
Red Dela Cruz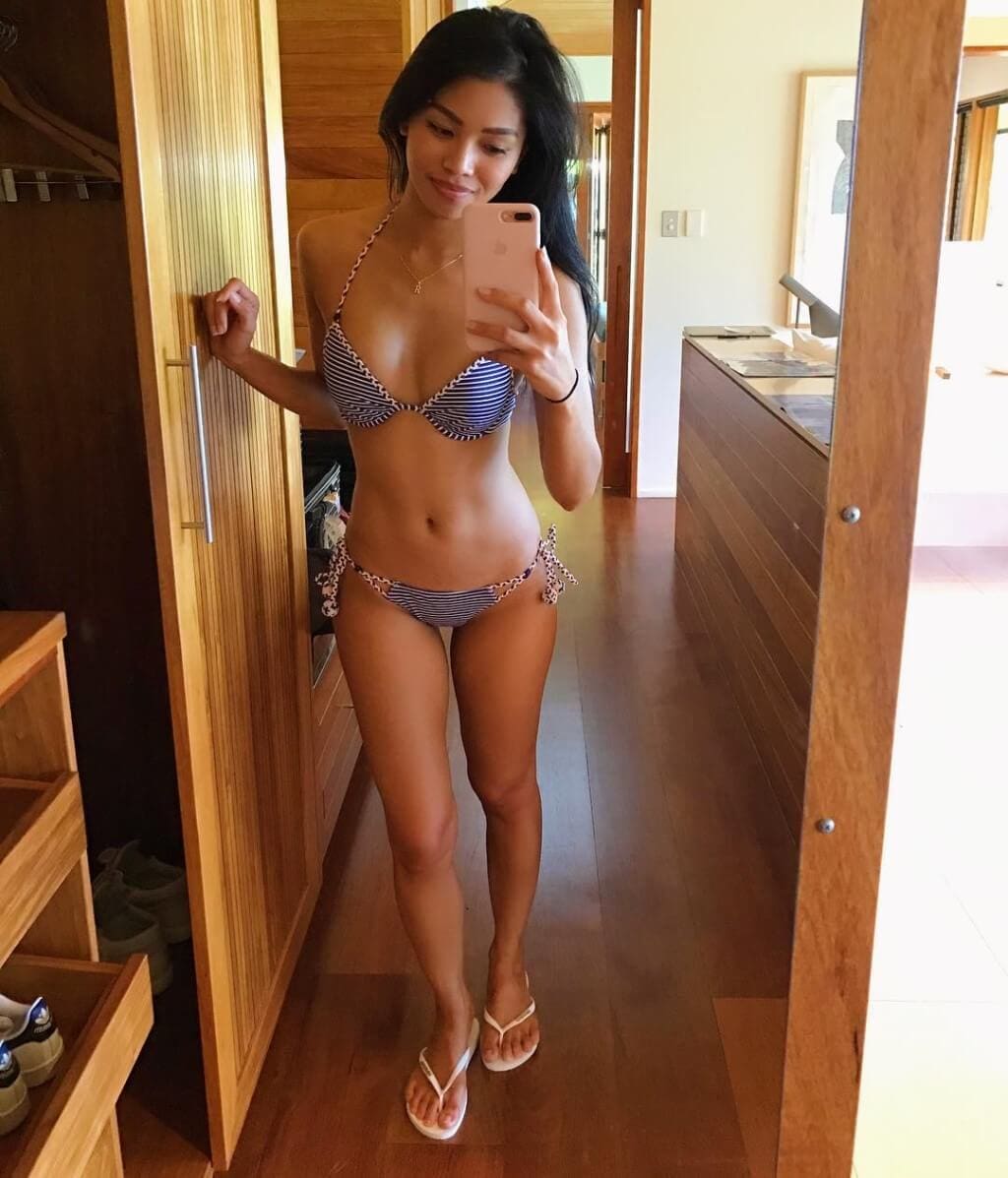 Born in the Phillippines, Red Dela Cruz is a 25-year-old fitness model and the first UFC octagon girl from this country. You do not see her exotic looks, golden brown skin, and immaculate body every day.
Chrissy Blair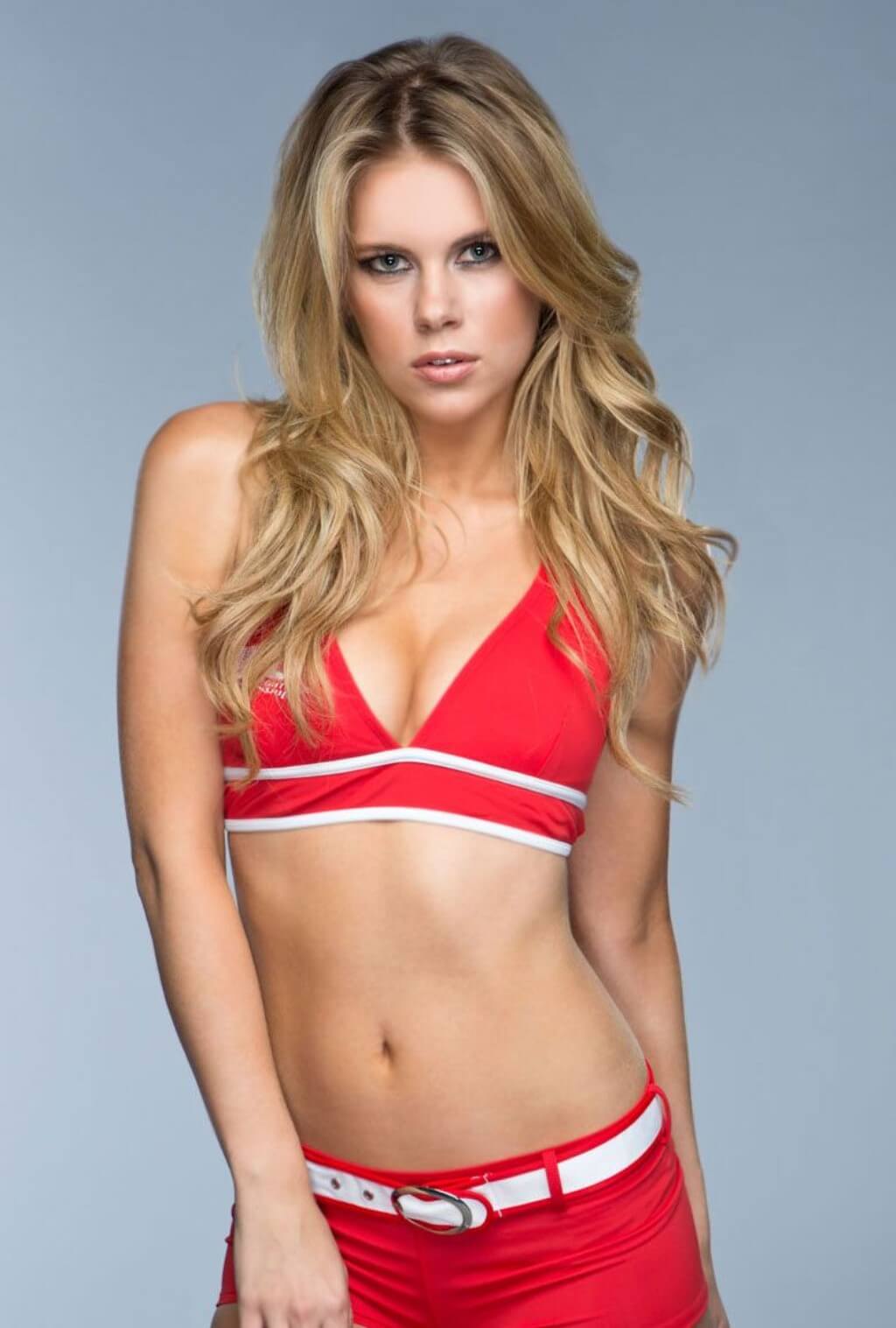 Octagon ring girl Chrissy Blair is a bombshell blonde at 28 that comes from Florida. Before working for the UFC, she collaborated with magazines such as Sports Illustrated and Maxim, as seen in the picture above.
Chandella Powell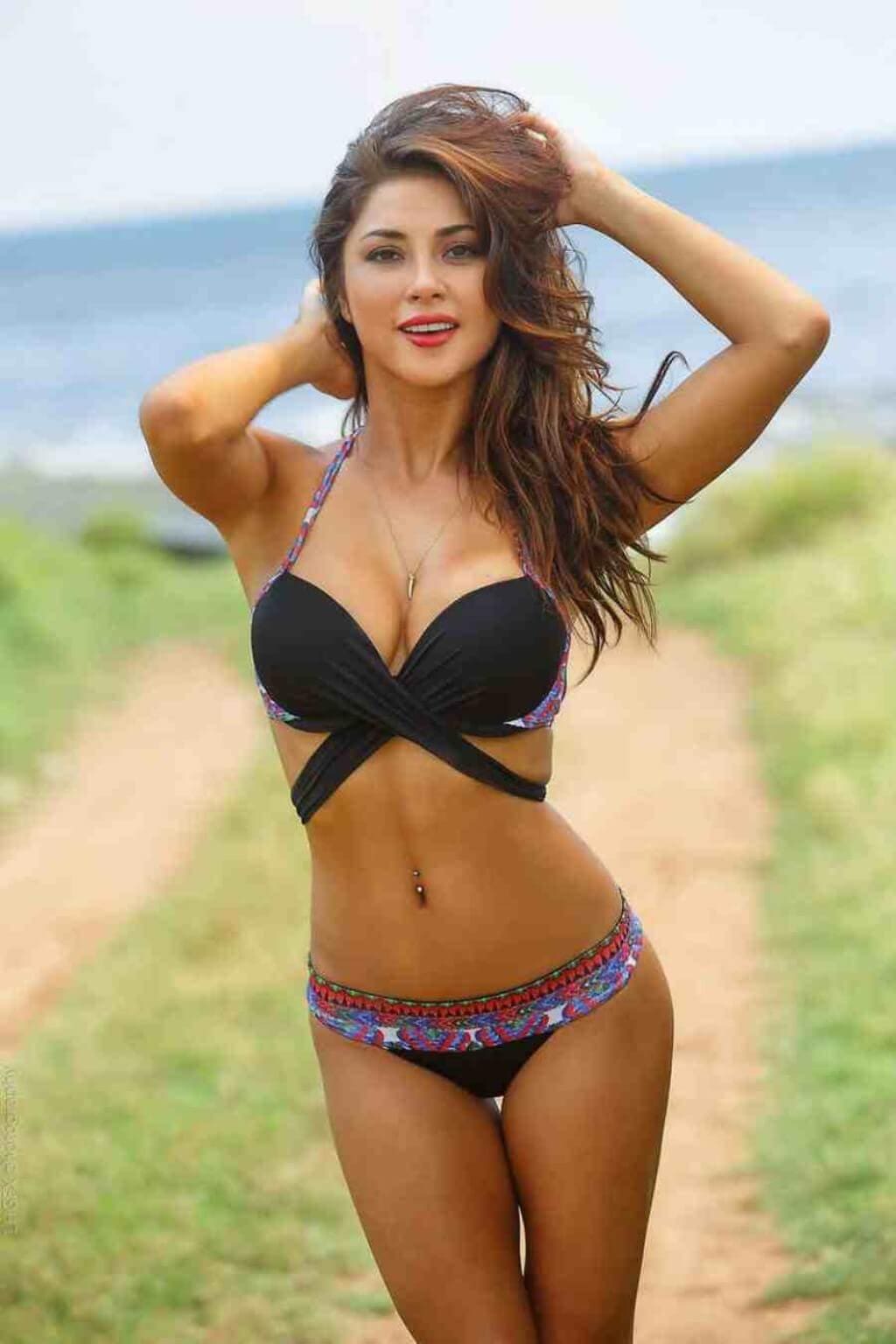 Anyone who wants to see Octagon girls nude will likely come across ebony model Chandella Powell. While working for the UFC, she was also a Playboy Bunny hostess at a casino. Powell has full frontal nudes and softcore lesbian porn pics under the alias Mariah Ashton, which ultimately got her fired because she kept them secret from the UFC
Rachelle Leah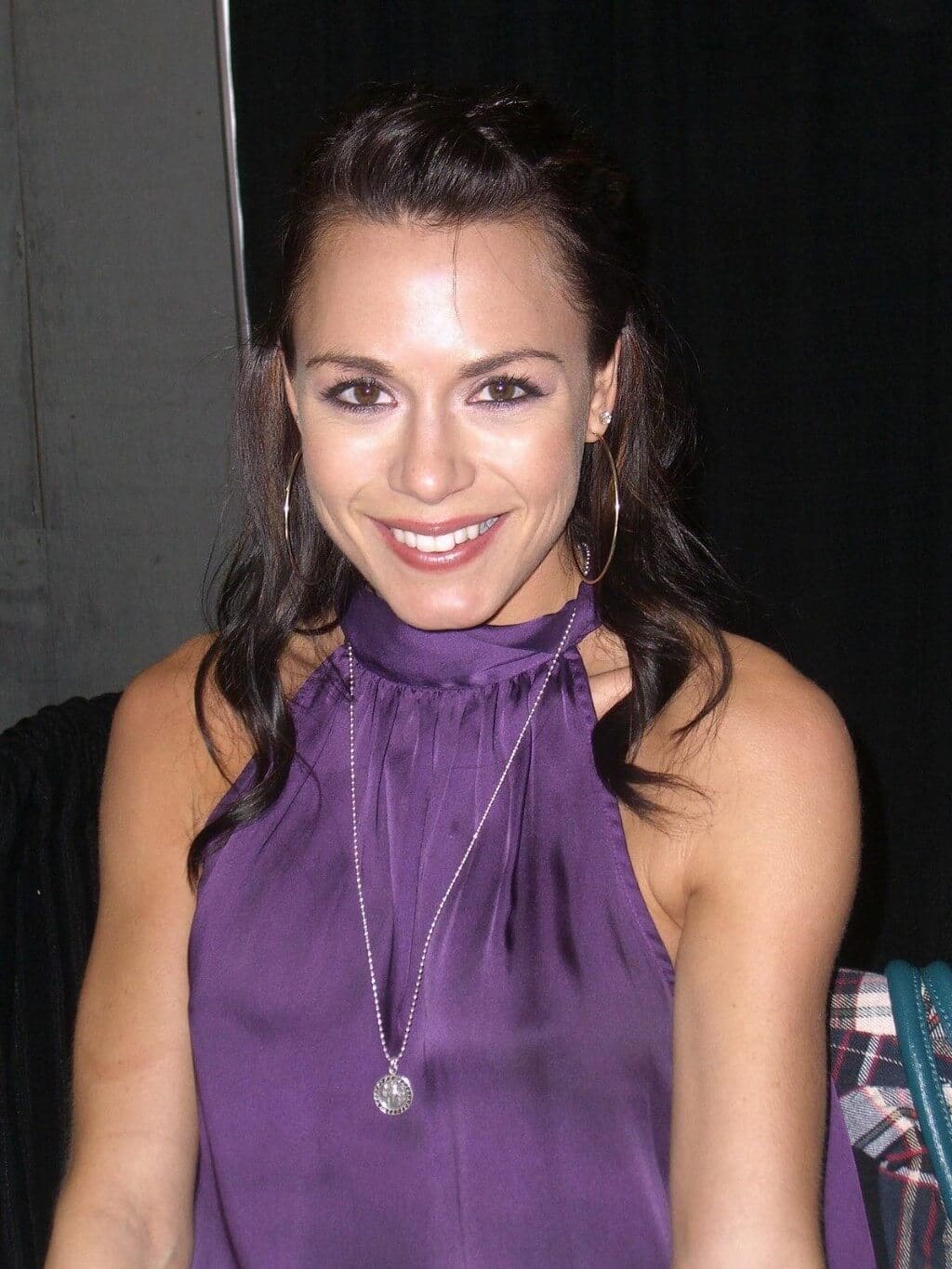 California native Rachelle Leah was born in 1984 and works as an actress, model, and television personality. As a model, she's appeared in Playboy, Maxim, Stuff, and Men's Fitness. Besides being a longtime UFC octagon girl, she was also a presenter on UFC All Access, a reality TV show taking a behind-the-scenes look at the lives of UFC fighters.
Jamillette Gaxiola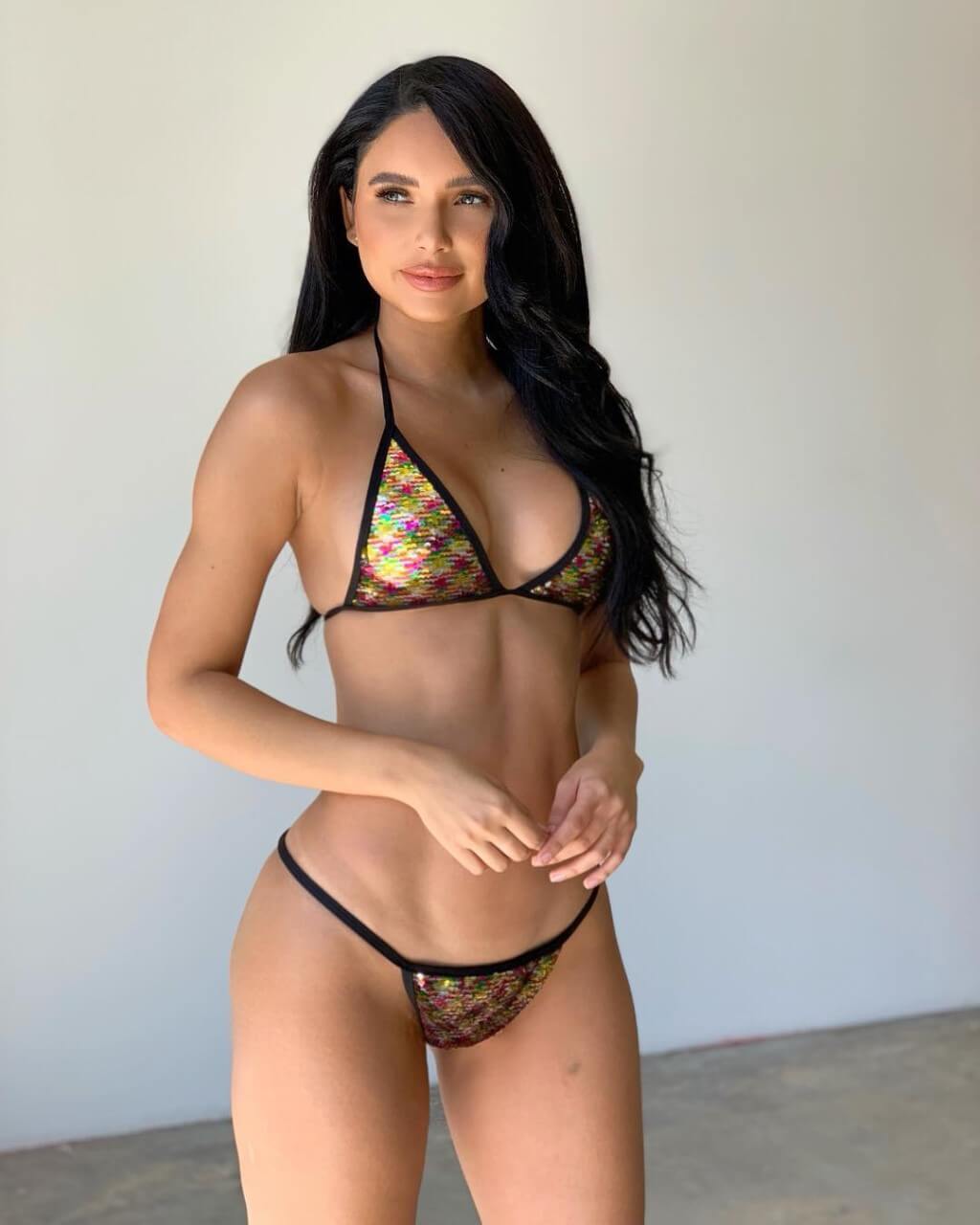 Mexican brunette Jamilette Gaxiola was born in Mazatlan, Mexico, in 1989 and is of mixed Cuban-Mexican descent. She represented Cuba and Mexico over the years in various beauty pageants thanks to her breathtaking looks. She made her debut appearance for the UFC during the first season of The Ultimate Fighter Latin America and then as a ring girl at UFC 180 in Mexico City.
Arianny Celeste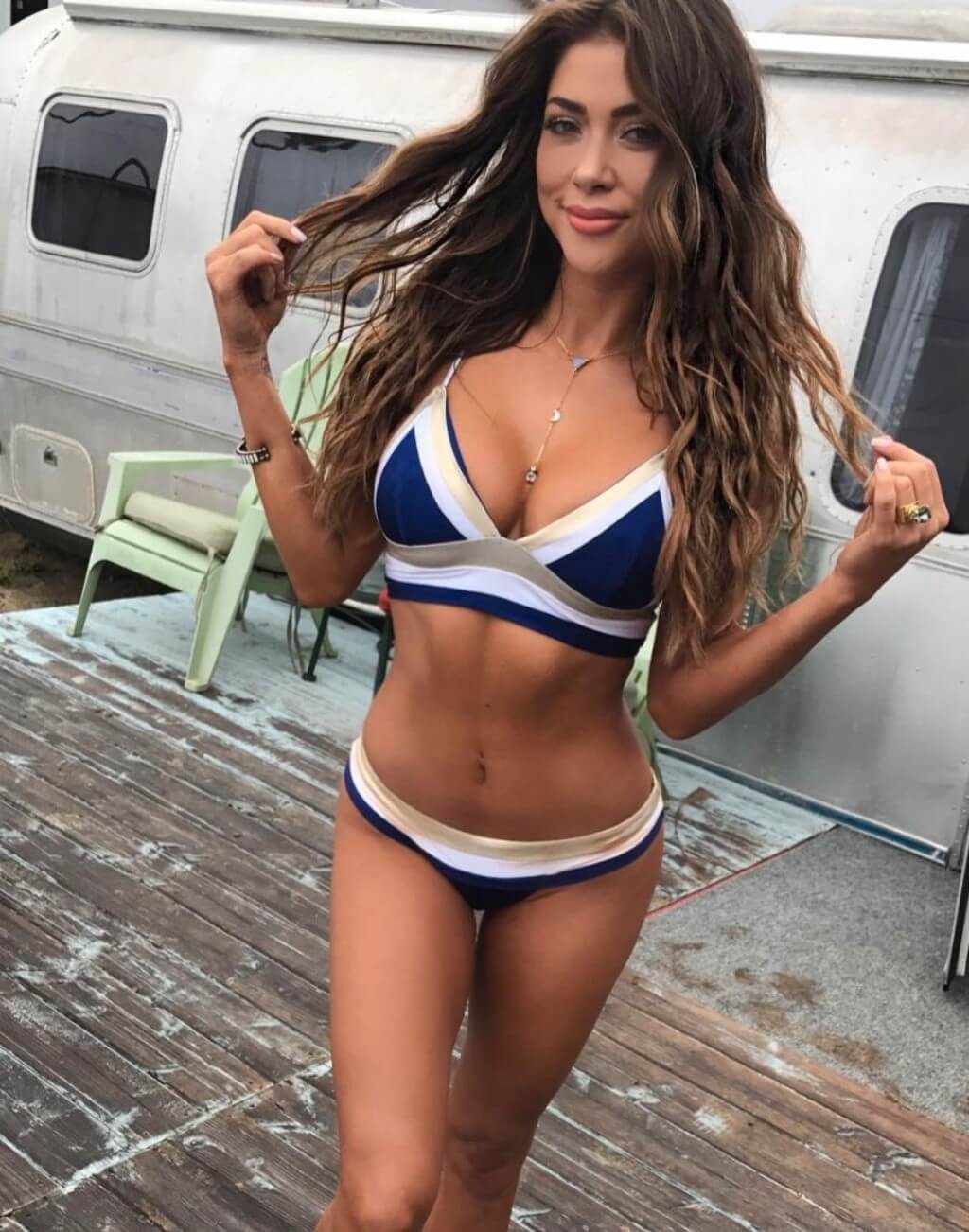 None of the UFC ring girls is more famous or better looking than Arianny Celeste. She is a Phillipino-Mexican mix, born in Las Vegas, Nevada, in 1984. Her work spans photo shoots for Playboy, Maxim, and FHM, and she's been with the UFC since 2006.
What do you think of our list? Leave a comment if you liked it, or even if you don't like it. And remember to check out all the hot UFC ring girls next time you tune in to watch an event. You'll be surprised how hot they can be.
Bonus
If you like the fit and athletic chicks, you'll fall in love with this girl. Instagram sensation and calisthenics expert Demi Bagby has amassed one million followers thanks to her chiseled body and jaw-dropping videos. Check out her beach routine that went viral on Reddit below before we introduce her and show you some of her other insane feats.
With the way most guys are, you're probably wondering how old is Demi Bagby. This San Diego Native was born on January 10th, 1998. At 20 years of age, she's more than legal, so you have the green light to drool over this freckled cutie and tell all your friends about her.
At four foot eleven, she's a little ball of muscle that puts all sorts of dirty thoughts into our minds with her acrobatics in the gym. However, this babe that can seemingly do anything was bed-ridden for months after a cheerleading accident a few years back. But, gradually, Demi got into CrossFit and started sculpting her body into perfection.
We couldn't think of a hotter thing to do than to wrestle with her. She would win, and we would be glad to surrender into her strong embrace.
Now, let's see a bit more of Demi Bagby in action. If a video needs to be turned into a GIF with slow motion, it's this one. Although big butts are a passion of ours, we're happy to watch her tight little ass in shorts.
Besides backflips on the beach and gymnastics, she loves to shred on her electric skateboard. And why hide your figure when you're ripped, and the sun is always shining in San Diego?
We know you want more, so go to the official Demi Bagby Instagram account to follow her and check out all her other posts.