With thousands of people watching at the edge of their seats, patiently awaiting another top 10, I've something rather special. There've been curvy pornstars on chubby sites or thick performers that have nothing but giant butts. However, what if we combine the best of both worlds and show you the hottest thick pornstars that aren't fat?
Hit the gym and continue with the Kegel exercises because your dick has no chance of withstanding a full dozen hot babes listed below. Oh, and if you're a female… Yeah, I don't know where to go with this joke. Okay, drink up your protein shakes as your arms are about to get sore from all the rubbing.
#22 Moriah Mills
Moriah is like a weird exception to the female anatomy. How can one look fit, curvy, thick, and phenomenal at the same time? 34DDD boobs aren't even among the best-selling points when you have a face of an Egyptian goddess. This ebony acts and fucks like a hyena, always savage, never resting. Take that embarrassing thing out of your pocket and it will be on Mill's mouth faster than you can give consent.
#21 Jenna Ivory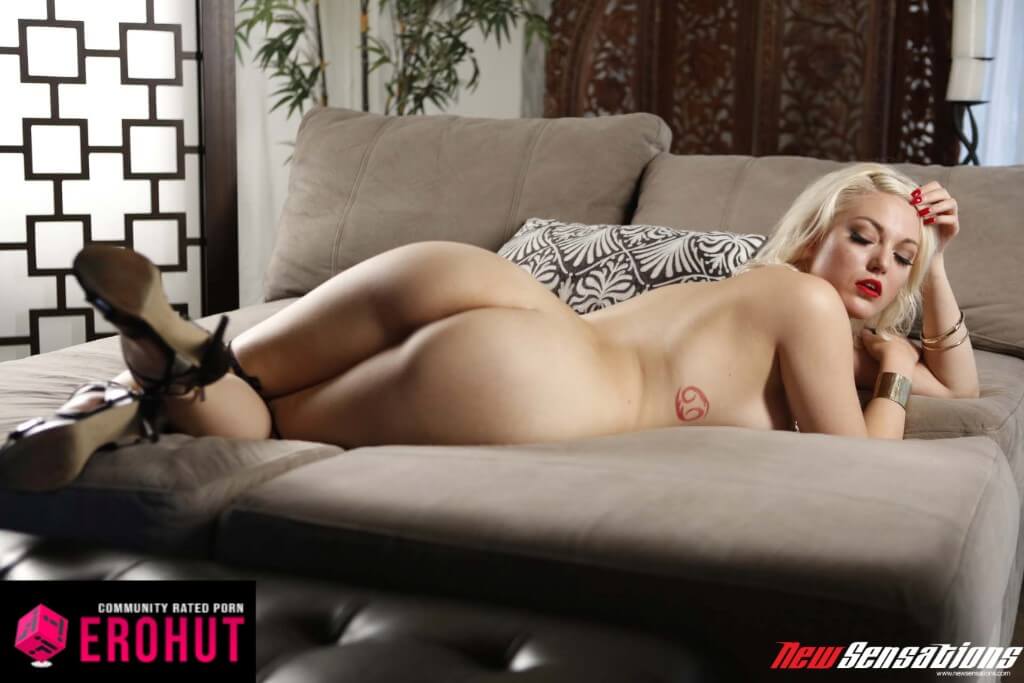 As a pornstar with small tits, Jenna Ivory has been "cursed" with a curvy figure that lacks the top part. That's why she'll try to impress you through any means, including hardcore interracial, brutal anal, gangbangs, etc.
The devil is in the details, and nothing else comes close to the feeling of banging a filthy slut on a Sunday evening with your best friends. If you want to check her out, the free porn sites would be my first stop since Jenna spreads like wildfire. Is she the weakest link among all the thick pornstars we've seen so far? You tell us! What Jenna lacks in thickness, she makes up for it with curves.
#20 Alexis Crystal
The shiny gaped pussy of Alexis Crystal is a consequence of messing with the wrong pornstar. She'll get wet on command, push her butthole muscles for an easy entry, and signup for almost anything. Just don't forget to whisper "I love you" in Alexis' year, so she feels loved.
The butt and thighs of this pornstar are thick, and so are the curves. It's easy to see why this slut has made it to our finals! If your mind can't wrap itself around this scene, there's a full video on Brazzers.com. Let's be honest, it does look bizarre! The background, the sex toys, and everything else. You're welcome to find out why via the source link above.
#19 Victoria June
I like the saying by one of the community members that June was made in a lab. There is no other way around it. The curves begin at the very top with solid tits, lead to the crotch area, and ass, and finish with the thick thighs. I love some sexy thighs, and Victoria always gives me a boner so hard that it hurts.
Maybe some solid tits that you can use as a plush pillow or semen collector? Sure! Then let's end it with a bang and add one of the prettiest faces, like in forever!
#18 Nina Rivera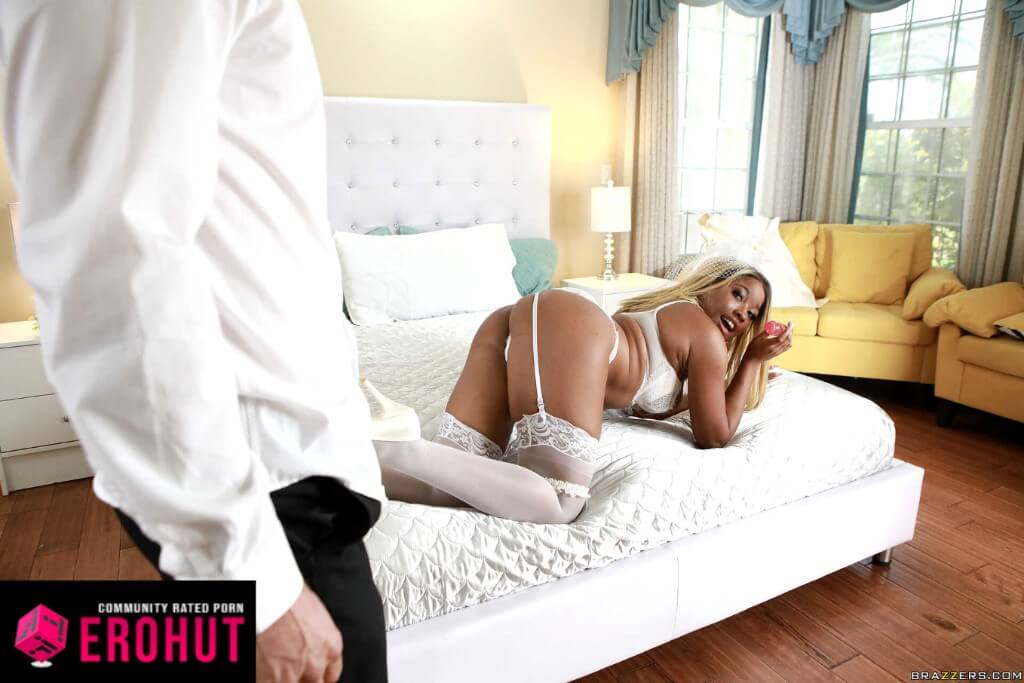 Nina Rivera is a thick black pornstar with the ass and attitude of Kim Kardashian. She wore a trashy look with blond hair, which never works on African American chicks. We roll and prefer a natural flavor when it comes to chocolate, so please stick with that. Thankfully, Asian females rarely dye their hair! On a sad note, there's rarely a curvy Asian pornstar…
Returning to Nina Rivera, she's a spicy little pepper with beautiful skin, solid lingerie, long nails, and so much more. Brazzers.com has plenty of her videos, so that's where I suggest you to go if you're feeling hungry for some thick milk.
#17 Mystique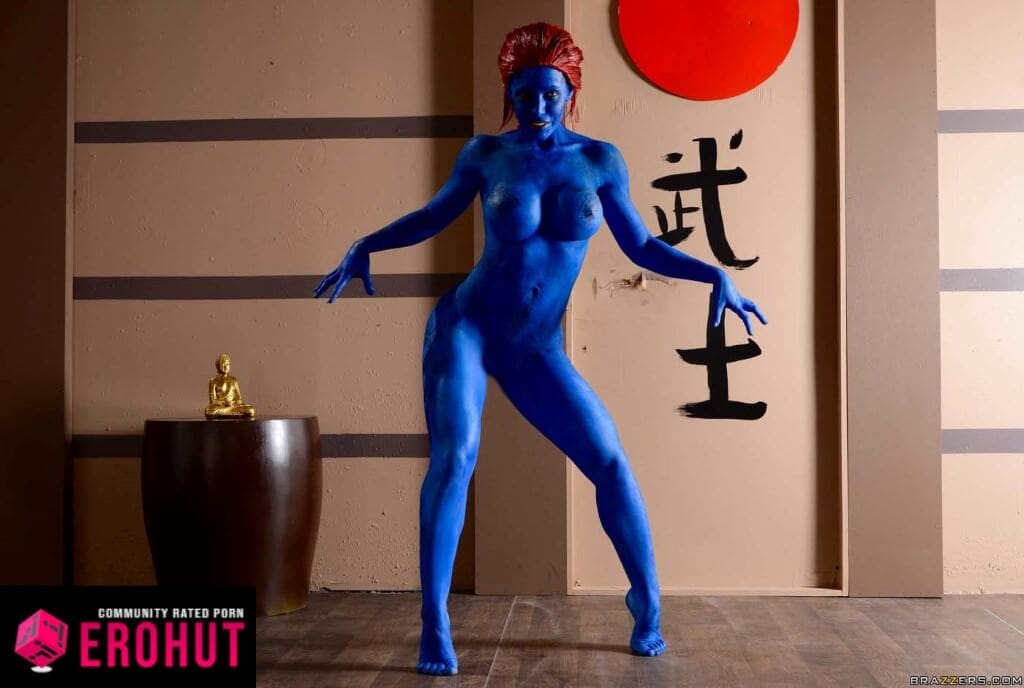 Who are the thickest women in the whole world? The African American sugar mammas and ebony princesses. Having been fucked by the best of dicks on Brazzers.com, Mystique is as thick as a ton of bricks. Unlike fat pornstars with all the meat but no curves, this black babe has both.
From all the African American pornstars we've covered so far, this nasty piece of an ass should be worthy of your attention.
#16 Hadley Mason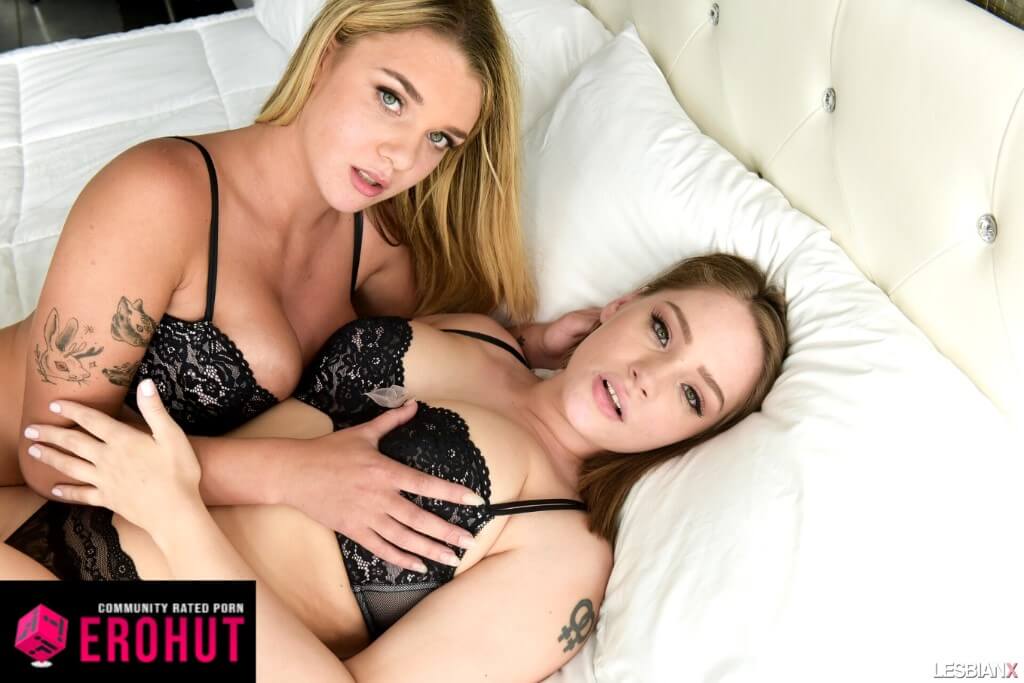 The solid Caucasian hoe from Nebraska was born in 1994 and, believe it or not, has all-natural boobs. The gigantic 36D's have never received stupid cuts from a surgeon, and I can't even imagine how bigger or curvier Hadley Mason would look with some improvements. So does she need to change anything? No! But a man can dream…
Mason's thick ass and legs can be attributed to her love for cycling. She's crazy about it. Also, the pussy is among the unique ones with puffy lips and plenty of skin. Not sure for how long she'll keep going as the number of fans hasn't grown much, but please… Don't give up!
#15 Julie Cash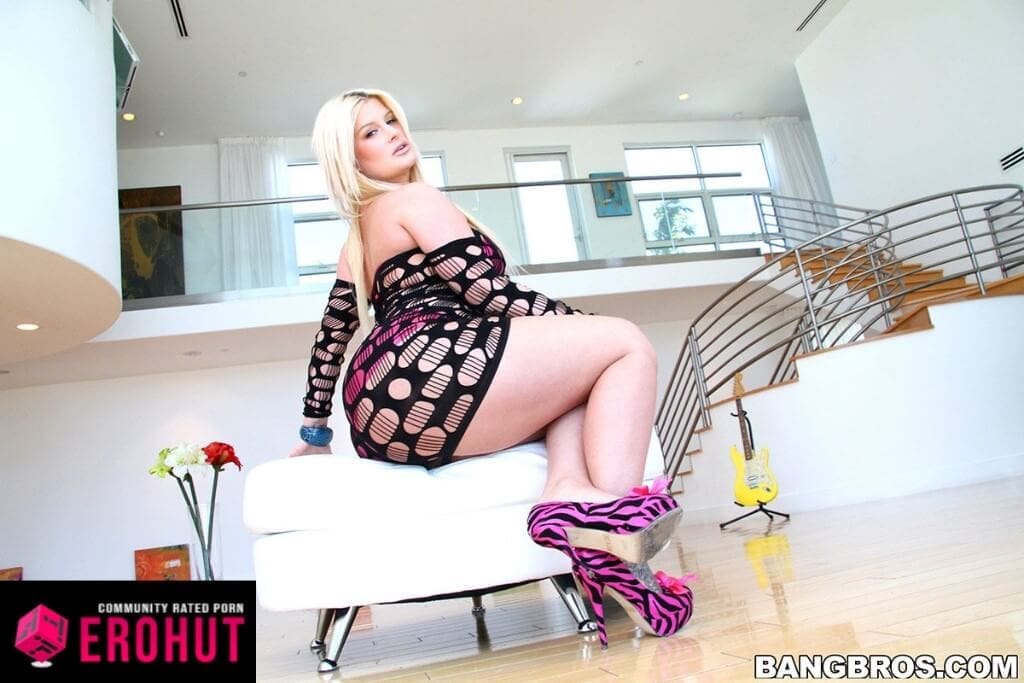 Smelling of precum, semen, and pussy juice, the curvy pornstar from the United States is just too good. Julie Cash loves to film porn in a hospital setting where she becomes a naughty nurse. If the patients inside the clinic haven't had a heart attack yet, they will come soon. Don't worry though since the thick, hourglass-shaped body can resurrect them even from the dead.
Born in 1989, the Texan babe with a 40-inch ass and 36D tits could put a serious fight against the likes of Alexis Texas, her main competition. That said, Julie Cash's name sounds way trashier, which is not a positive.
#14 Ashley Graham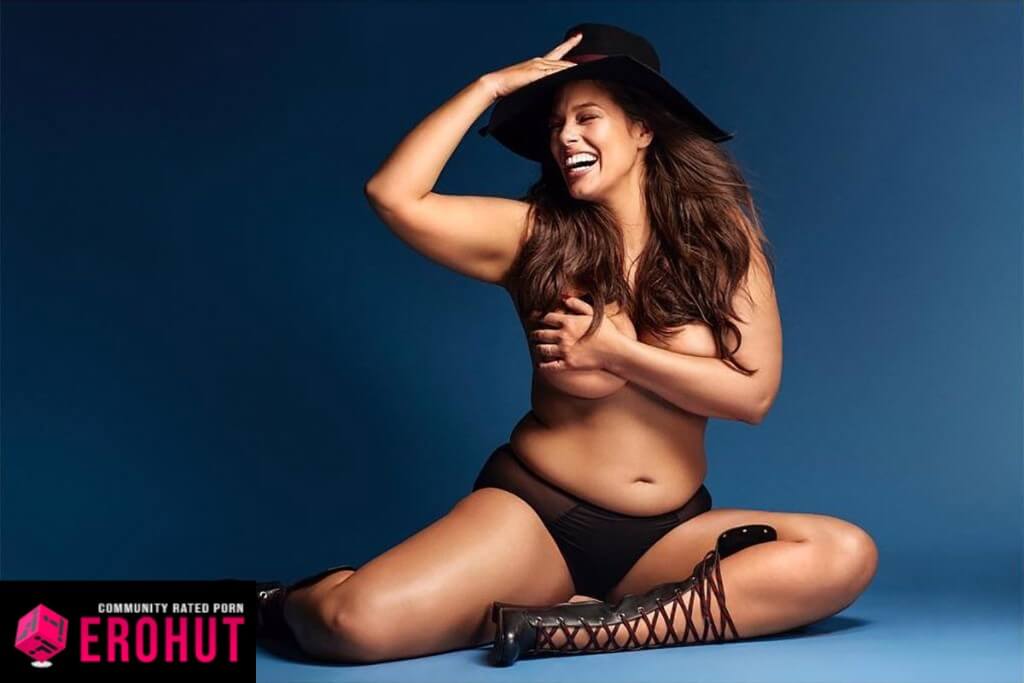 Are you feeling hipster enough to go against the trend? Even if that means loving the saggy tits that point sideways? That's a fetish for some. Ashley Graham has curves for all the wrong reasons, although it's not just an appearance that counts. Some pornstars can be hot without a 10/10 face or body, and I think this cute brownie is a perfect dessert after everything else gets boring.
Ashley has an amateurish figure that is appealing, even to the point where you want to cuddle with her, not just fuck! So far, were we fair enough to include this curvy petite? Let's see what the readers decide.
#13 Jasmine James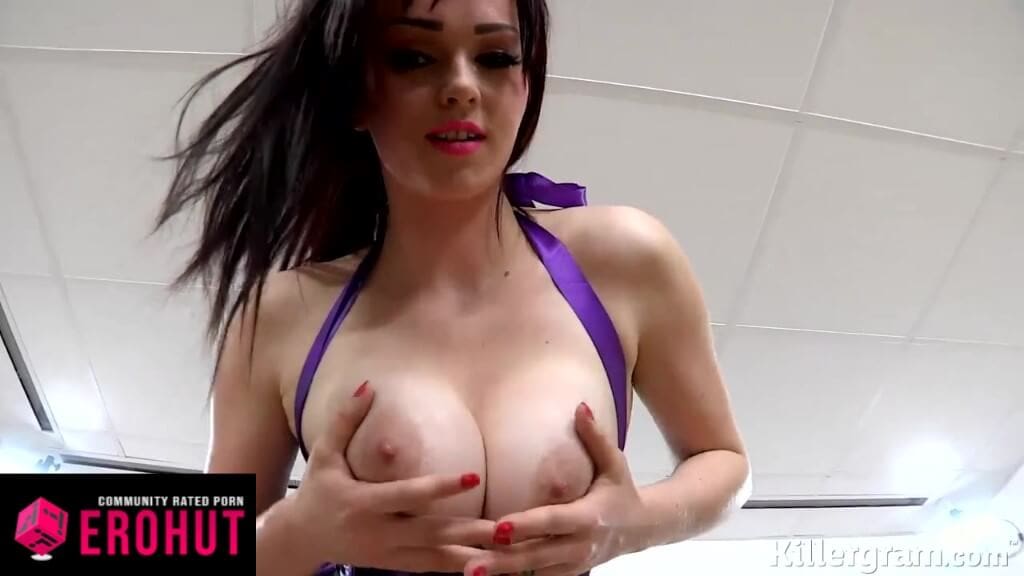 The lusty redhead from DigitalPlayground.com is more of a curvy pornstar than a fat one but still has curves on where it counts. She's a nice compromise of all the right things with voluminous boobs, solid ass, and slim legs.
Now, I don't care about the color of a butthole, but Jasmine's friend should surely bleach hers. It's too dark and looks like she has had an accident, if you know what I mean.
P.S. I still don't know which of the thick pornstars is Jasmine? The one with hair as bright as the core of the sun or, in other words, on the right.
#12 Assh Lee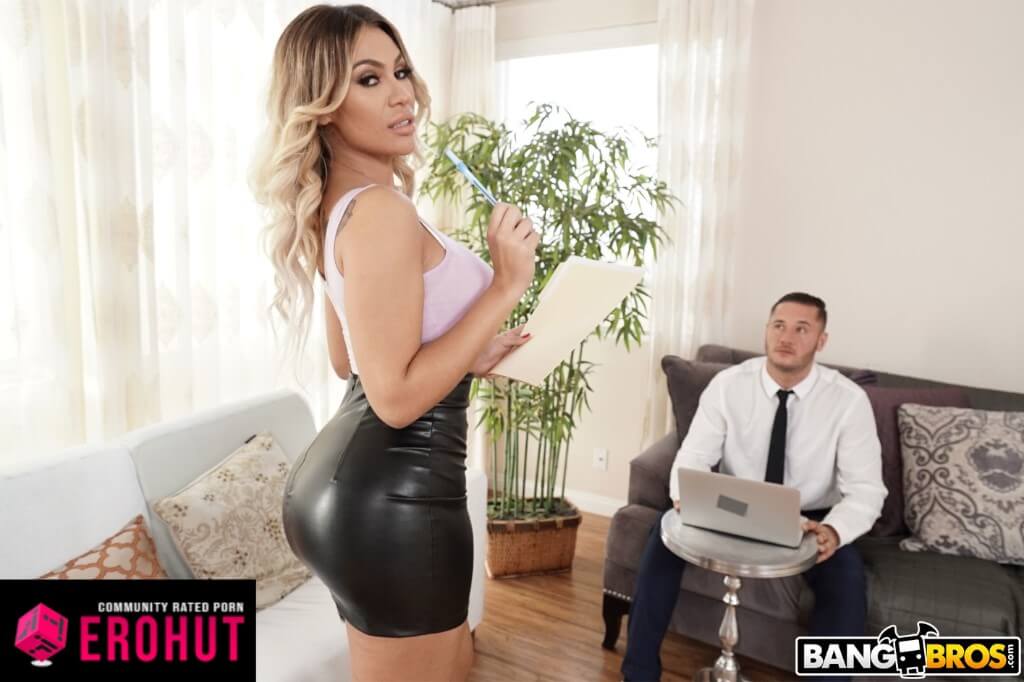 Here you go, the one and only curvy Asian pornstar, Assh Lee. That's quite an accomplishment considering that this race isn't known for curves, thickness, or large tits. The latter you can fix with a boob job, but what about the rest? This chick loves sex and is open to your suggestions. Do you have a friend with a 12-inch cock that loves to destroy buttholes? Assh Lee will love him tenderly. Is your former girlfriend now a lesbian? That works for her too!
All her holes are so moist from all the cum that she never has to drink water again. Lee's body can absorb water from the oceans of cum that get buried inside her. Careful, spillage alert!
#11 Sheridan Love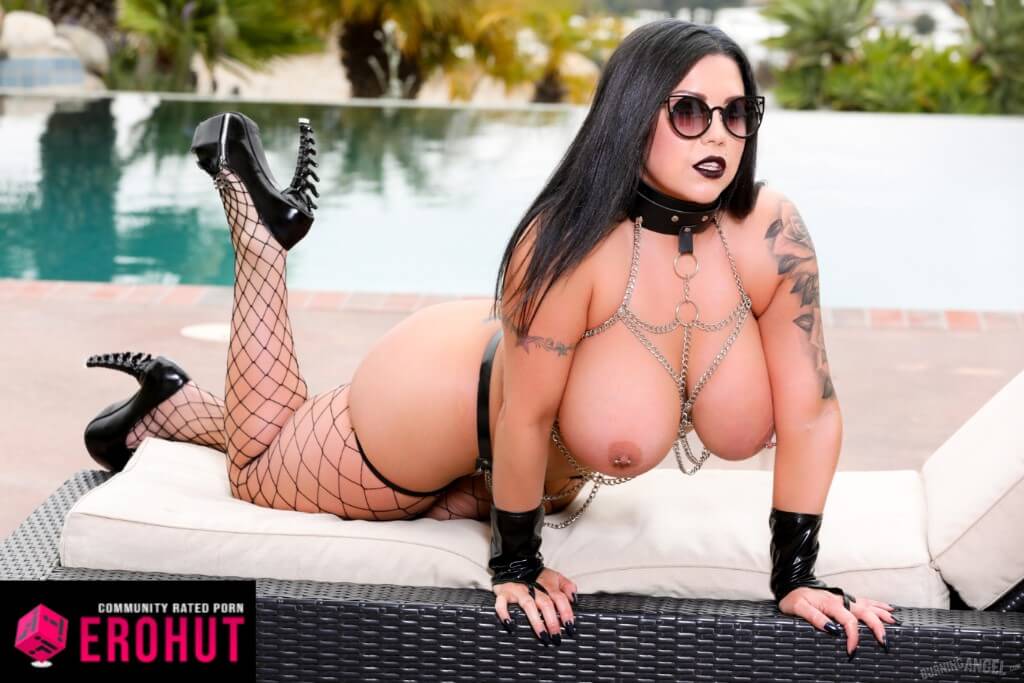 Shredding her competition to pieces, Sheridan Love adores oral sex, especially if she's on the receiving end. The Jayden James had a chance to taste her pussy, and we've heard of nothing but good things. Like two naughty stepsisters, Sheridan, and her coworker didn't spare one another's holes.
As for the thick bombshell herself, this brunette was designed by someone who's into curvy pornstars. The fat on her belly is a letdown for some, but that's splitting hairs. Her cunt is shaved, well kept, and tastes of marshmallows. Also, Sheridan doesn't only do the lesbian scenes, either! In other words, men and women will see a video with this sex bomb that should drive them wild.
#10 Julianna Vega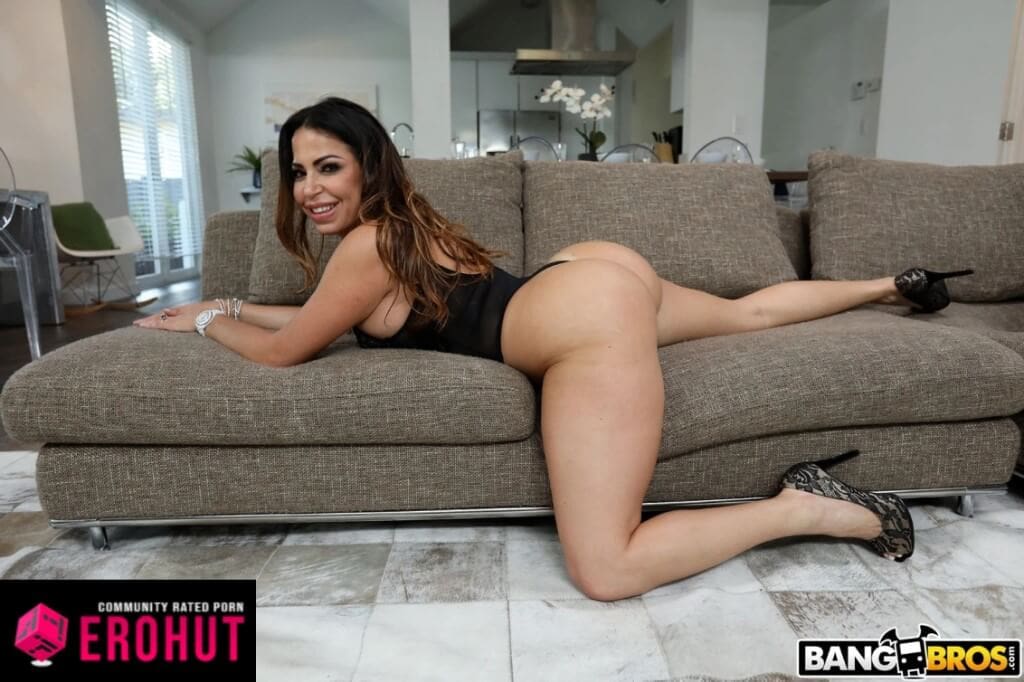 In terms of proportions, Julianna Vega is the thickest pornstar in this top 10. The ass is ridiculous, and so are the tits. She's a MILF and a soon-to-become GILF, which isn't exactly fair. I mean, women get curvier with age if they take care of themselves and don't just add fat.
Another MILF that could steal her spot is Alena Croft with a much more agile and/or powerful performance. Although depending on your taste, Julianna might still be your top pick. Her name sounds like that of a sexbot from the 80s. Are you up for a challenge? Can you outlast a horny mature babe that has seen and done everything behind the closed bedroom doors?
#9 Kiara Mia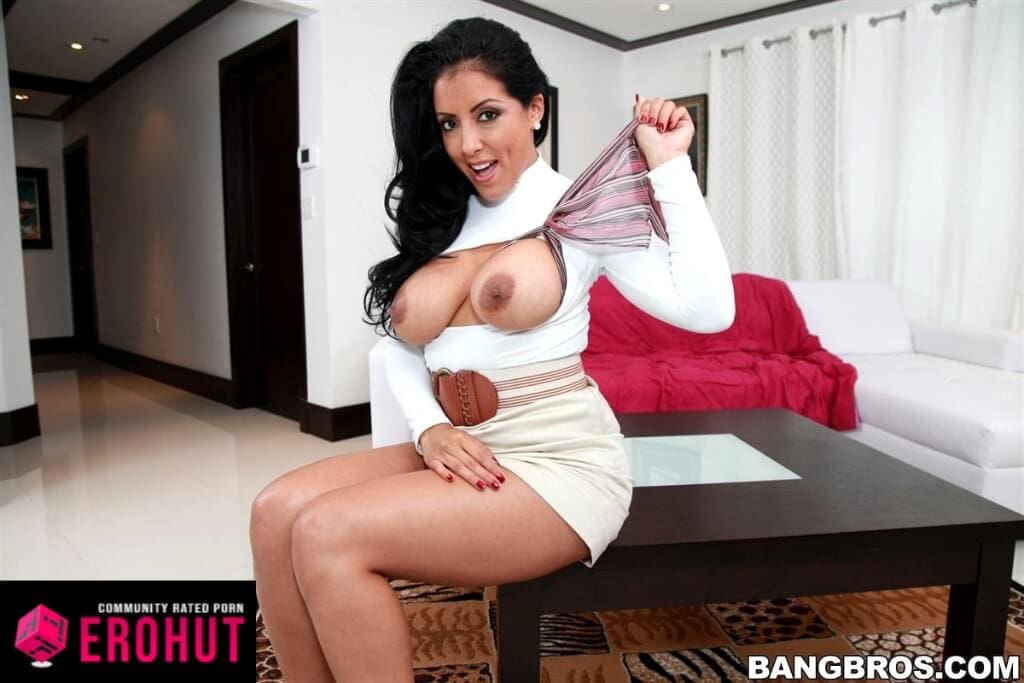 With 34DD-26-36 tits and an unmatched body, Kiara Mia is a native American pornstar with much to give. Her curves are unforgettable and the first-time anal scene with Brazzers.com was more than we've asked for. It's unclear if Kiara hasn't been fucked in the ass before considering the date of birth, but still… The video was awesome and caused a premature ejaculation on my part. On a related note, that video has won an award for the best scene too.
Born in Los Angeles, the bedroom-dominating MILF has the curves of a hippo, from big ass to enhanced tits; it's like fucking a roller-coaster ride with the swings that keep on giving.
#8 Kristina Shannon
A thick round bottom of Kristina Shannon will leave no man limp. She's a curvy treasure with more kinks than the filthiest of the pornstars. That's all good, but is there any catch? Well, you'll need at least 8 inches of meat to make Shannon happy. She's no ordinary hoe and will not accept a random beta male as her partner.
The blond hair, thick meaty figure, and smile will soon become lust. We love the performance as well as the enthusiasm that this hoe offers. Just be sure not to break the bed springs since Kristina is on the heavier side. That's fine because you demand curvy pornstars, right?
#7 Lenox Luxe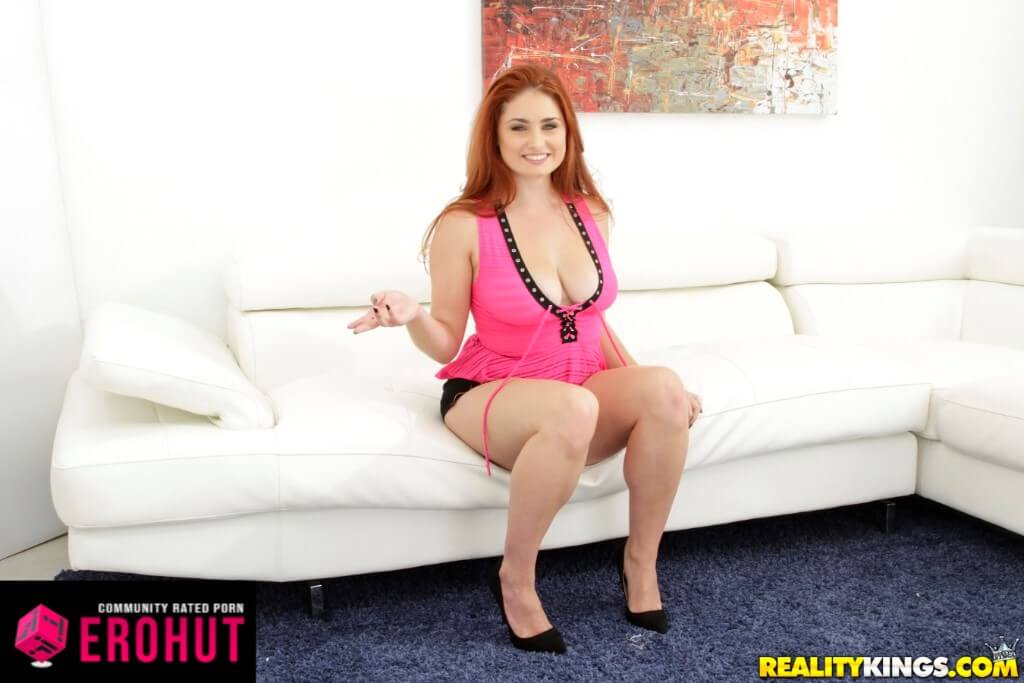 Straight from the underground to the RealityKings.com overnight sensation, Lenox Luxe has an adorable face, massive tits and some thick curves – just a great package with no lacking areas. Every part is awesome and will blow your balls off.
Take the chubby pornstar's for example, they're alone among the best and outrank plenty of pornstars. That's not all though because the auburn-colored hair, as well as pale skin, create quite a contrast, and it works! Then the curves, from meaty pussy flaps to a massive ass, she's like an epic birthday gift that you can't help yourself but unwrap a few days too early. Put some cum on her tummy because Lenox Luxe is loving it and it's yummy.
#6 Alena Croft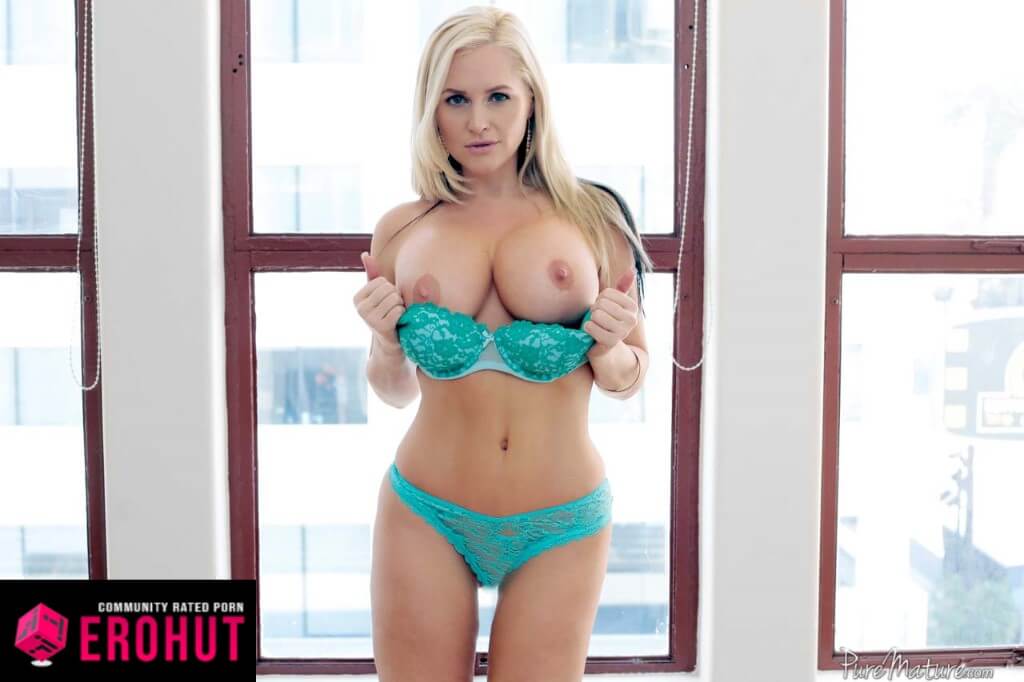 It's easy to disregard Alena for the age alone, although you'd be making a mistake. Let's get back to basics first! She's a curvy pornstar with thickness in every area. The ass is seriously huge, her tits are bouncy as well as large, not to mention the gigantic legs… Okay, are you feeling me? She got the curves, but the age is still negative for you, right?
Alena Croft is a no-slouch pornstar with so much energy and charisma that you cannot fall in love with her. It wasn't until one specific threesome scene on Brazzers.com that sold me on this blond beast. Afterward, I've watched every new upload ever since.
#5 Brooke Beretta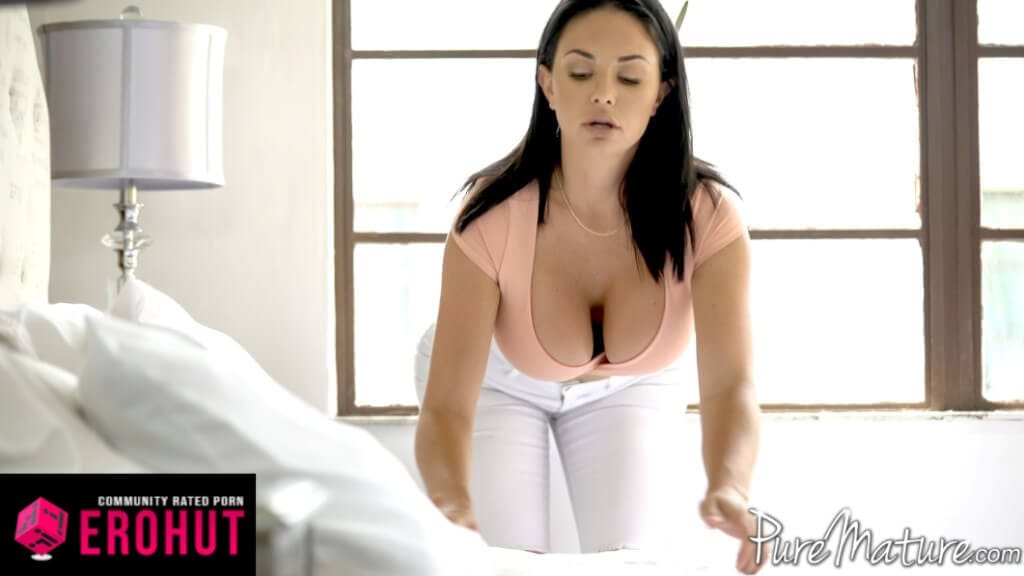 Having never been featured on the EroHut site before, Brooke Beretta left us speechless and with dicks oozing with cum. What do you want from a thick pornstar anyway? A massive ass that is larger than your head? Check. Maybe a round ass so your tiny dick can penetrate through the whole thing without embarrassing you in the end? Also, check.
Brooke Beretta is a rising star on Brazzers.com and for reasons worth investigating. Be warned though, prepare for a shortage of the napkins.
#4 Mary Jean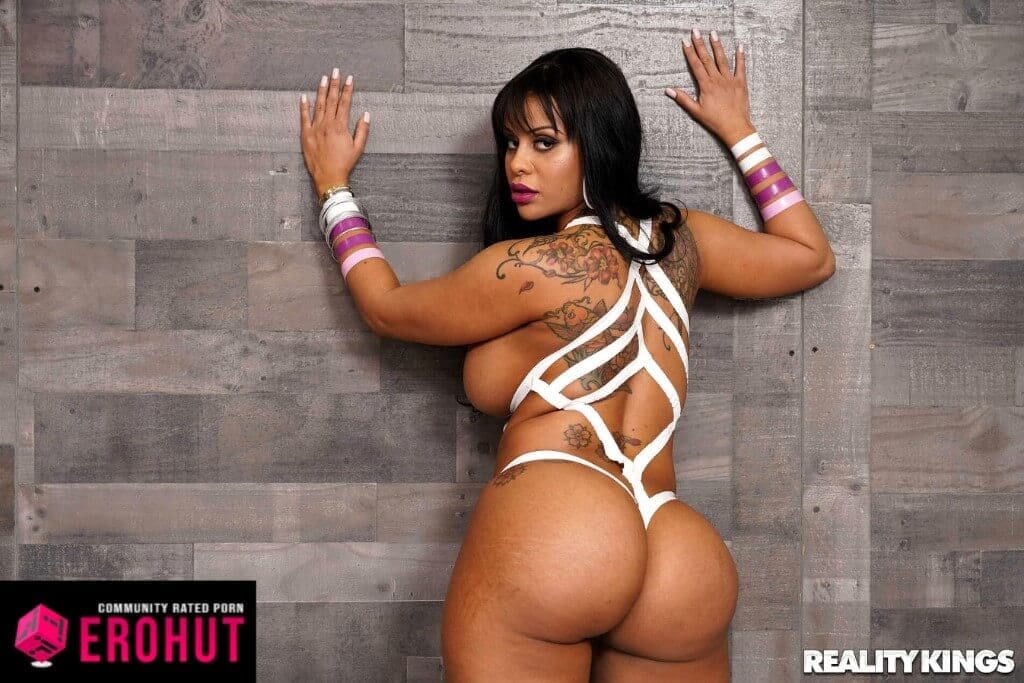 When speaking of thick pornstars, this top 10 would be dull without Latina babes, Spanish sluts, and Brazilian hoes. If you want juicy, go for the likes of Mary Jean who don't have to overcompensate for anything.
Her tits are incredibly large, the leg muscles go beyond those of a professional bodybuilder (except much sexier), and then there's an ass. Be careful now; you don't want your cock to be crushed by those plump cheeks. Also, can we talk about beautiful skin? Yes, an exotic babe with a tan as dark as my armpit hair can't be hot. After all, Mary Jean spends hours under the nourishing hand of the sun. I heard she needs some thick lotion…
#3 Natasha Nice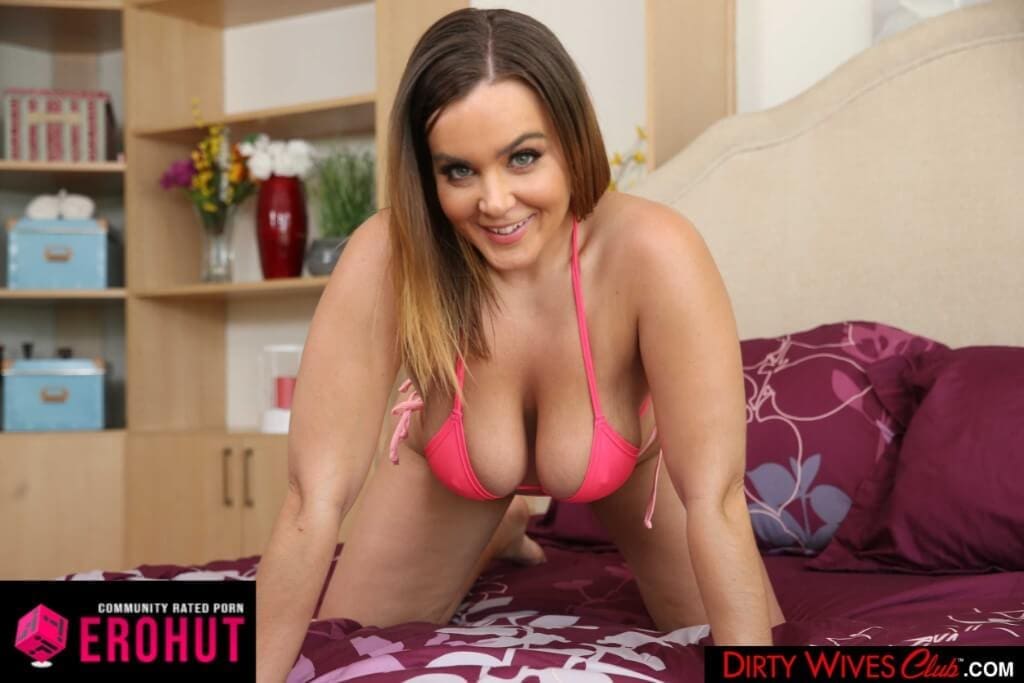 Described as a hoe out of this world, Natasha Nice impressed us from the very beginning. Glad to see that she made it and now films exclusively with the epic porn networks and no third-party trash studios. There are far too many new pornstars on the Mofos.com site that made a poor first impression. They're decent and maybe even good enough by the amateur standards, but if you want to play with the big sluts, look at the queen herself, Natasha!
The round tits and curvy ass are beautiful to look at and even greater to pound at. Taste her cunt, shove your cock into Nice's butthole and call it a day off.
#2 Harmony Reigns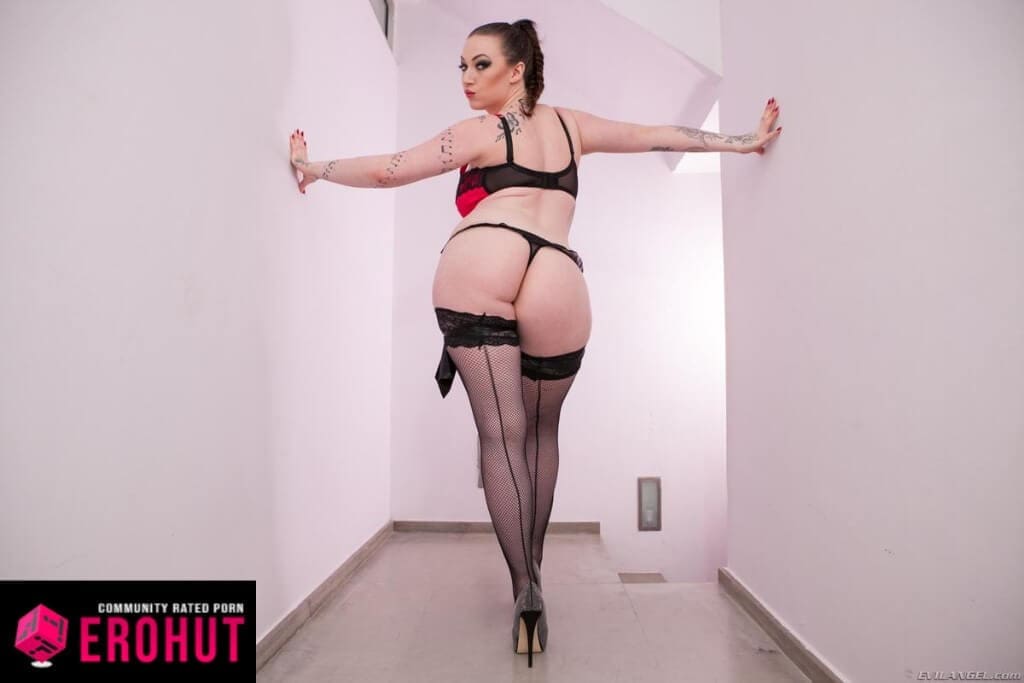 With creepy tattoos, large milk canons, and a curvy goth look, Harmony Reigns had some ups and downs during her career. She hasn't retired yet, just so we're clear. Let's travel back to the 2010s when a strong debut video got us engaged right away. Most of us thought that Harmony would be pulling a million views (or cash) in months. Sadly, the major labels weren't of the same opinion and new videos rarely appeared. This is an attractive pornstar, right?
Thankfully, she didn't give up and continued to push through. That's a hustler's mentality! Reigns has shot some new scenes with the 2nd party studios in the 2020s, so there's that.
#1 Angela White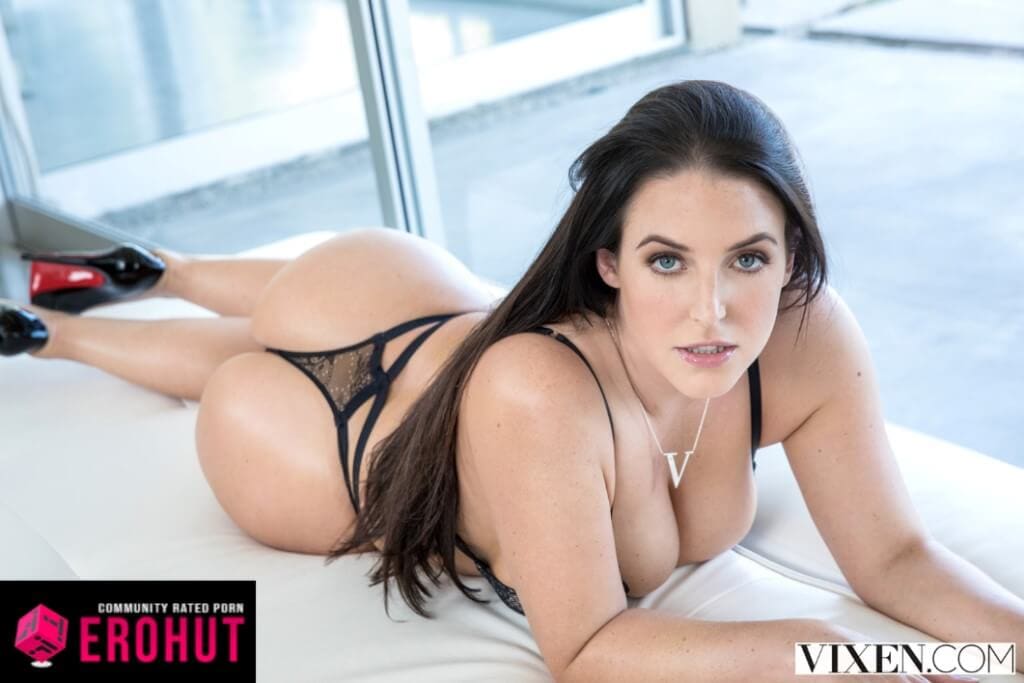 Continuing the thick pornstars' parade is one of the most popular fuck toys on Brazzers.com, Angela White. She tries hard, always outdoing herself and the viewers can tell! Just stream a single video and you'll be hooked. It isn't even a fair contest when you talk about the experience.
Her talent is undeniable, and so are the curves. She'll take it in the butt, mouth, pussy, nose, ears… Whatever! The ever-smiling brunette could teach you or pornstars a lot about sex. Angela is a giver by nature and could even cook for you in the morning, assuming it was a night where she didn't throw you out of the bedroom due to the subpar performance.