Seeing a girl with ink, especially a hot one, excited us. So, we decided to share our love of tattoo-covered pornstars with you and make this list. Not just random skanks with a dot or unicorn, but more creative ones too.
In this top 10 featuring pornstars with tattoos, we'll share gorgeous adult models that have back tattoos, sleeve tattoos, and even tattooed tits. Read on and enjoy.
#21 Small Hands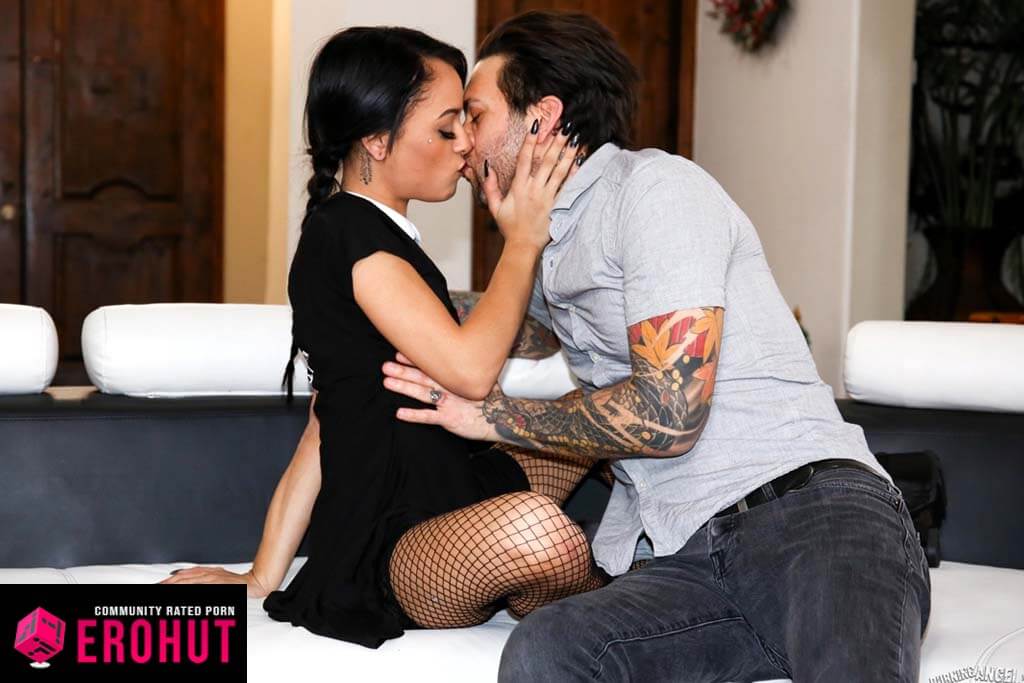 The only male pornstar with tattoos worth mentioning is Small Hands. You didn't even read this description, bro! It's the guy on the left rather than a random slut with a poor tattoo. Mister "Small Hands" has a variety of interesting tattoos!
His body is like 70% ink, with back and arm tattoos and some on his stomach and chest. There are too many to list. He's a walking gallery of great work.
#20 Britney Shannon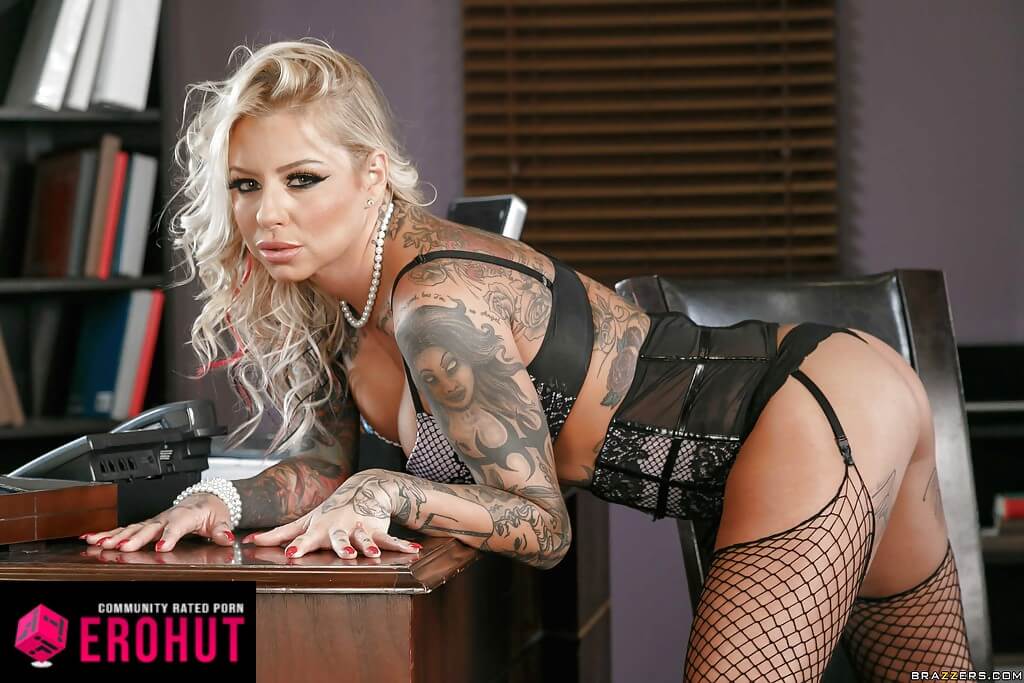 Tanned, blonde, and almost doll-like-looking pornstar, that should be enough. Britney or Brittany Shannon is a ripe babe with a big tattoo on her back that extends to both arms. But, then, if you flip this slut over in the midst of fucking, the creepy demonic lady will look at you. Britney's body will keep you entertained, like a map of the universe or an illustrated book full of stories. If not, there are always multiple holes to put your beef jerky in.
She's stared in dozens of scenes with anal, fisting, big cocks, and group sex for sites like Mofos.com.
#19 Bella Bellz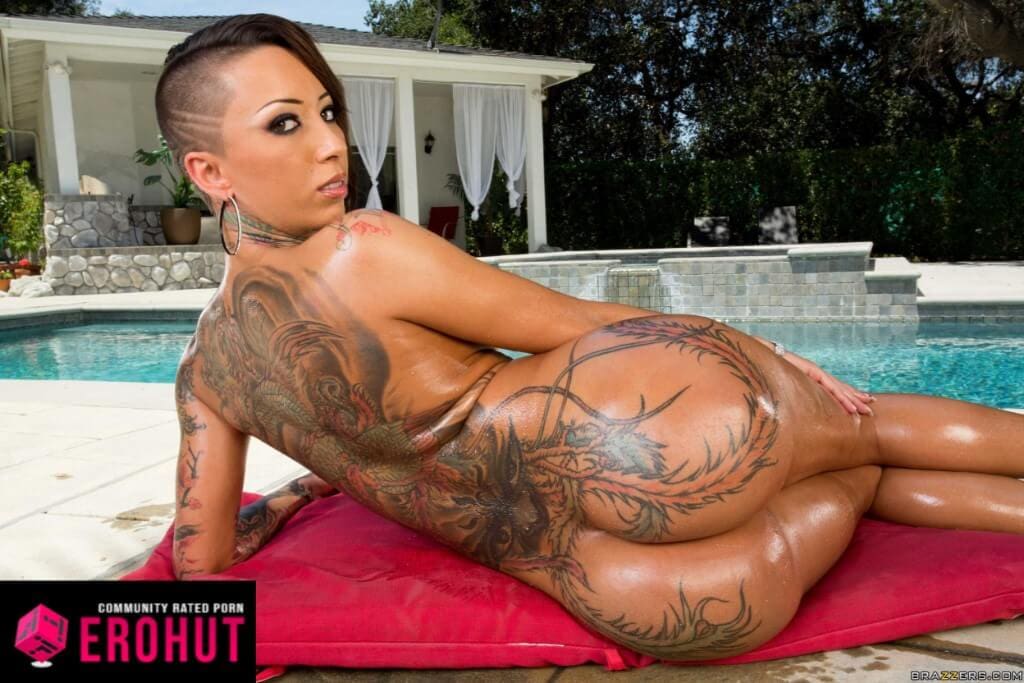 Bella Bellz, or Bella Bends is an unforgettable pornstar with tattoos. She has a big jiggly ass, great firm boobs, tanned skin, and can ride a foot-long cock.
Her biggest one, a dragon tattoo, covers her back, butt, and left arm. Cum and see your semen drizzle down to the bottom of it. If not, we want to hear the narrative behind many of her inked body parts. You can see her in action with a free account on PornHub Premium.
#18 Payton Sinclaire
Have you been a naughty boy? Do you feel like getting fucked in the ass? Are you secretly homosexual? Pretend to be straight and get Payton Sinclaire for your birthday party. Society claims that only the strongest men are not afraid to appear weak, but I'd rather not have a fake dildo (or a real dick) stuck down there.
Okay, we're here to talk pornstars with ink. So, what about Payton and her tattoos? There are poems, flowers, wildflowers, and more.
#17 Sydnee Vicious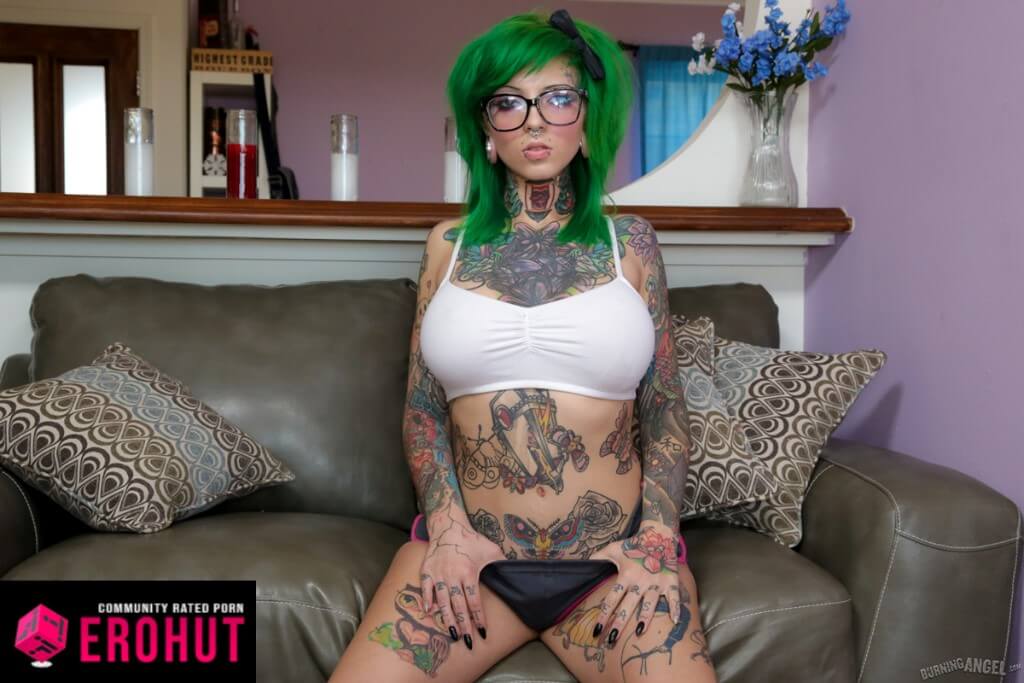 Sydnee Vicious, or Kaitie Amen has probably the most tattoos on her body in our top list. Does that make her the hottest pornstar with tattoos? Well, that's for your votes to decide.
You haven't seen it all yet. Sydnee is an emo with purple hair or an alternative-looking pornstar with large tits, piercings, and lots of good scenes. We have seen her deepthroat videos, and anal and rough sex scenes. Where at? EvilAngel.com, the haven for a tattoo, punk and emo porn, is where you can find her.
#16 Jenny Hard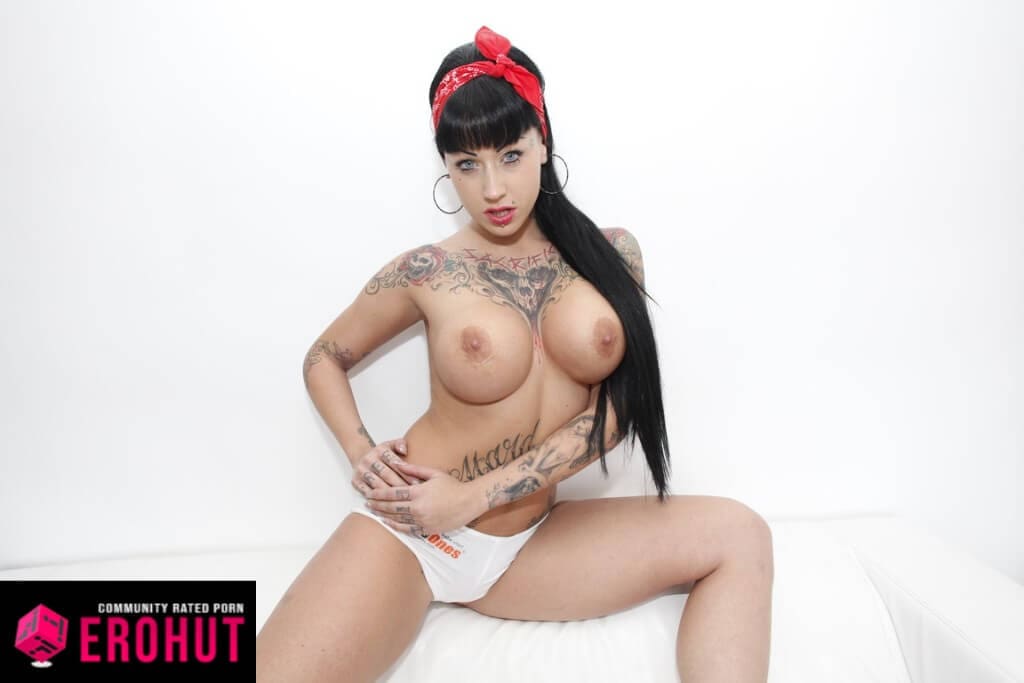 Young, Spanish-born babe Jenny Hard has blue eyes, black hair, and a big old pair of fake titties. She has ink on her arm, leg, belly, and shoulder. But freaky things don't stop there!
With tattoos, you get a package of piercings, and this bitch fucks like an animal. Start watching her hardcore scenes, and you will see. Maybe a bit too fat for me.
#15 Daizy Cooper
What goes around comes around and with Daizy, everyone is cumming. While tattoos on black skin aren't as prominent, the sheer variety and quantity make up for all that. From random trash on the belly to symbols just above the chest, followed by random quotes and more gibberish below. If we could name Daizy's style, it would be "all over the place".
Where did she come from? The Hollywood! Like all new-age millennials, the average body doll with 34B boobs is fine with bisexual play just as much as every other slut in town.
#14 Ophelia Rain
Now that's some juicy and fucked up shit we'd like to see more of. Ophelia Rain is not a goth-like pornstar with skull tattoos, demons, and nasty earrings. Jerking off on top of these two skulls is now on my bucket list.
Good thing I got a Brazzers.com subscription for $1 where Ophelia has been performing for a while. Plenty of extreme bits, and let me tell you, these devilish tattoos look way better in the video.
#13 Brenna Sparks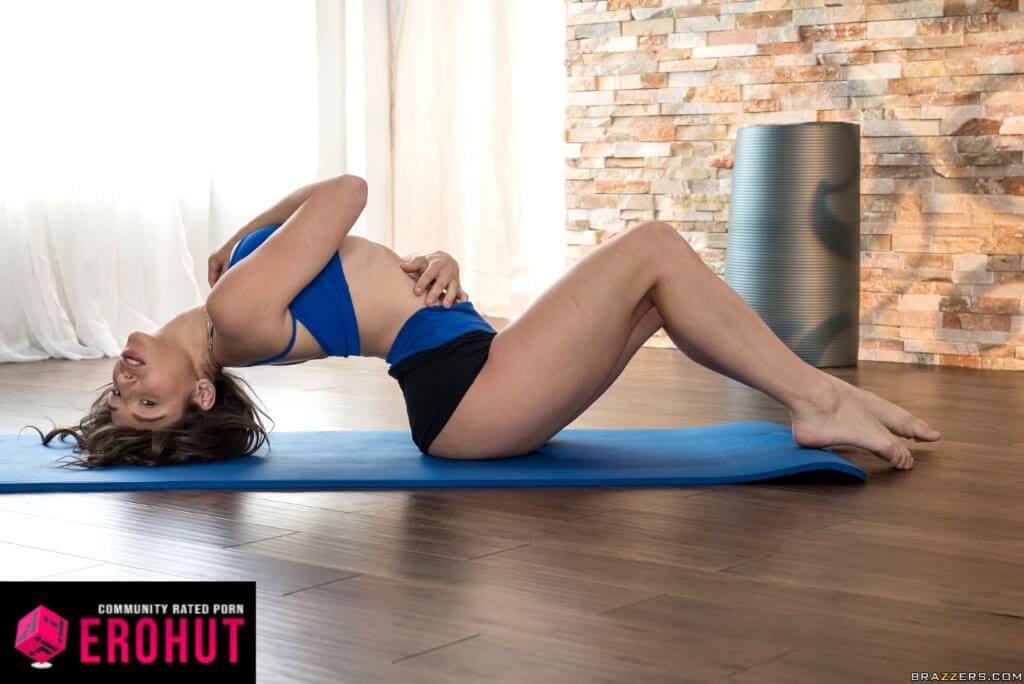 My dick can't handle everything you throw at it, and Brenna Sparks is one of those exceptions. Her tattoo collection is not the widest, rarely seen, even, but the roleplay scenes in which she performs are insane. Do I mean that in a good way? Let's say you're on your own to find out with this one, buddy.
Born in 1992, she'll remain in her 30s for a while, and after that… The transition to MILF porn, where she hopefully can act out an older animal.
#12 Alice Judge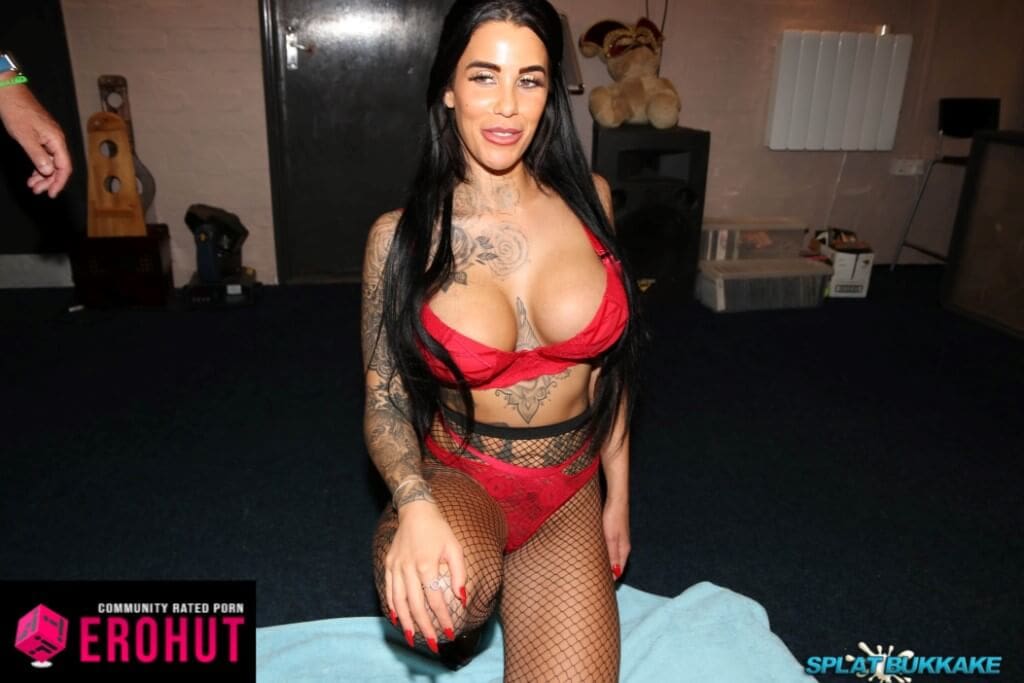 Flowers and butterflies, that's the summary of multiple pornstars with tattoos. Not just performers, though. Females love girly stuff, and while a more fucked up hoe will get some skulls inked too, it's an odd one.
The blond-sucking guy's dick is Alice Judge, but as they say in university… But don't judge a book by its cover. We see plenty of exciting tattoos on this tasty body. Still, there's nothing like downloading videos on Brazzers.com and watching all that meat in action.
#11 Katrina Jade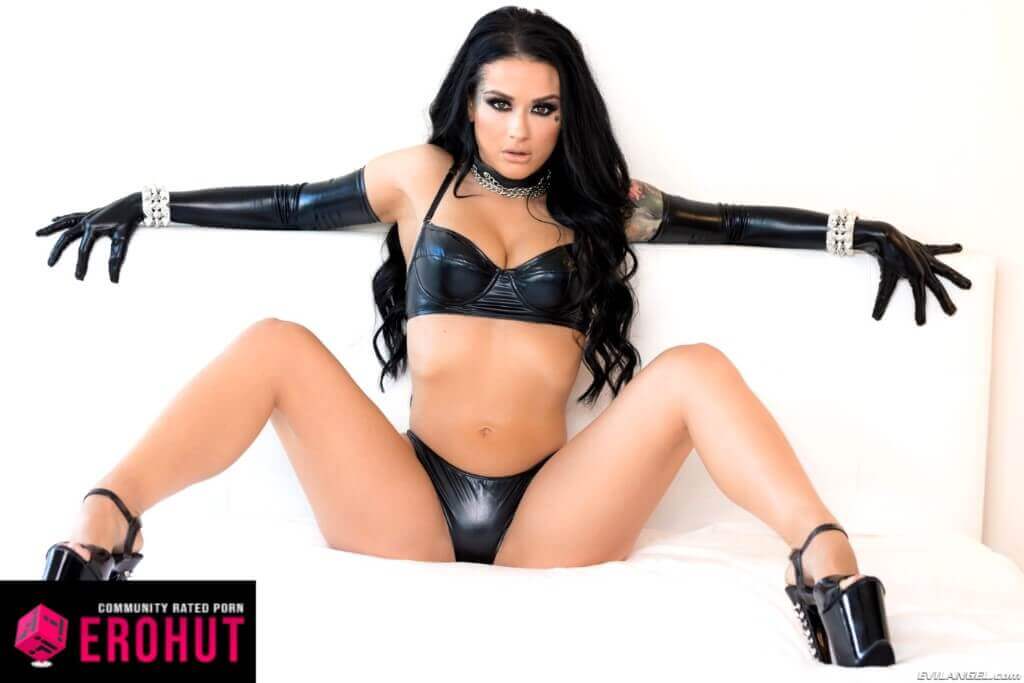 Brunette Katrina Jade won us over with her large natural tits, pretty face, rough anal scenes, and tattoos. She has a spider tattoo near her left eye and numerous others, as well as nipple and clit piercings. Why stop with ink when you can add more to your body?
However, I bet you could not care less about her inked parts when she is spread like that? Did you even notice that Katrina has tattoos? Whatever the answer, watch this pornstar getting boned on RealityKings.com and Brazzers.com.
#10 Alexxa Vice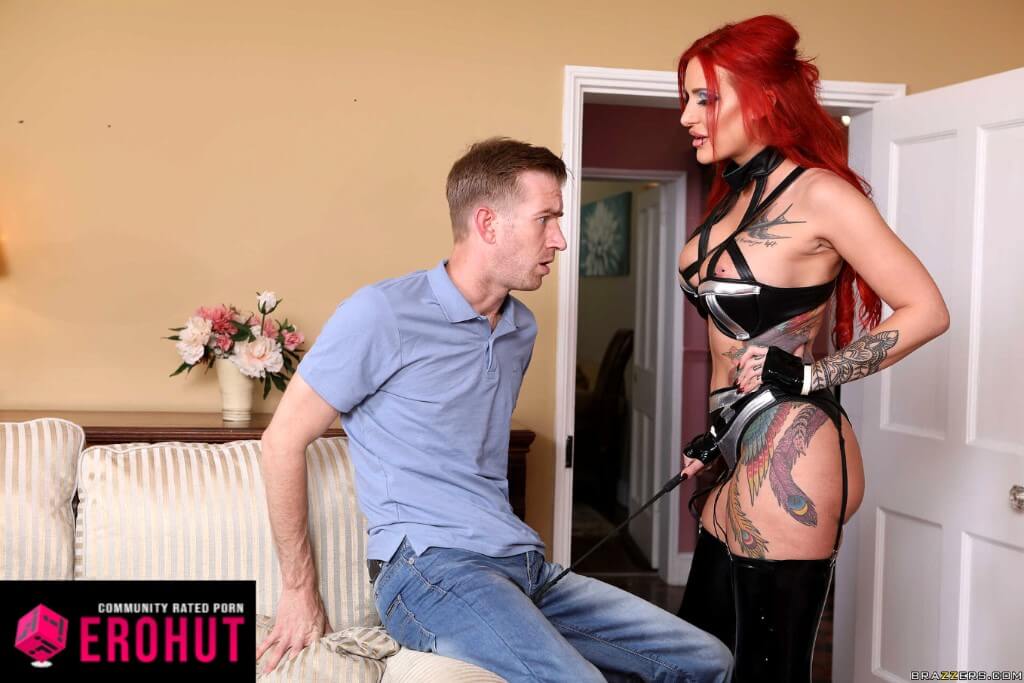 Let's examine the multitude of tattoos that Alexxa Vice has. At the top of each breast, there appears to be a bird and some hope quotes to accommodate them. On the left wrist, there's another quote tattoo saying, "got better", which could mean something to our slut.
Move closer to her pussy area, and there are random flowers, mandalas, and some colorful bits. Last, we find another non-sense quote and a few butterflies.
#9 Joanna Angel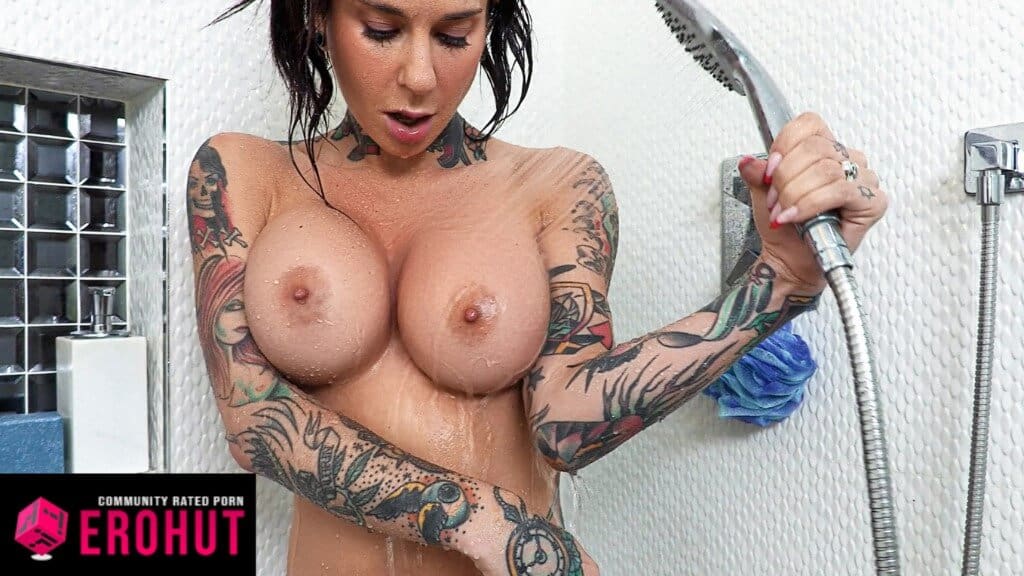 Everybody who loves tattoos or alternative and emo pornstars knows Joanna Angel. This short pornstar, yet busty goth is still pumping out videos. It does not even matter if it's straight or lesbian. This hottie still has much to offer, even after close to two decades in the business.
Go to EvilAngel.com to find dozens of her videos. Every single one of them is as hot as the stove.
#8 Naomi Rain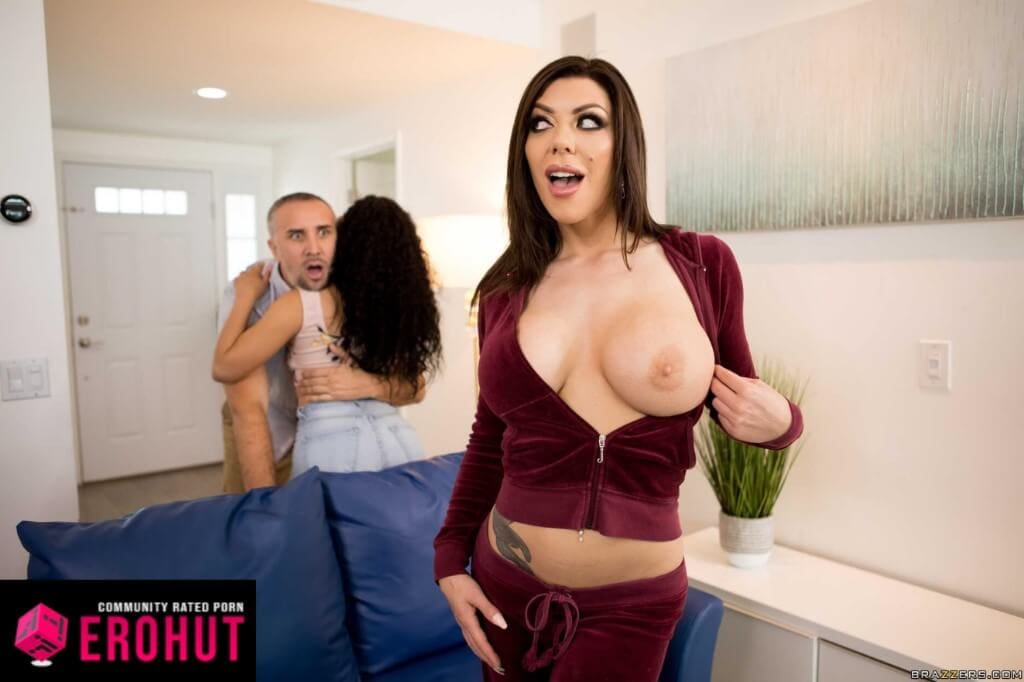 Regarding the editor's choice of EroHut, we have none other than Romi Rain filling the spot. This brunette with massive boobs has big tattoos all over!
Look at her back, and you will find many. The extra few tattoos come on her arms and legs. Whether she's a doctor, BDSM slave, teacher, or stepmom, this MILF looks superb in all her scenes. The best place to watch her in action is Brazzers.com.
#7 Alison Avery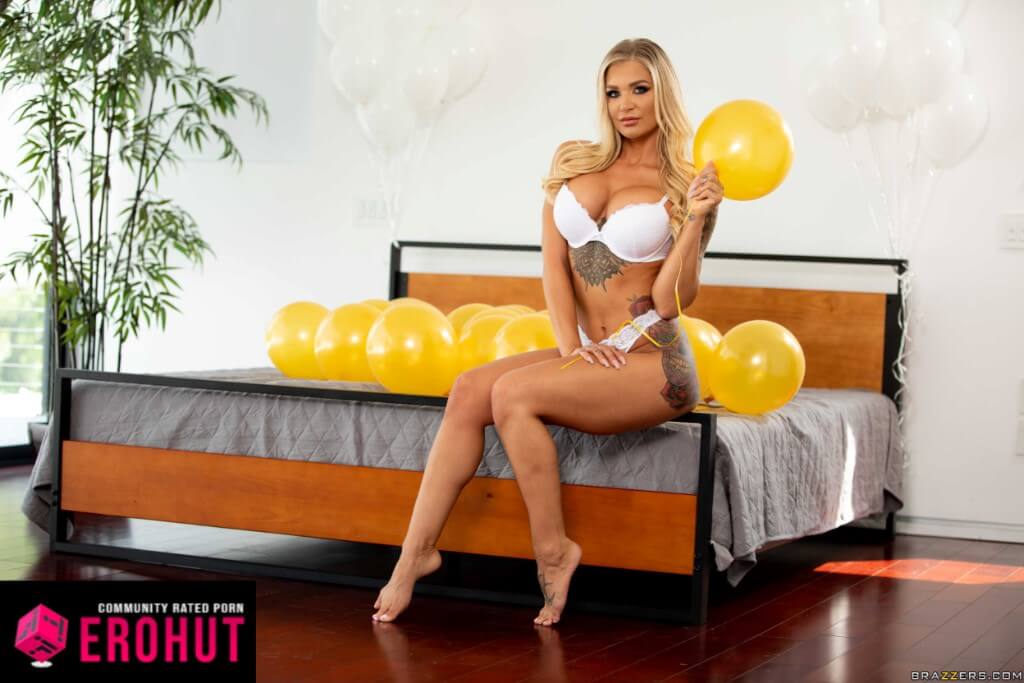 Now, Alison is one of the more interesting pornstars with tattoos, mainly because they're a tad unusual for a female. Tribal tattoos were popular among men in the 90s, and I guess this is the feminine version.
One of her shoulders and left arm is especially appealing. It truly is a piece of art, and the colorful dyes on the bottom somehow tie them all together into a view worth watching again. See the happy guy? It's Keiran and they're fucking for Brazzers.com.
#6 Monique Alexander
Always ready to fuck, Monique Alexander has pushed more videos on Brazzers.com than I've masturbated through the last ten years. Burgundy hair color and colorful tattoos make this pornstar a great spectacle.
Call her a flower girl or a dirty slut; everything works if these words don't come from a mean place. Yes, she might not have 20+ tattoos, but those on her arm and back look interesting.
#5 Christy Mack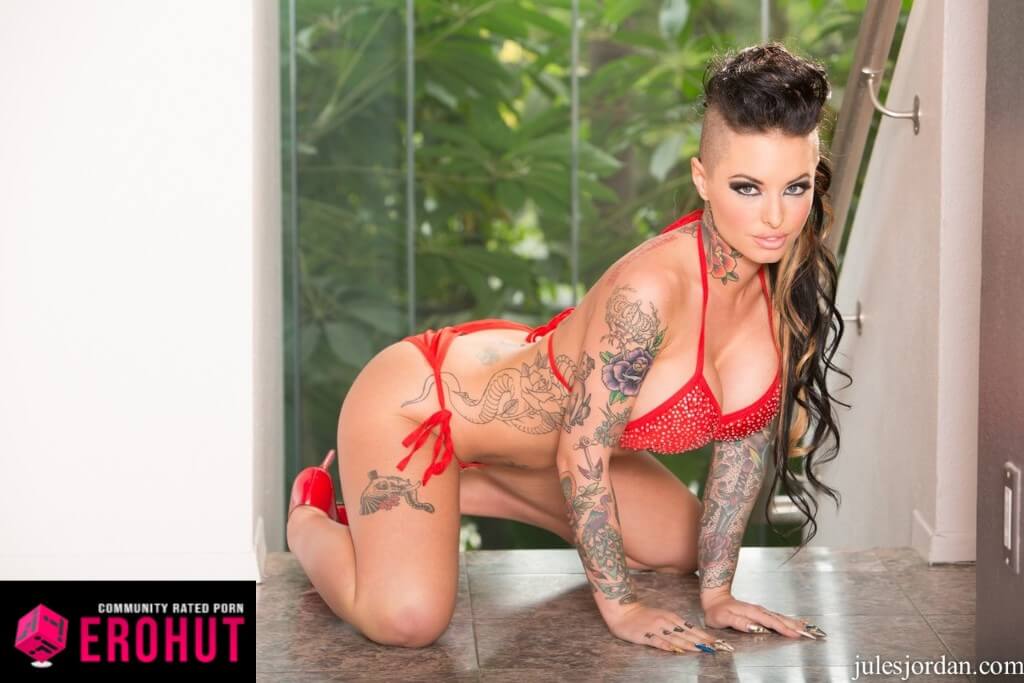 Christy Mack, or Antionette Josephene, is a short, curvy, and tattooed pornstar. Like a good slut she is, this babe loves anal and lives for big dicks. Mack's pussy looks very delicious.
She's got ink all over her arms, back, and neck. After working with many sites, you can watch her scenes anywhere. Investigate those tattoos, too if you care.
#4 Bonnie Rotten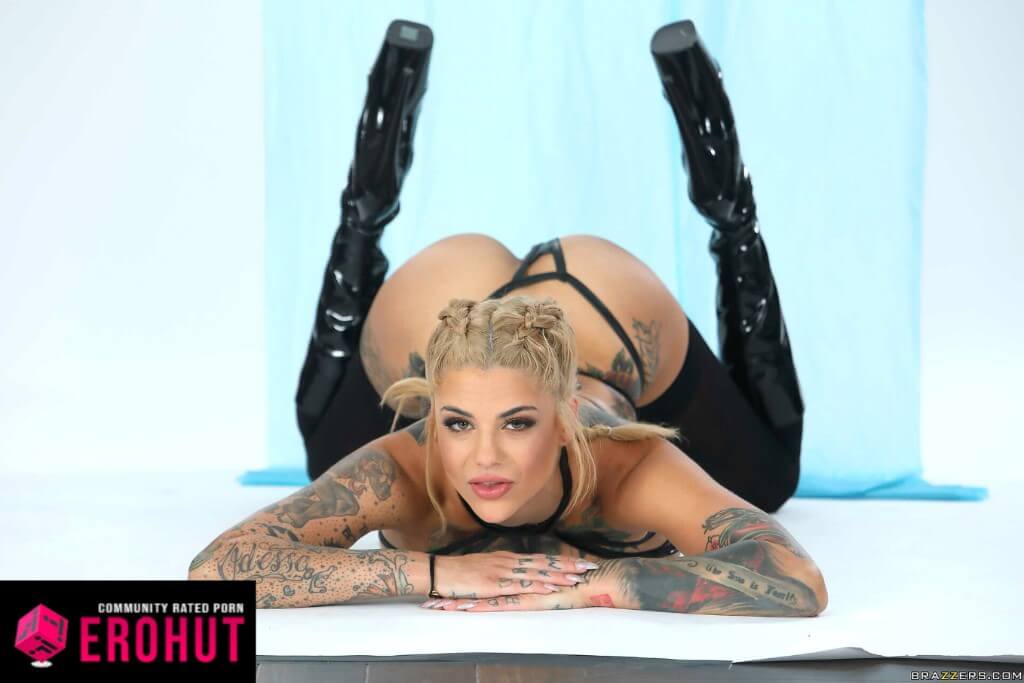 Bonnie Rotten was number one on our list for more than one reason. First, she has a ton of tattoos, including tattooed tits. Next, she's equally famous for her nasty scenes. The filthy body and disgusting sex mix nicely.
There is not a thing that will disgust her. Bonnie squirts, does BDSM and loves anal gaping. Who doesn't? A lot of her creations exist on sites like Brazzers.com. She is a regular star here.
#3 Karma Rx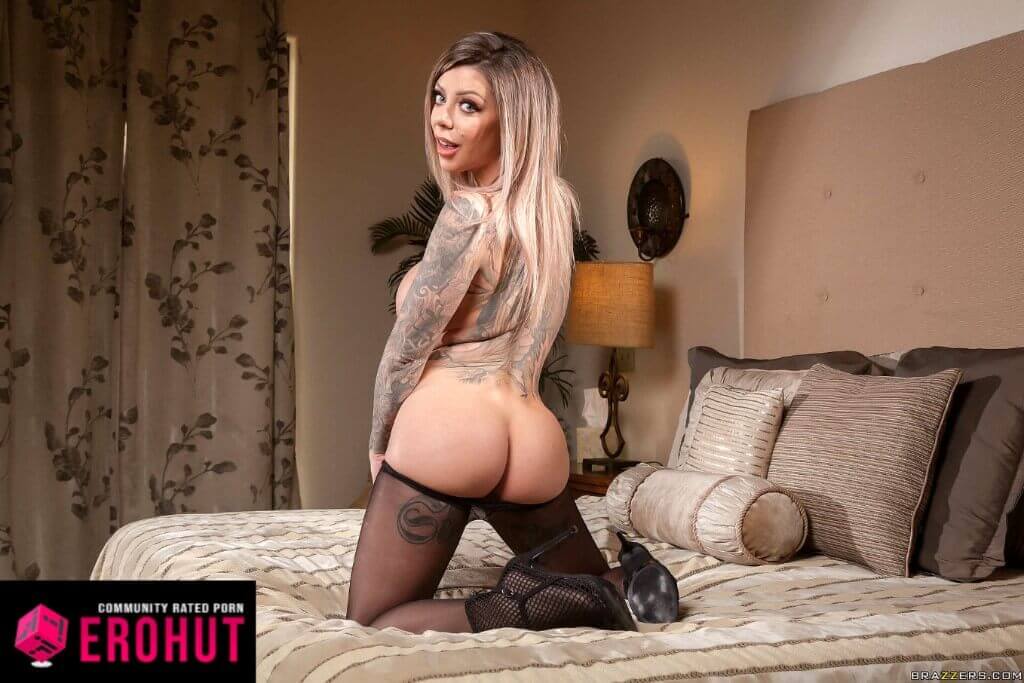 Karma Rx has so many unique things on her body, and it's not all about tattoos. For example, big tits, green eyes, and blonde hair. But on top of all that, this 25-year-old porn star also has killer tattoos.
Let me rephrase that. It's no wonder she won the 2018 NightMoves awards prize for Best Ink. However, she's not all looks. This alternative slut is also kinky and ready for rough sex. Check her out on RealityKings.com.
#2 Kleio Valentien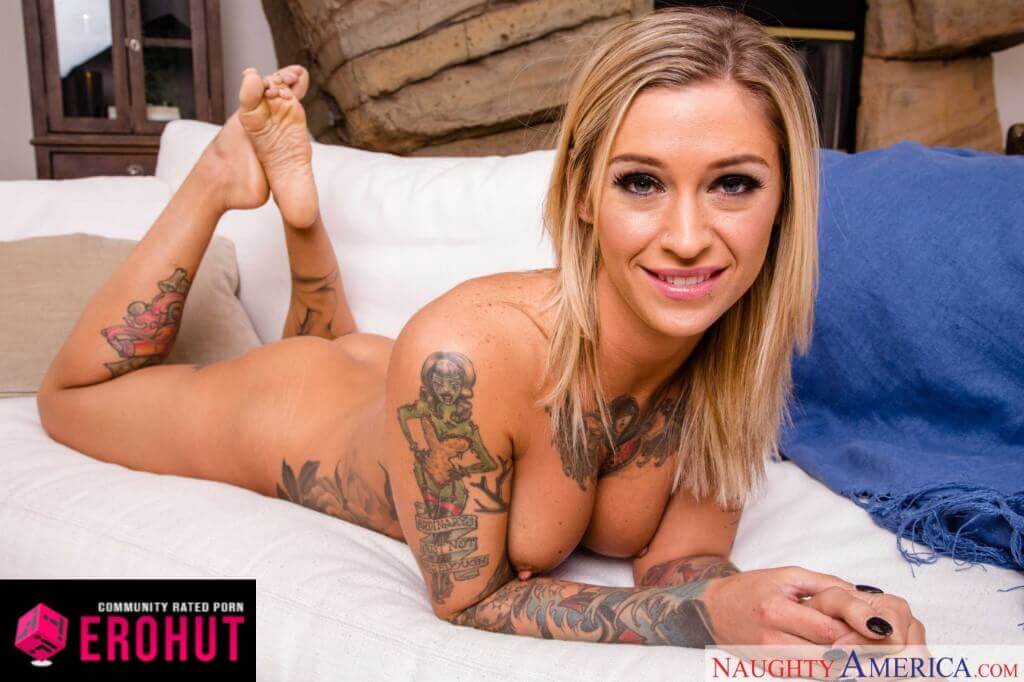 Texas native and gorgeous blonde Kleio Valentien is anything but ordinary! That hair color already looks like something from Final Fantasy.
With tattoos covering most of her delicious body, we can't help but cum. She has done anal, rough BDSM, strap-ons, and grinding. However, probably the most famous MMA porn parody Ronda ArouseMe at EvilAngel.com
#1 Anna Bell Peaks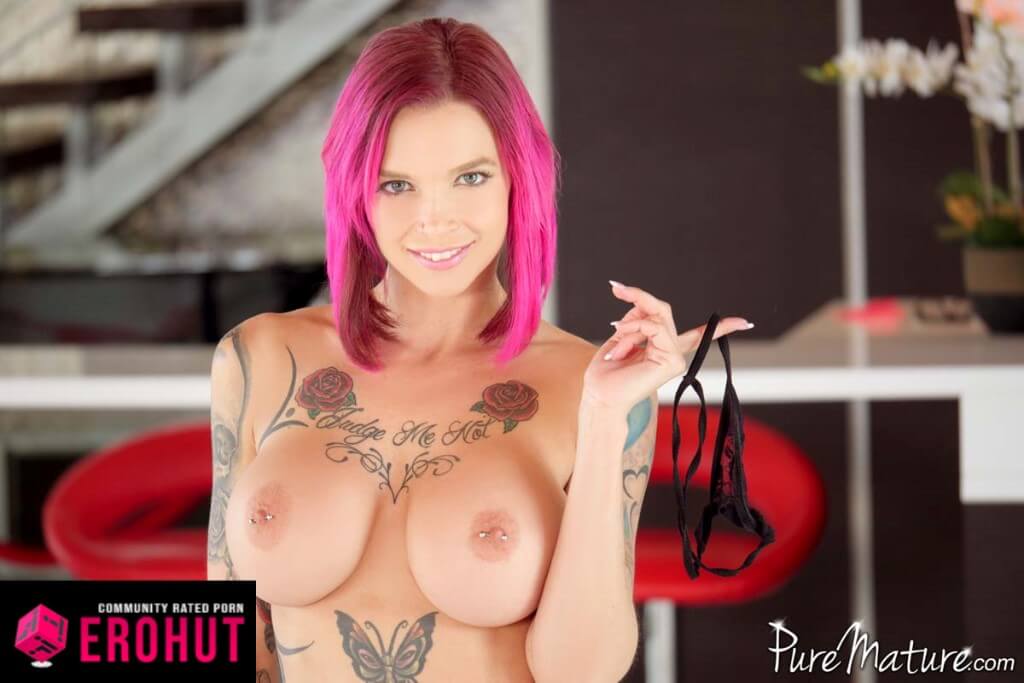 If you haven't seen this MILF pornstar with epic pink hair, then here is one juicy surprise for you. Anna Bell Peaks is all about ink with tattoos on her back, stomach, legs, and arms.
Like the never-ending love story, this slut fucks like a pro. Thanks to her big tits and love of kinky sex, her straight and lesbian scenes are like nothing else. You can find them on Brazzers.com and few other sites.