To be honest, what does a pornstar looks like while she's not filming doesn't bother us. What's important is that these hoes bring their best to every scene. After all, a lot of women tend to look drastically different when they don't have any makeup on. The same goes for most adult actresses.
Most of the pornstars without makeup presented here look decent and that surprised us. The keyword though is "most" as some are dreadful.
Cassandra Nix
Tall, slim, and relatively young, Cassandra Nix is a girl that will try anything including rough BDSM and anal. Without makeup on, she looks like the goofy girl-next-door type, which is in stark contrast to her scenes.
All in all, there's not much of a difference in looks. Fans can watch this hottie everywhere, on any free or paid porn platform.
Elle Alexandra
Elle Alexandra is a pale and delicate redhead. Mixed with green eyes that put her little body to work in porn at the age of 20. She is scrumptious in every scene we've seen.
But as we now find out, Ella looks more cute than sexy when not wearing makeup. Decent, yet nothing spectacular.
Chanel Preston
Chanel Preston has proven time and time again that she's one of the top girls in the adult business. Not just with her scenes on Brazzers.com, but with numerous awards too.
Seeing her without makeup does put a damper on our boners. Although who are we kidding, we'd hit that if Chanel just let her hair down.
Proxy Paige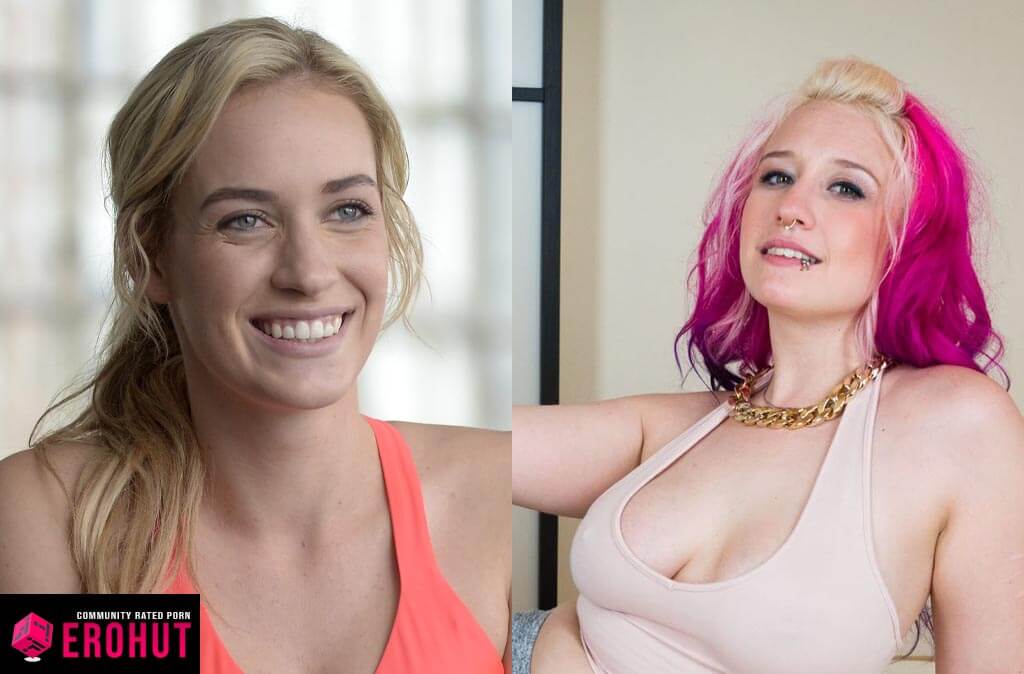 Judging by the face alone, Proxy Paige without makeup wouldn't spark our interest. However, we know just how hot she can be when she tries. Even more, how nasty her work in porn is.
Kinkiness alone would make us want to bang her and try out some of the jaw-dropping things she does in her scenes. Find her RealityKings.com or any other quality studio.
Wait, which one is which? Even when you dye hair and apply makeup, the looks are far from perfect. Does that sound depressing? It should motivate everyone! Even the average chicks can become superstars.
Kat Dior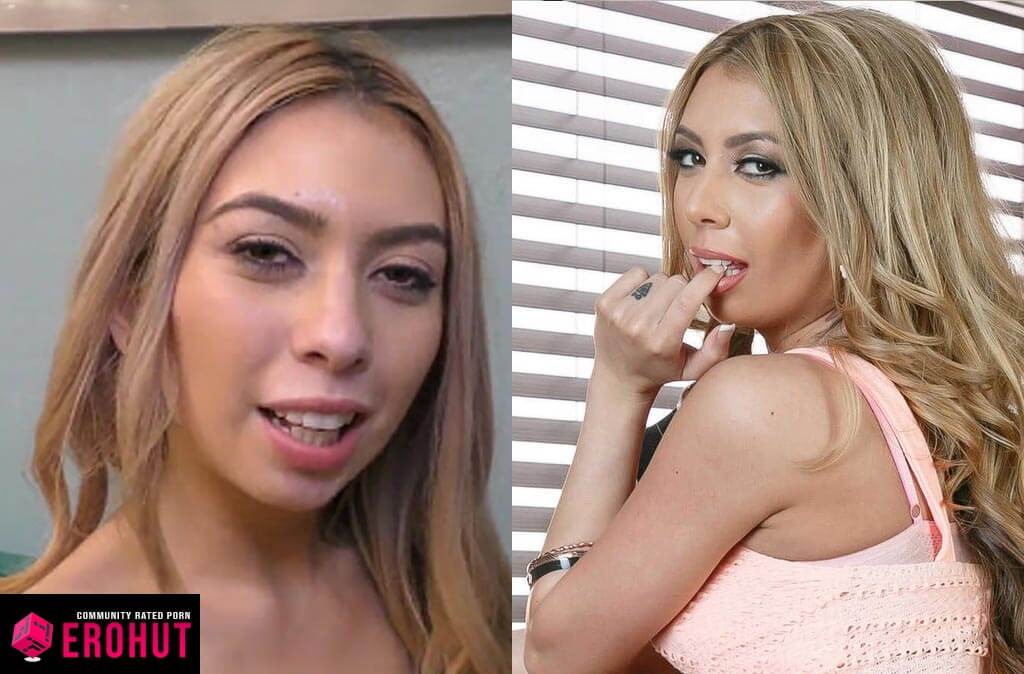 If you've seen a Latin hottie Kat Dior in action, you know she's not just a cute face. This busty spinner with a great ass is buck wild when she gets horny.
Also, as you can see, doesn't need much makeup at all to look hot. We love her multiple performances. Kat looks like a mentally challenged person from the South Park episode, but thanks to the magic of powdered dyes, you go from limp to fully hard, ready to fuck beast. Hey, maybe we can even fix your girlfriend? Or is that a situation too extreme for today's science? Then again, applying lipstick on whales is a form of animal abuse.
Tori Black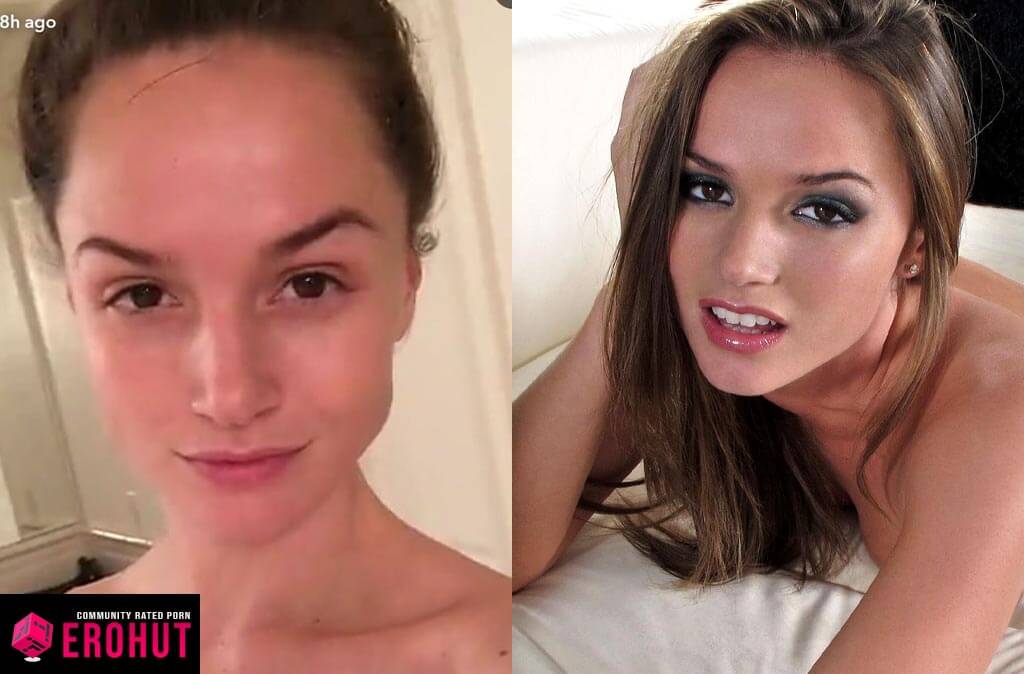 Award-winning pornstar Michelle Chapman, better known as Tori Black, doesn't need to muster up too much courage to post her no-makeup photos. She looks good without and even better with some lipstick and eyeshadow on.
Have you noticed that on the left, Tori looks like a Joker? The lips got that "cheeky" smile on the edges and it's awesome. Also, despite looking dead in the eyes, the way this hot slut fucks will revive even Jesus Christ.
If you're curious how this whore looks like without clothes, go to Brazzers.com.
Tatiyana Foxx
Is it just the lighting or does Tatiyana Foxx has a lighter skin color when she applies makeup? Either way, she doesn't look too bad before getting dolled up.
Everyone loves seeing her natural ass and hot tits in action on RealityKings.com. We'd hit it.
Puma Swede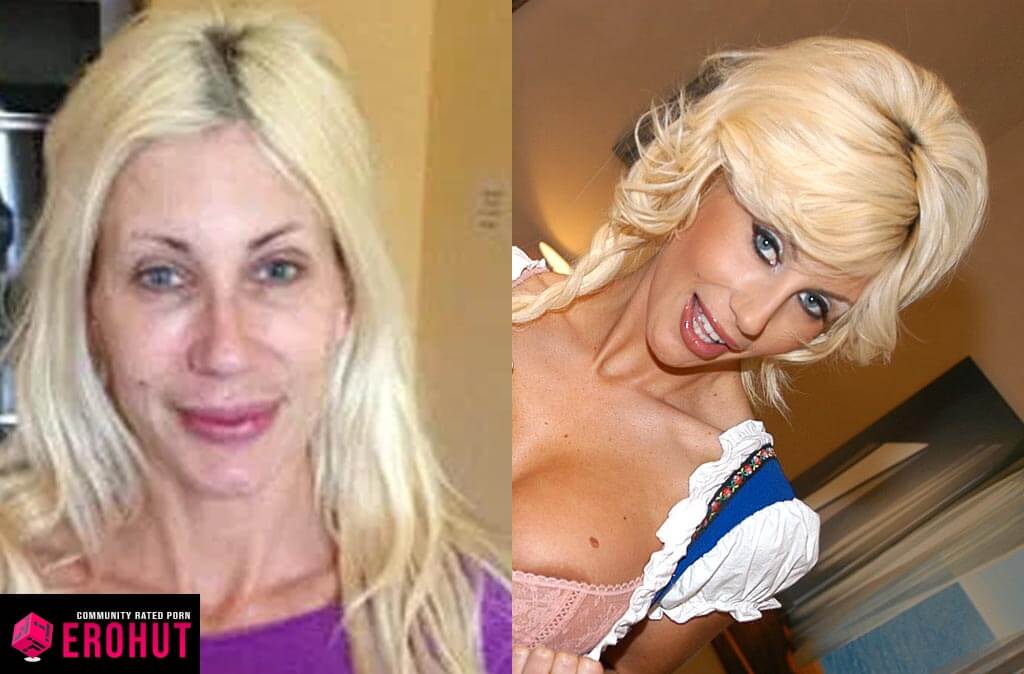 Puma Swede is a mature blonde bimbo with ridiculous curves, best watched when you want to enjoy the intense, animal-like fucking. as far as her no-makeup face is concerned, all we have to say is yikes! The guy that wakes up next to her needs to be prepared for that.
Seriously, what the fuck is wrong with every single bit of that face?
Sophie Dee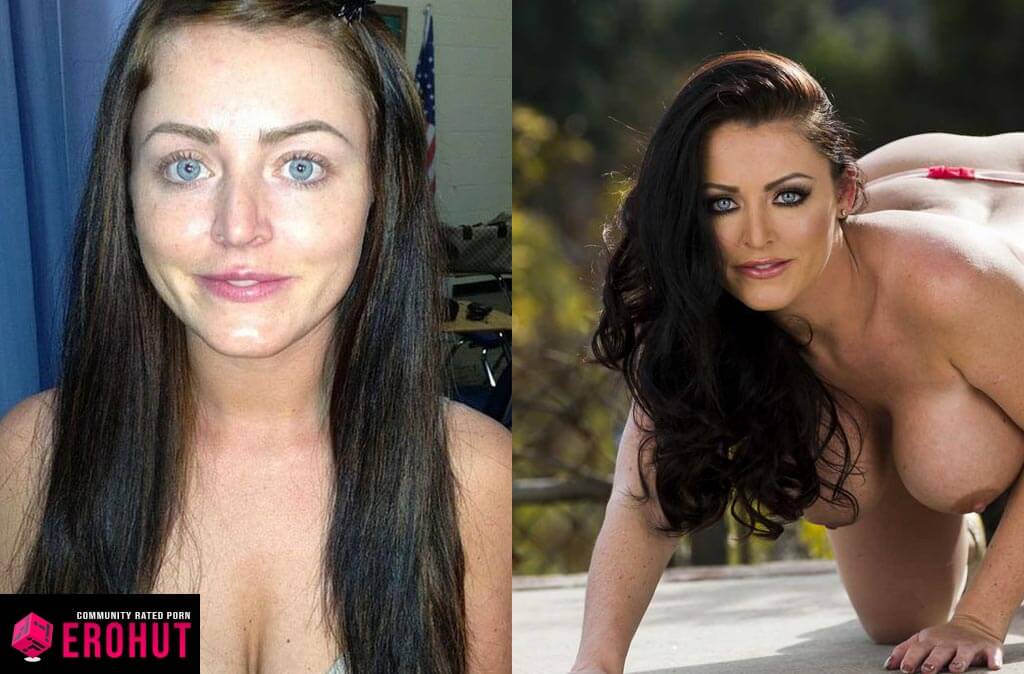 Sophie Dee is a big and gorgeous UK girl that we love to watch in action. Amazing eyes, red hair, and a voluptuous figure make her irresistible.
The no-makeup can ruin her scorching hot BBW body, which is a damn shame. Cannot be unseen now.
Anissa Kate
French brunette Anissa Kate is an imposing, 31-year-old beauty. No task is too hard for this brunette pornstar. If your balls need some draining, call her up.
Without makeup, Anissa looks a bit tired, but we do know how to wake her up. Watch this hottie in scenes on Brazzers.com.
Allie Haze
Allie Haze is 31 but still looks young for her age. It doesn't matter whether she has makeup applied or not. Everyone knows that there is a great body and a nasty appetite for sex underneath.
You can see for yourself on RealityKings.com.
Eva Notty
Is it just us or does Eva Notty look better without makeup? To be precise, she looks hot and slutty on the right, ready to get choked with dick and fucked silly. But on the left, a slow and passionate approach to banging her pussy into the heart attack.
Should not matter whichever you prefer. Her videos and best works are presented on Mofos.com.
Veruca James
We love her little hairdo, petite body, and face that looks as cute without any makeup on. This is, of course, Veruca James, a tiny babe that's just as kinky as the first girl on our list.
If you need proof, check her work. Yes, she is a pornstar with short hair and people don't like that.
Jada Stevens
A pair of juicy tits is hiding underneath that shirt. Further down, there's also one of the best bubble butts in porn. Suffice it to say; our team is incredibly biased when it comes to Jada Stevens. So, we would give her an arm and a leg to get into slut's panties.
Whether she's kicking back at home or ready to shoot porn, Jada is a hottie to us. See more of her on Mofos.com.
Ava Adams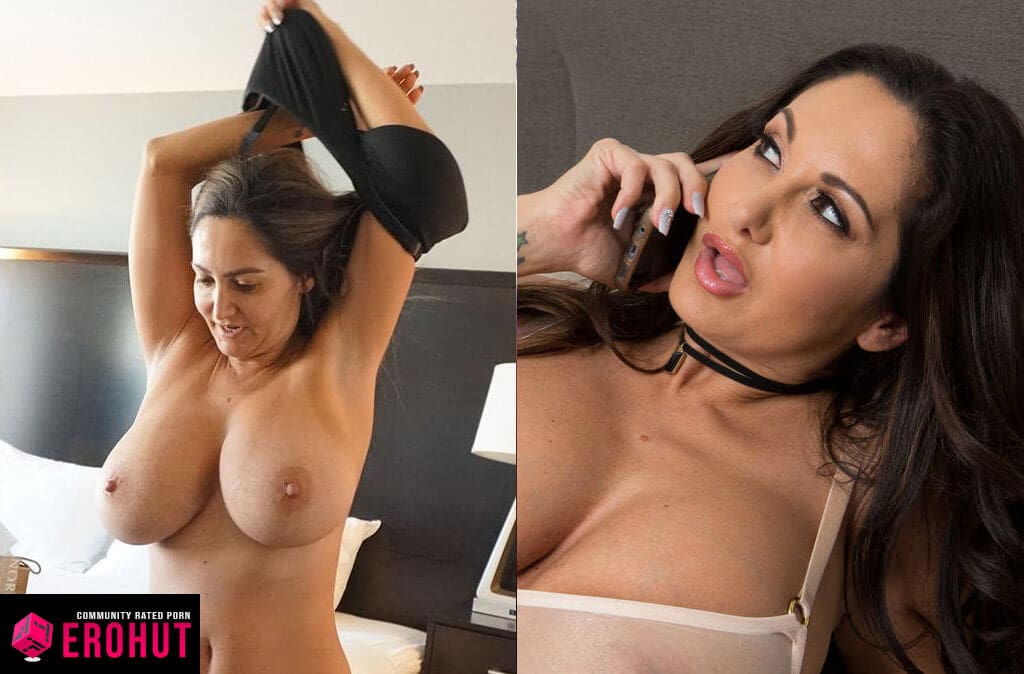 Ava Adams has a spectacular body with big fake tits and is perhaps the number one MILF in porn. With her age and tasty figure in mind, she still looks attractive.
Yeah, the reality hits hard sometimes, especially after you get to see a true appearance of your favorite cum waster. But you must forget (or forgive) Ava, she's doing her best and there are very few mature sluts who look better, inside or outside the adult industry. At least she hasn't committed suicide unlike hundreds of other performers.
At least when not preparing to put out new scenes for Brazzers.com.
Dani Daniels
Dani Daniels has multiple qualities that drive us crazy. Although this pornstar might not be beautiful in a typical way, we still find her attractive.
But to be honest, that big ass has everything to do with it. Faced with a choice of banging this pornstar without makeup, we would be glad to give her the best three minutes of her life. Dick or cheese, pick your food, please.
See Dani dolled up and banging the brains out on Brazzers.com.
Sarah Vandella
One of the last on our list is Sarah Vandella who also goes by the name of Sara Sloan. Despite being +30, Sarah looks hot with and without makeup. Now add to that her big boobs, jaw-dropping deepthroat skills, and love of anal.
In the end, we get a blonde babe that any man would want to shack up with and pump full of hot cum. Check her best videos on Brazzers.com.
Christy Mack
As one of the more shocking pornstar pictures with and without makeup, Christy can be proud. She looks way below mediocre when all the glitter is cleaned and gone. Even most sex cam site sluts could outrank this slut.
That's as far as the natural looks go, every other factor is 10/10 for Christy.
Bonnie Rotten
How rotten is this pornstar without makeup? Not much! Thankfully, her natural beauty is somewhat visible. In other words, a decent fuck that won't turn into a nightmare in the early morning.
Other than that, you all know and love Bonnie. Just a nasty, kinky whore that takes porn to extremes and beyond. Freckles aside, we're starting to doubt the "cum is good for skin' theory. Also, Bonnie's eyebrows are still technically "enhanced" on the left side. So, all you picky fuckers, can stop commenting because there's no other picture.
Bree Olson
At first glance, Bree looks bad, awful even. However, once you filter out that fake facial expression, things turn for the better. Resembles your average girl without makeup, which is good. Photoshop that stupid tongue out of the picture and it's a green light.
That's it for the top famous pornstars without makeup. To tell you the truth, we thought we'd see a lot of chicks that we wouldn't touch with a ten-foot pole when they're not wearing makeup.
But as it turns out, these pornstars are some of the hottest around for a reason. Even when they're wearing sweats and relaxing at home. If you have anything to add, leave us a comment below.