It's safe to say that we've got a bad case of yellow fever. After all, everyone in our office has drooled over hot Korean pornstars, Japanese, and Asian whores in the past. Unfortunately, while we know where to get the best Asian porn, you might not be as fortunate.
So, to set things straight and share with you some of the best Asian porn sites. Those that we know of and use often. Some are free, others are premium, but all of them come recommended. Just lay back, read and enjoy.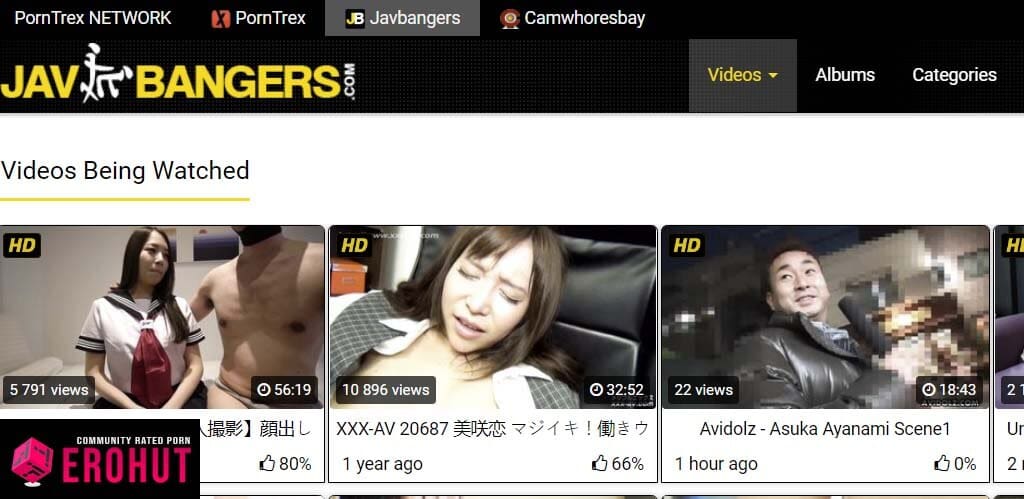 To start, we got JavWhores, a free site that features full-length Japanese porn movies. It does a good job of covering all the variety JAV content offers and even has a lot of uncensored videos.
There are hundreds of full-scenes and Asian sex movies here that include every kink. Stuff like orgies, toys, handjobs, lesbian sex, bukkake, teens, bondage, cosplay, and lots of other equally enticing things. Best of all, you can download videos and the quality goes up to HD in many cases. That's pretty much it, to be fair. If you like what you've read, have fun with the free Asian porn content.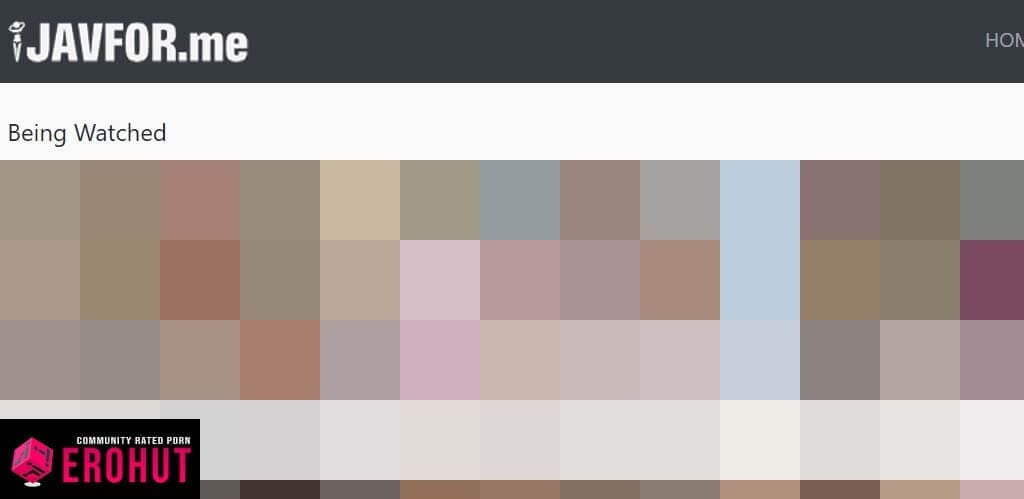 The next site on our list is slightly different. That's because JAVFor offers much more content and users can stream everything without paying a dime. but if you want to download, you'll be redirected to a site that sells the videos. Just check the' online' category to know what is available without paying.
Let's talk about some stats because the amount of content presented on JAVFor is staggering. There are thousands of scenes and many full Japanese porn movies, uncensored or censored. Since there are many scenes and films, you get to experience all the porn that Japanese studios have produced.
In other words, expect dirty videos featuring group sex, bukkake, creampies, fucking, lesbian sex, speculums, incest, BDSM, etc. Virtually anything else you could think of. On top of that, the models range in age and appearance, so all the bases are covered.
This site is great for browsing, finding new Asian porn, watching samples, or free full scenes. Whoever is a fan of Japanese pornstars and pornography, will not be disappointed with JAVFor.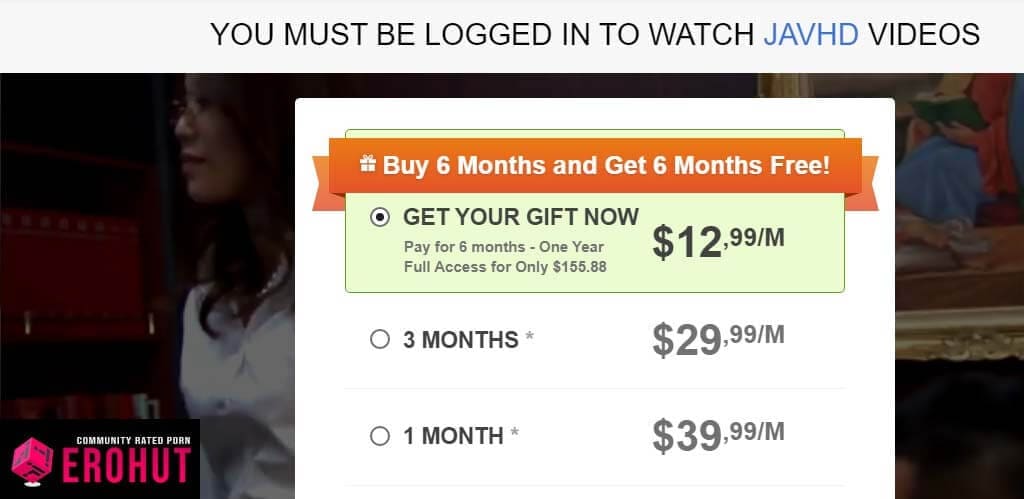 We've finally reached the first fully-fledged premium site on our list and it's a real gem. Focusing on reality porn filmed around East Asia, AsianSexDiary stars a westerner who likes to show off his sexual conquests. So naturally, the girls are real amateurs and the sex is scorching hot.
As of now, AsianSexDiary has more than 1,000 scenes shot in POV and up to Full HD quality as well as over 540 galleries. Besides hardcore content, videos also show his conversations before a date and cruising around. You know, cuts where the guy filming tries to find whores to bang.
The curators have sorted content into various categories; be it creampies, big tits, big asses, anal, facials, MILFs, or teens. You can also sort videos according to the country of origin. Their lists include Europe, Africa, and America, besides a score of southeast Asian nations.
Finally, there are a few extras, including a dairy and pick-up guide. Of course, that's if you want to try all of this for yourself. All in all, AsianSexDiary is one of the best sites in its niche.
P.S. Depending on where you're from, the site might be unavailable.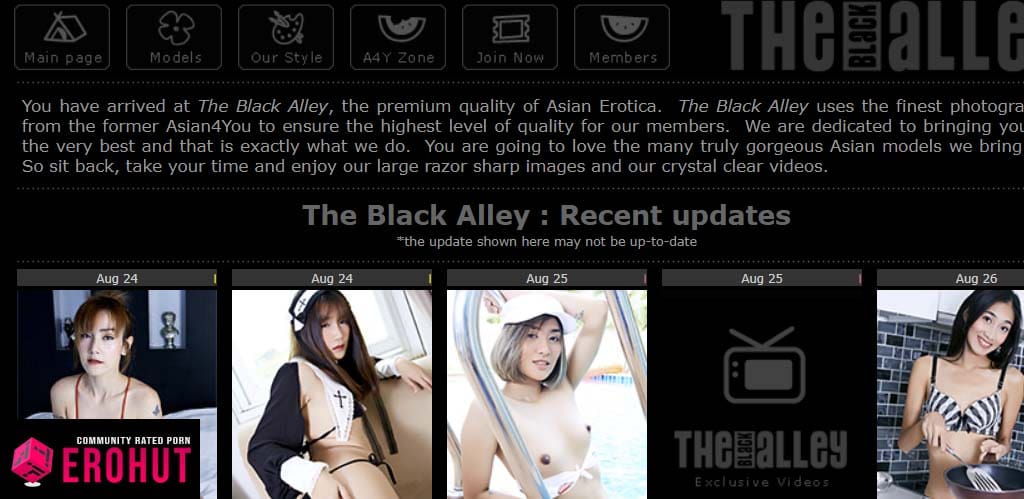 The name might make you think that this Asian site has ebonies, but you couldn't be more wrong. Instead, TheBlackAlley offers members erotic and beautiful Asian models that pose, strip, and sometimes play with themselves.
This site has an imposing and exclusive collection of 1,250+ scenes and over 5,250 galleries with an average of 800 pics. There are 360+ models on TheBlackAlley that seem to be from many different Asian countries. Those hoes put on lingerie and all sorts of outfits before slowly revealing their delicious bodies in indoor and outdoor locations.
Simply put, this place is one of the best for enjoying softcore Asian erotica. If that's what turns you on, then head over to TheBlackAlley and you'll be in heaven.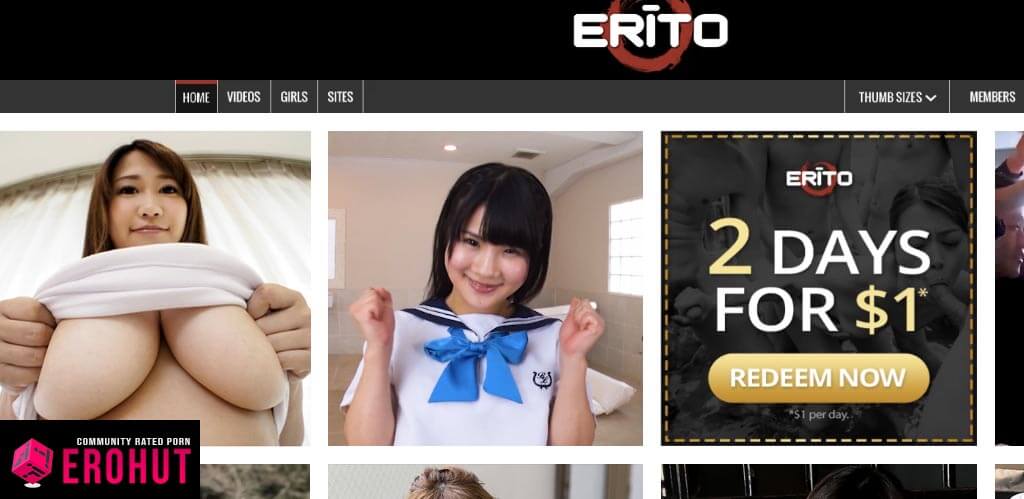 It's been a tough few years for the Asian sites since there are no new players and the market remains the same. I wouldn't say you can't even find videos that give you a boner, but there's that "been there, done that" feeling. For new users, however, every door is open and that's like tasting a burger for the first time.
However, where do you go from there if you want something different? Well, thankfully, Erito is here to change the game because it's backed by some of the richest dudes in porn and they're growing faster than my cock right now.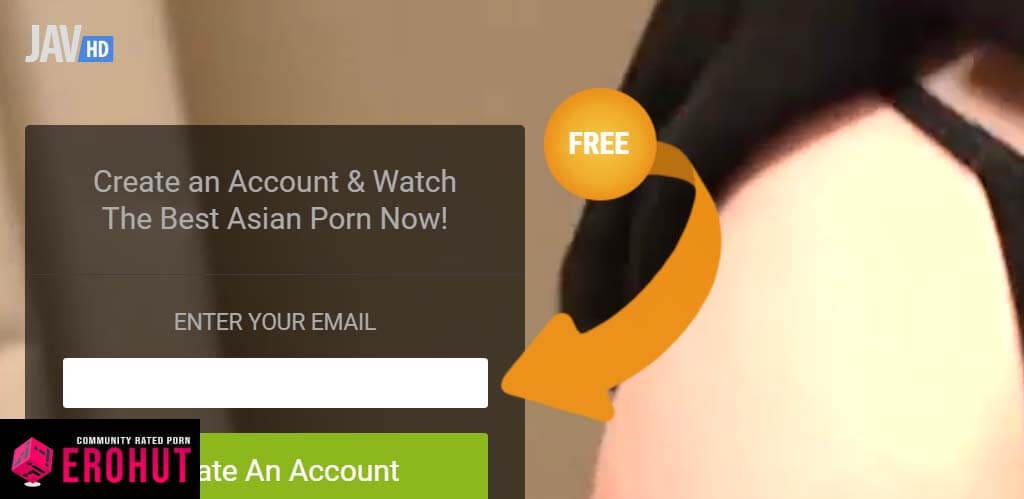 We know that there are many free tube sites full of JAV porn. However, JavHD is the only network to go if you want the real thing. This premium website offers uncensored Japanese porn in 1080p for a pittance of a price.
With over 3,450 scenes, many of them in HD and Full HD, you have quite the collection to enjoy. Moreover, each video has a high-res gallery, and you can download both without limit.
Among the 38 categories, there's amateur Japanese porn, double penetration, gang bangs, bondage, bukkake, cosplay, creampies, lesbian sex, office ladies, and much more. The content features over 780 models from teen to MILF as well as mature.
To finish with the best pro, there's also a bonus network access to 13 sites in total. These include the likes of Gang AV, Hairy AV, Hey MILF, School Girls HD, and a few more. Finding a better source of uncensored HD Japanese porn is virtually impossible. So, visit JavHD and investigate your options. We are confident that you'll love it.
By the way, JavHD is like coke of sugary drinks and there's nothing better out there, except that it's good for you. Yes, cumming multiple times per day is awesome for your well-being, prostate, and all that other nonsense.
After teasing and tickling your cock with all sorts of Asian pornstars, it was about time that we brought you this list. Enjoy and don't forget to leave us a comment.