Universal healthcare, maple syrup, and hockey – are the first things that come to mind when people think of Canada. Did I name all the overused memes, or there's something else left? You don't have to tell me the answer since what matters is below. The hot sluts are ready to eat your dick. Oh, let me include a pussy, too, since females might be reading EroHut as well. Welcome to the dark side of the Internet.
Although we love everything about the country, you know by now that we're only interested in hot pornstars, and Canada has many of them. To celebrate this, we've compiled another epic article, a top 10 list of the hottest Canadian pornstars. Please go ahead, and check it out.
#23 Amy Anderssen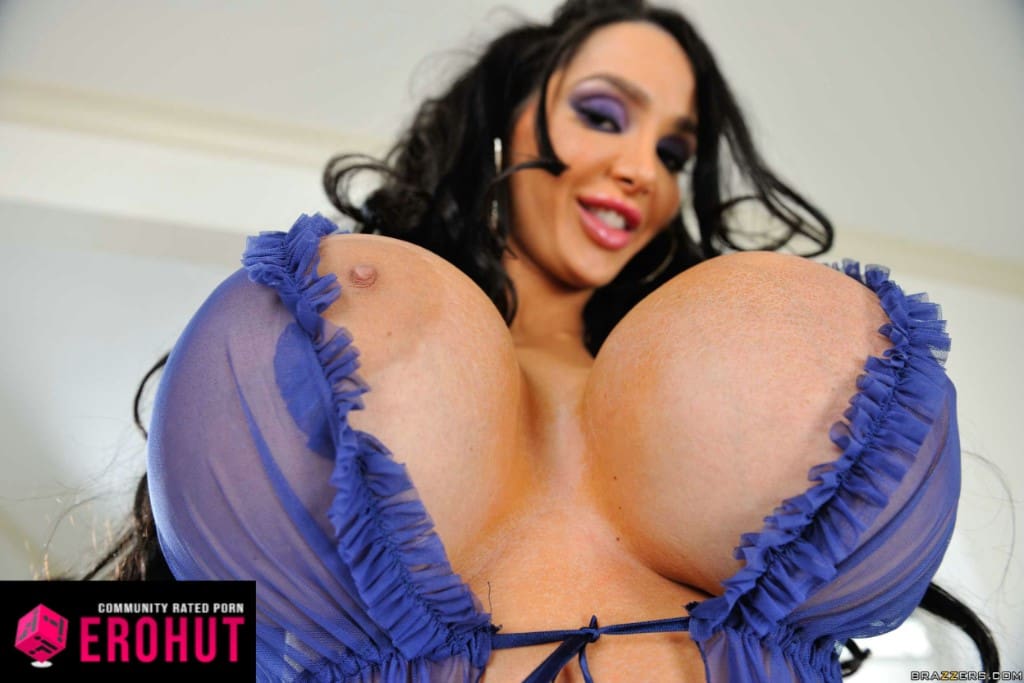 First up on our list is a real handful. Amy Anderssen, also known as Amy Juggs, is a green-eyed Canadian pornstar with, you guessed it, huge tits. This brunette barbie with exaggerated curves also has a stunning big butt and a pair of slim legs, making her quite the sight.
If you want to get to know her, check out her interracial anal scene with Lexington Steele or her world-class stepmom scenes. Most of her work can be found on free sites, so keep that in mind.
#22 Alyssa Reece
Unlike hunting for new talent from other countries, Canadian sluts just keep appearing out of thin air. I guess being influenced by the American culture, for once, is a fantastic feat. By the way, there are decent male pornstars from Canada too, Erik Everhard being a great example. Although honesty, August Ames will always be at the top five, no matter how many other sluts appear after her.
Whatever, let's move on from the past and focus on Alyssa Reece, a Canadian anal freak from Vancouver who will let you poutine your cock down her gravy hole.
#21 Jenna J. Foxx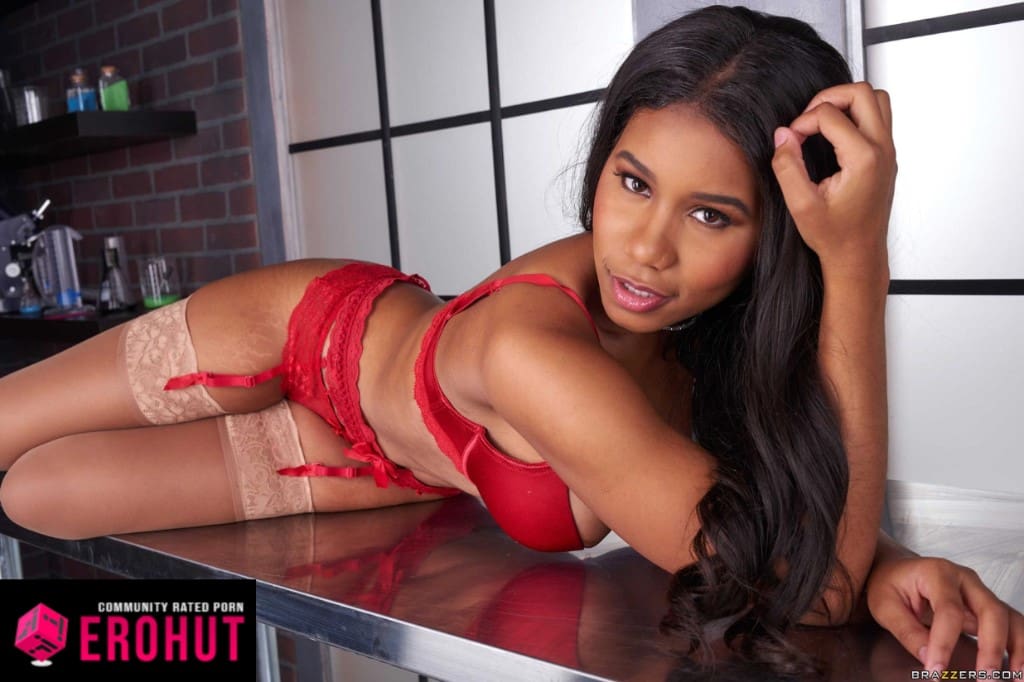 Tara Fox or Jenna J. Foxx is a young ebony pornstar from Vancouver BC that entered the porn business at just the right time. When was that, you ask? When Jenna was barely legal.
She's cute, naturally busty, and always eager to put her sweet ass to good use for sites like Mofos.com. Some of her best scenes so far include lesbian school sex, wrestling with Savana Styles, and her ass-twerking cock ride filmed for the same site.
#20 Jenna Foxx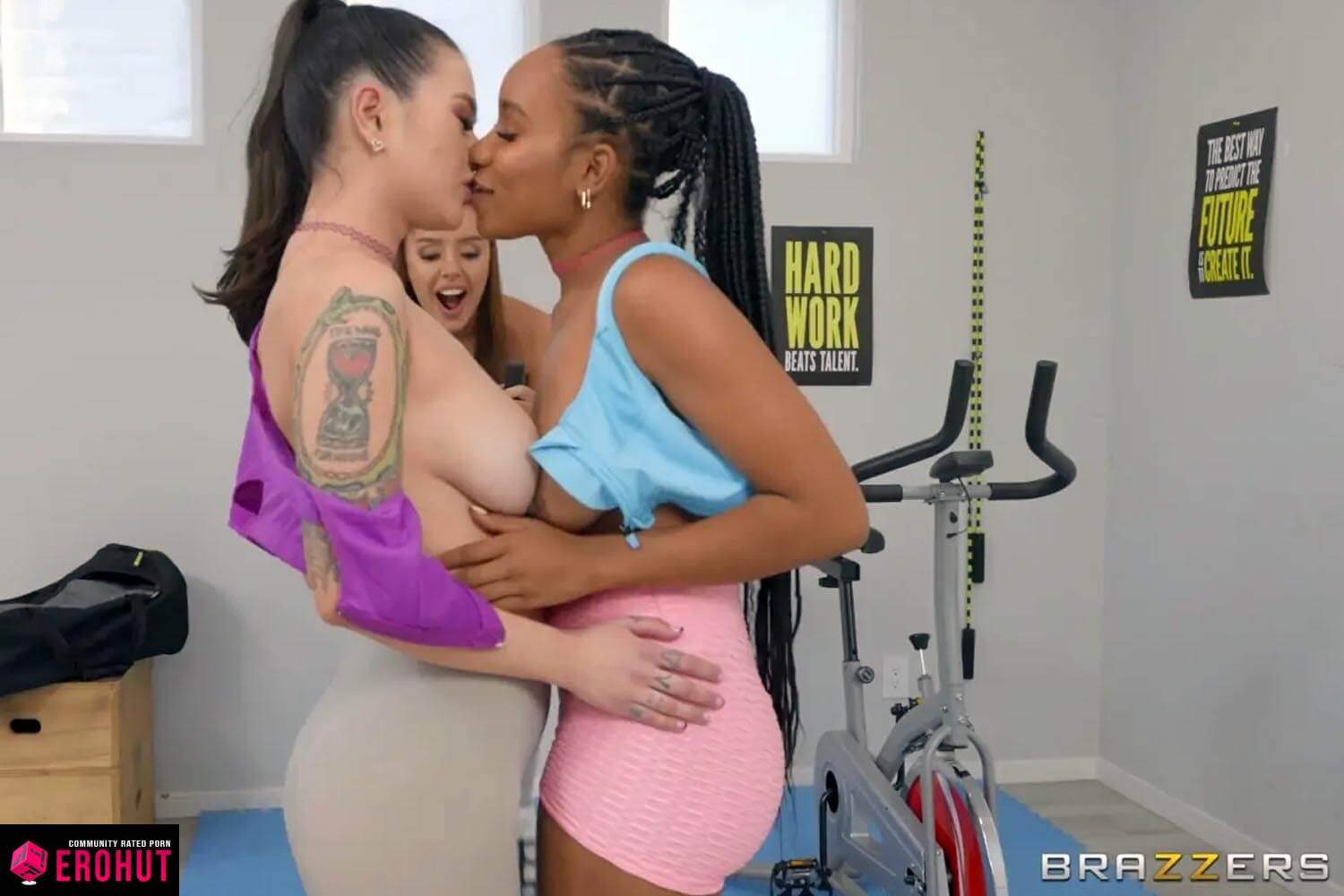 What do you want to learn about Jenna? She's a Canadian born sex utensil with looks that don't exactly scream Canadian, but hey, we're not complaining. Among dozens of vides on the BZZ network, she is always as positive and hard-working as a bee. Be it lesbian threesomes, plain old fucking with guys, or interracial extravaganza, I've watched all of it.
But wait, if Jenna is so special, why not rank her in the top three or something? Well, there are far too many other pornstars that are just as hard working and those that take it in the other hole. Yes, sadly, Jenna Foxx is not open to the exploration of darker cavities.
#19 Savana Styles
Before a full switch to the redhead site, Savana Styles used to be blond and promoted herself with different nicknames too. I'm not sure how many of you remember the early days when she wasn't that big of a performer yet, but I think it was Savana's best time.
Now she sucks dark cocks while looking old and trashy as hell. Still, a Canadian superstar needs a mention. But having said that, the lips are atrocious looking.
#18 Cameron Canada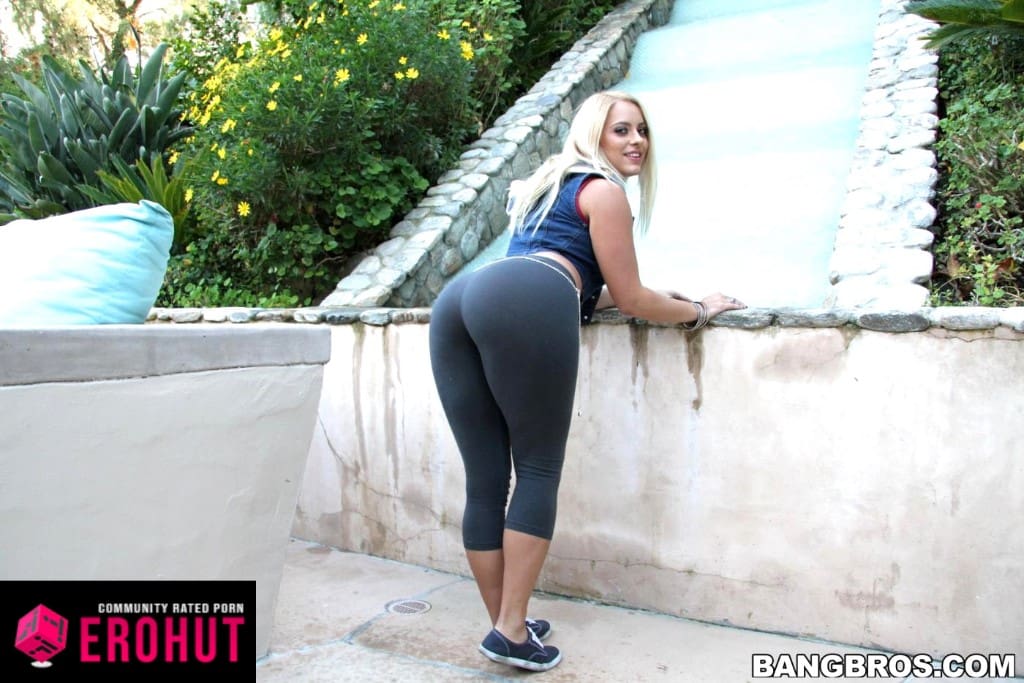 Quite the welcoming sight, isn't it? Where do you start with a babe like Cameron Canada? Perhaps her prepared mouth and blonde hair? Or maybe her yummy ass and little tits?
Best of all, she's as kinky as hot and beautiful. This slut loves hair-pulling, and rough sex. Anal is her middle name, and big black cocks are a special treat for her. Check this hot Canadian pornstar out with free $0 PornHub Premium account.
#17 Emma Hix
Perhaps we underrated Emma as another whore from Vancouver who will abandon this filthy business after the first cum shower. Instead, she's "alive" and rocking. Your definition of this epitome might be different from ours, but since some consider pornstars to be soulless human beings (just like redheads), we'll leave that to your interpretations.
The de-facto standard, Emma Hix, has been crawling down the porn valley since 2016, right after turning 19. A year too late, perhaps, to get the full boost for the new starlet, but hey… Just like the most obnoxious people say, better now than never.
#16 Nikki Benz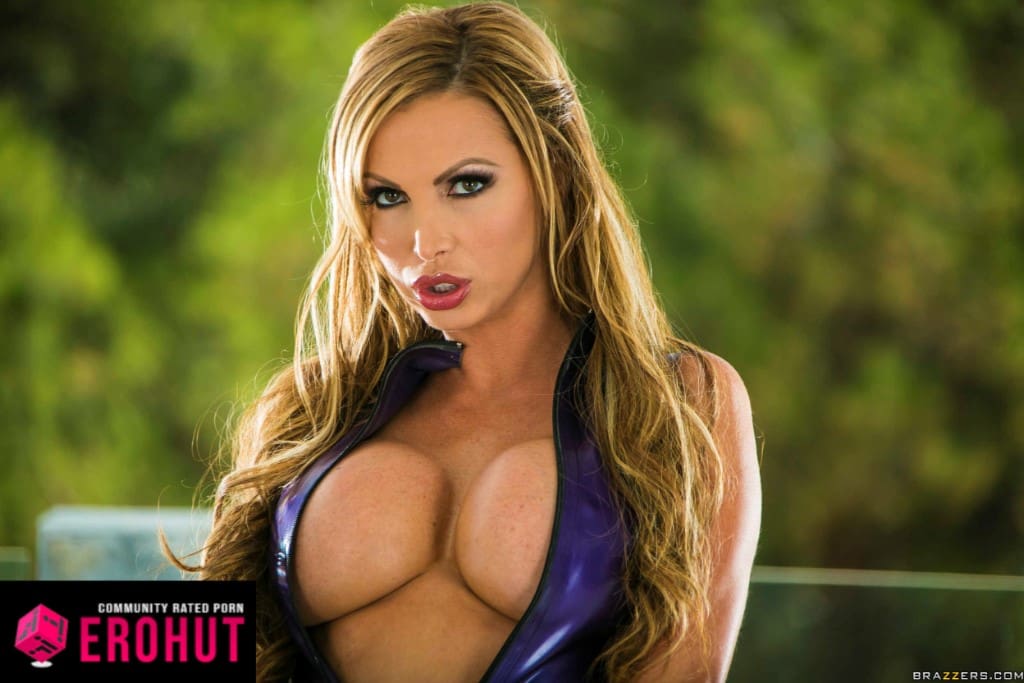 Canadian pornstar Nikki Benzi is one of our favorites, and it's not hard to see why. Long blonde hair, huge tits, and a anal loving ass. That is a perfect combination for a cum slut that's always there to help you drain your balls.
As a versatile performer, Nikki finger-bangs and licks her female co-stars but also climbs big cocks, white and black. Not to forget, she also loves getting her big boobs fucked. Treat yourself to her videos on Brazzers.com. I do recommend older scenes and without any ass implants.
#15 Riley Nixon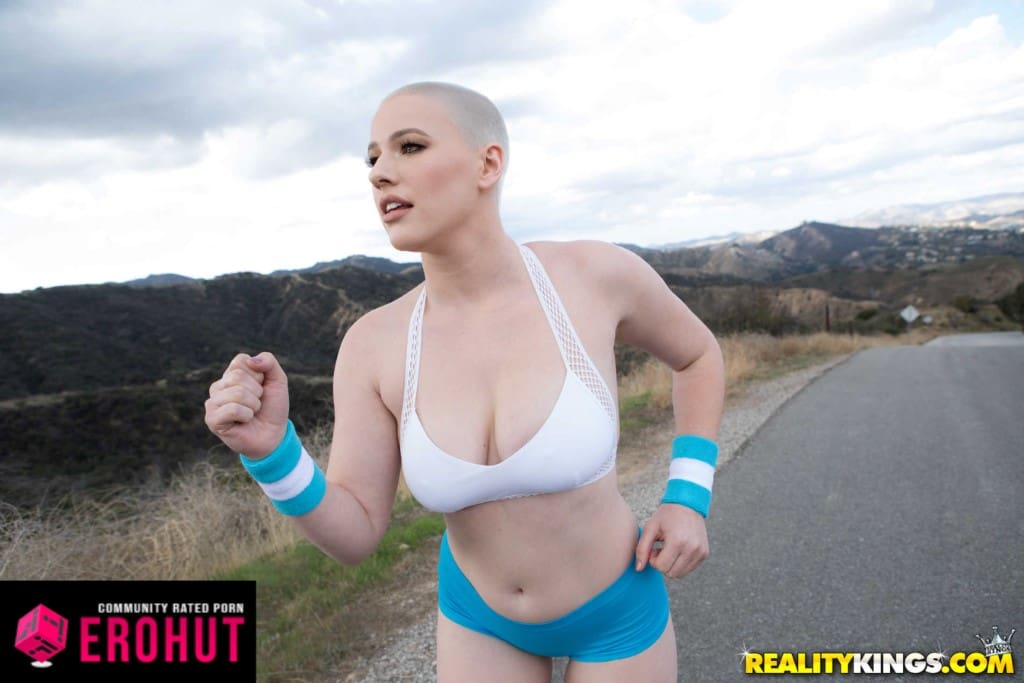 A buzz cut may not be to everyone's liking, but we love everything about the way Riley Nixon looks. This Canadian pornstar is young, all-natural, and has a sweet pair of tits.
She's pale, keeps a trimmed bush, and does both boys and girls. If you want to see her get ripped apart with dick, check out Nixon's gangbang scenes. If sensual lesbian sex is what you crave, her scene with India Summer is the way to go. By the way, a lot of Riley's scenes are available on EvilAngel.com!
#14 Lauren Phoenix
Recently retired, Lauren Phoenix was at one point near the levels of fame and popularity of Nikki Benz and August Ames. Despite disappearing from social media, Lauren still receives hundreds of thousands of views monthly.
She has built the legacy, and at this point, it has taken over. Wishful thinking, but we hope for one more video with Lauren Phoenix. Bring four of your friends since more than three are needed.
#13 Nina Kayy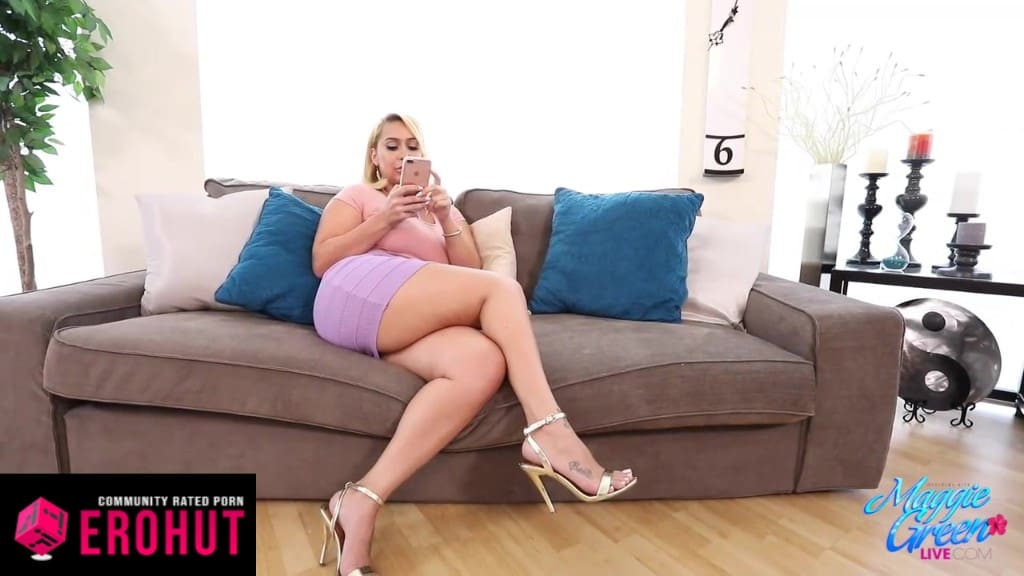 Want some fat, old chicks from Canada? How about Nina Kayy? A mature pornstar with fake blond hair and massive boobs. Rocks are the typical shape pussy that's common among chubby performers without much labia. Real lips seem to be fake too. She's like 90% plastic at this point, I bet.
Bringing out some of Nina's character are a few small tattoos. What are these? Just random symbols and objects; I wonder what that tells us about this bimbo?
#12 Shanda Fay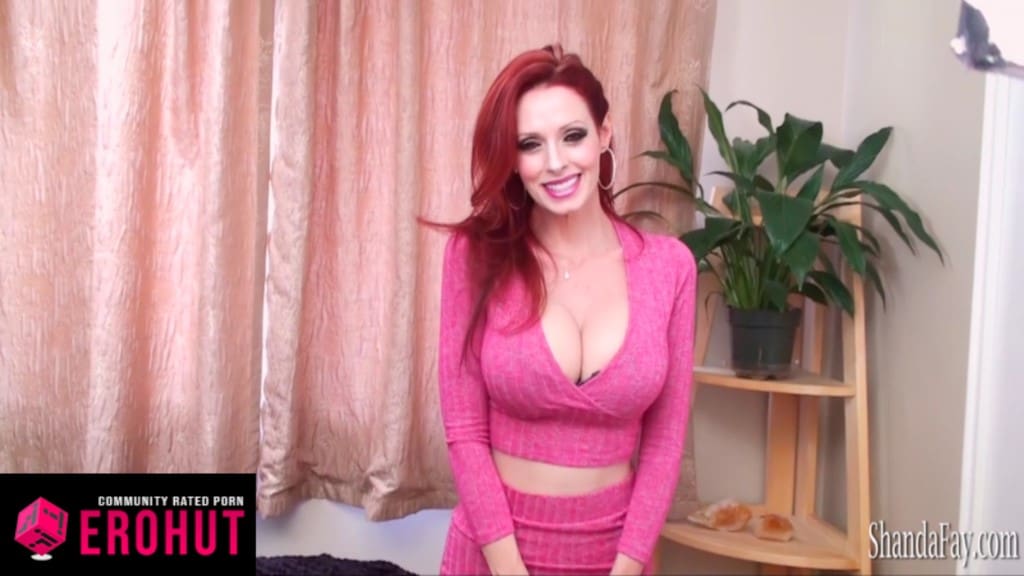 She might be 44, but this Canadian pornstar is as fierce as ever. Shanda Fay is a blonde MILF with fantastic eyes that often colors everything to become a redhead.
As you will soon find out, this Canadian cougar has the big fake tits and long legs necessary for making any man rock hard. You can often watch her teasing with toys, in lingerie, pantyhose, and feet, but also boning her brains out.
Finally, she's the perfect lady for those who like ass-pegging with strapons and leather. See more of her on Brazzers.com.
#11 Shyla Styles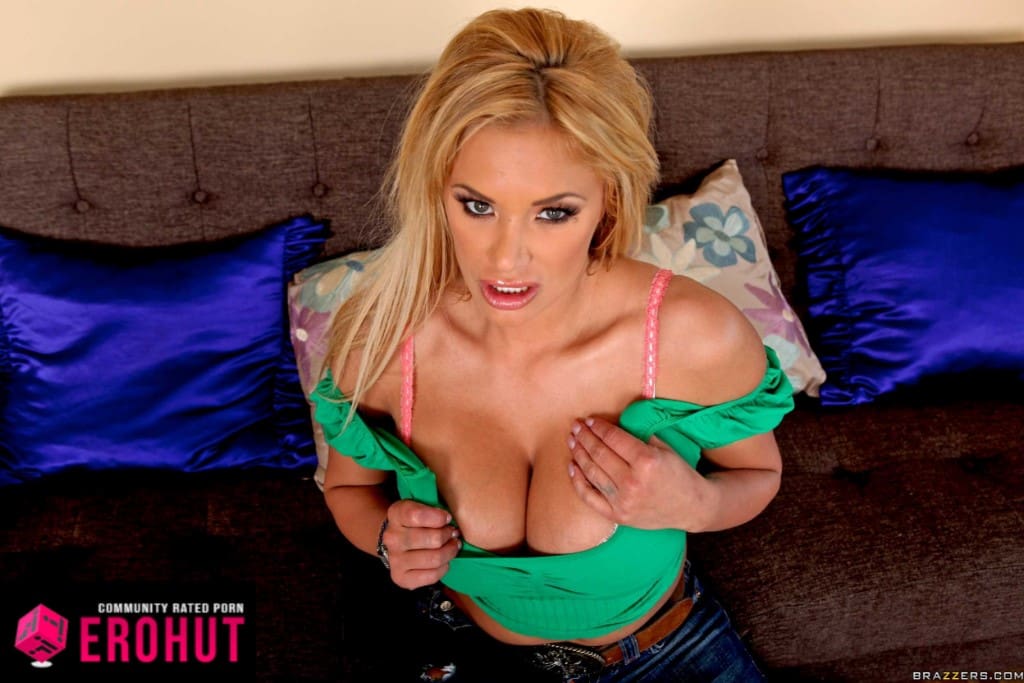 You might not know that she's Canadian, but you've surely seen this blonde bombshell in action on Brazzers.com. Shyla Styles is incredibly curvy and built for sex. There is nothing in the world that will push Shyla to say stop.
She loves scissoring, interracial, tit jobs, and rough sex, to name just a few things. Shyla played many different roles over the years and cemented her legacy by being inducted into the AVN Hall of Fame in 2016.
#10 Kianna Dior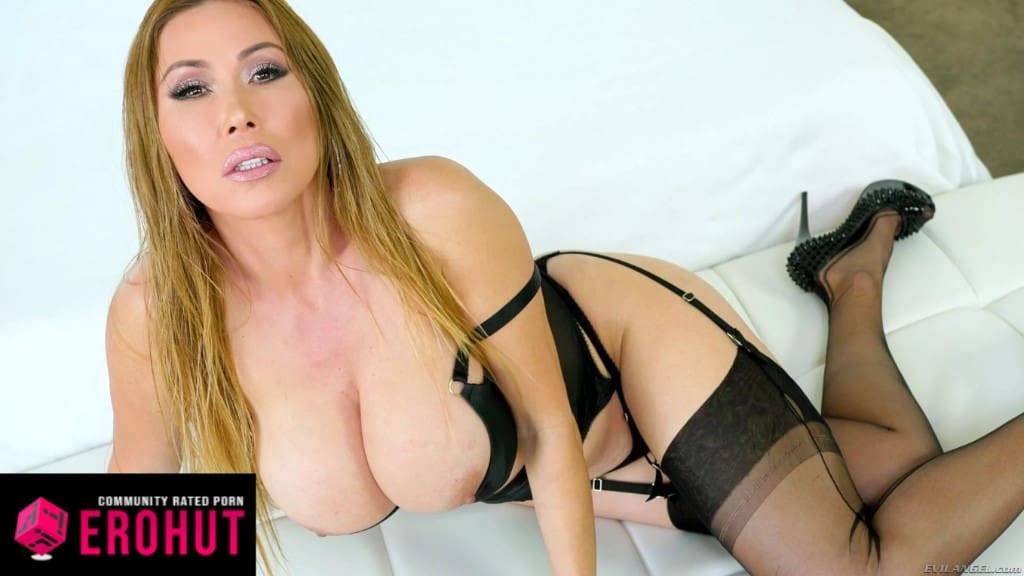 This bikini is way too small for Kianna Dior, one of the more seductive Canadian pornstars with Asian roots. As a veteran in porn, Kianna met with almost every male performer on the planet. She might appear all friendly in the gallery shot but make no mistake!
Adding to her fake implants are more great features like white teeth and a skinny body. Kianna is one of the sexiest pornstars of those over 30 years old.
#9 Cherie Deville
Doesn't every woman look good with a cock inside her mouth? Sucking on the jizz and posing for the camera, that's famous Canadian pornstar Cherrie Deville. I love when she appears with perky nipples and a red outfit. As the saying goes, red is the color for horny MILFs, and this is one of many.
Other than that, Cherrie has been rocking and popping cherries for close to ten years. If there's a place to get most of the goods, it's RealityKings.com.
#8 Shay Sights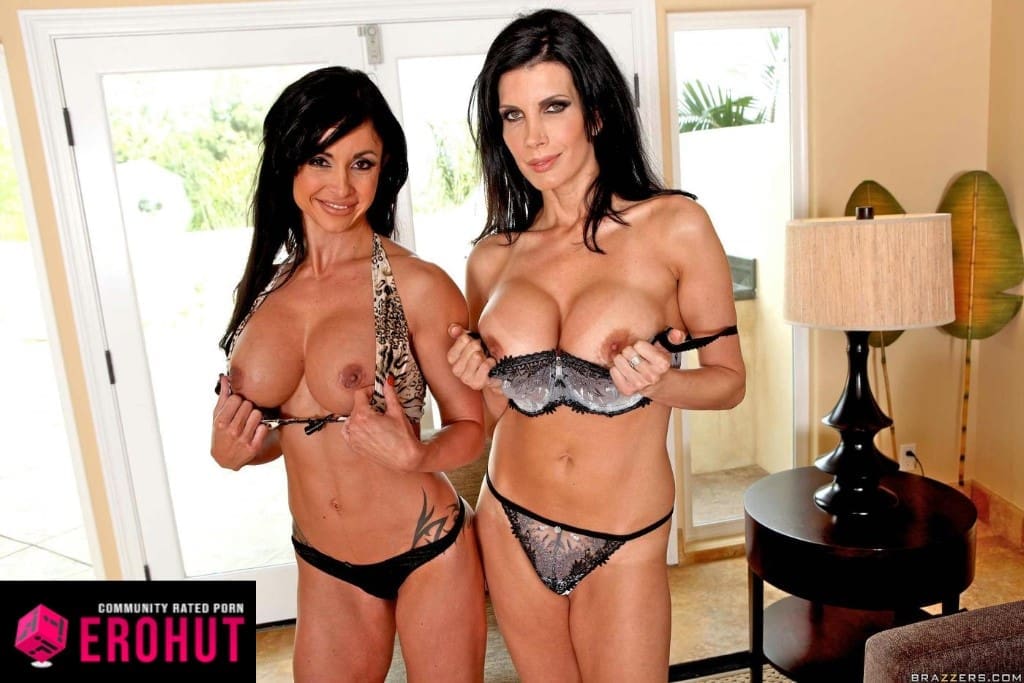 Flowing pussy juices, a satisfied look, and natural tits that still look great for the age. Shay Sights will soon be 50 and could transition to GILF porn, which we're excited about. But, for now, enjoy the phenomenal performance on $0 PornHub Premium where Shay has plenty of material to be proud of.
Did you know that she was married to Miles Long, an American porn director? Yes, she's Canadian!
#7 Kirsten Price
A long-haired brunette with top qualities and pussy as sweet as American packages with maple syrup. Kirsten Price is one of the longest-running pornstars from Canada, dating back to 2006. Her first name is actually "stolen" from her best friend, while the last name is all about the TV-series "The Price is Right". She always wanted to be a host there and paid a tribute later.
Kirsten had a boob job in 2009 and is now married to Keiran Lee, a famous pornstar from Brazzers; you can watch them fuck there too.
#6 Sky Pierce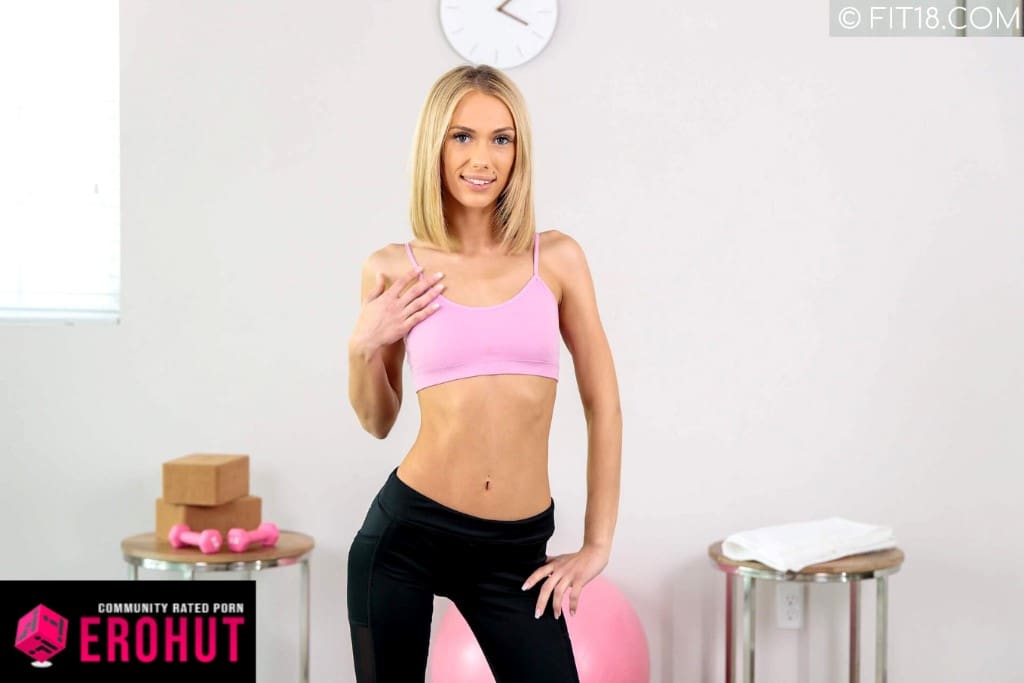 Frequently pulling panties from beautiful ladies, Sky Pierce is a petite Canadian pornstar with an appetite for dongs and maintained pussies. Loves to snack on any genitalia. Her first success came from a Bang video on $0 PornHub Premium. It has since amassed almost a million views and contributed to solid fanfare.
She doesn't seem to be the most intelligent girl on the block, or at least that's the impression I got from reading random people's comments on social media. But, sadly, the kinky looking woman doesn't do anal or anal gapes.
#5 Marley Brinx
Marley is my soul fuel and one of the greatest Canadian pornstars that I came across on Brazzers.com. Hairy pussy doesn't even bother me anymore and to be fair, I prefer Marley with some bush. But, that's an exception that no scientists can explain.
Who would not enjoy plump and marvelous breasts, smooth legs, a beautiful body (albeit one could call her a butter face), and much more? Marley Brinx needs no promotion; look at the thumbnail, get a membership on Brazzers, and have fun.
#4 Capri Cavalli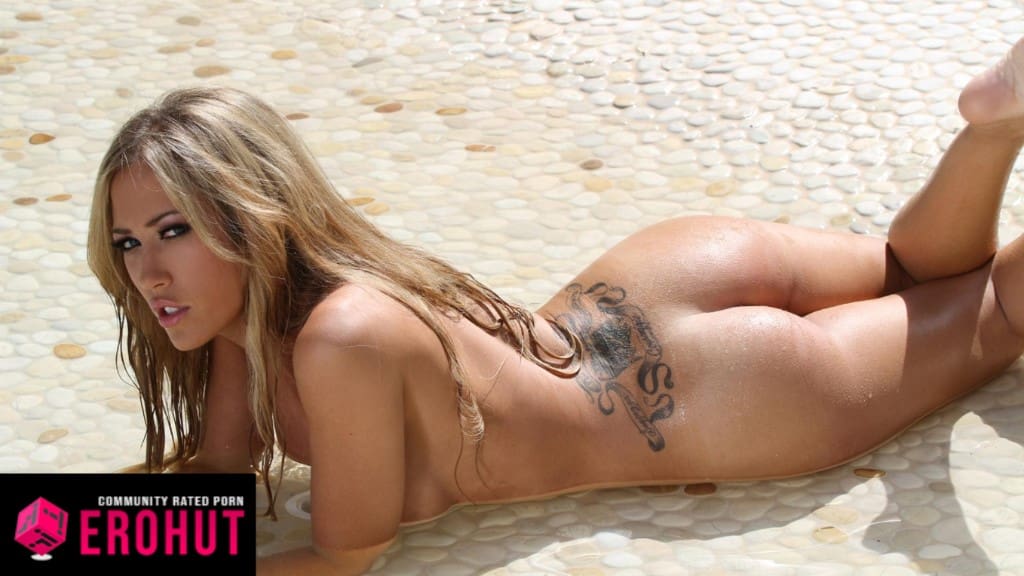 The Brazzers treat of the month, Capri Cavalli or Cavanni, hails from British Columbia and has ten fruitful years behind her in the porn industry. Stacked with 34DD tits, blue eyes, and a fit body, she's a babe that'll get your blood pressure up anytime you see her.
With so many scenes, you can see Capri seducing lesbian maids and office babes, as well as boning some of the hottest studs for various reality porn scenes.
Cum together with this beautiful babe on Brazzers.com.
#3 August Ames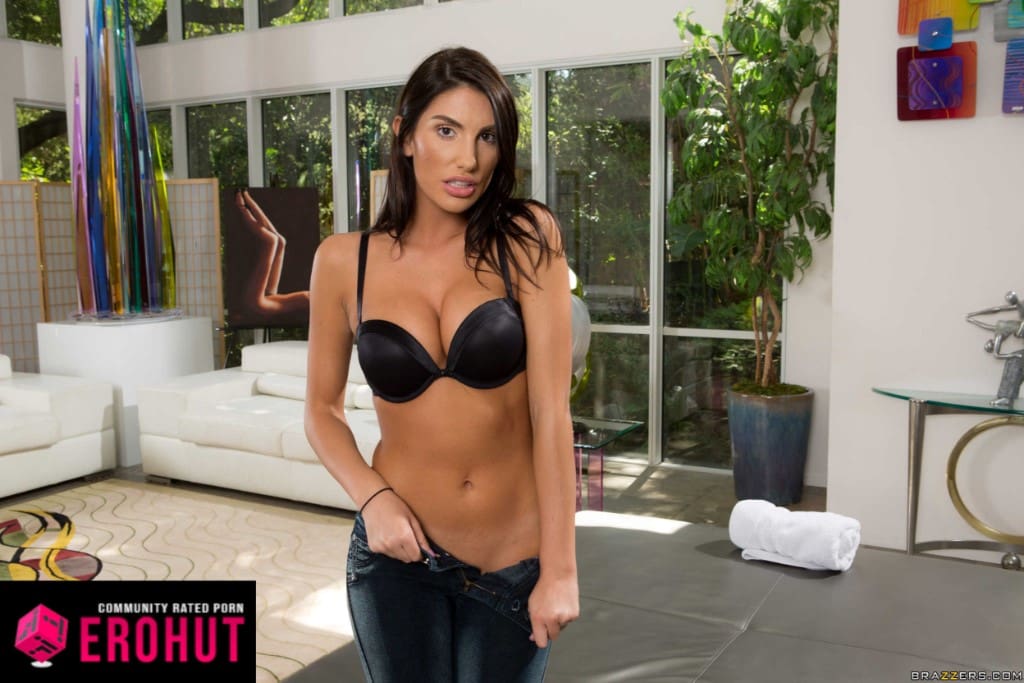 How do you best describe the late, great August Ames? In 2017, she got a fan award from AVN for the most spectacular boobs, natural of course. But aside from that, this babe was prolific and appeared in numerous scenes for top porn studios.
Whether it was school sex, fucking a massage therapist, riding thick dicks, deepthroating or giving an oiled tit job, she was spectacular every time. Find her on Brazzers.com and experience a Canadian pornstar like no other.
#2 Sunny Leone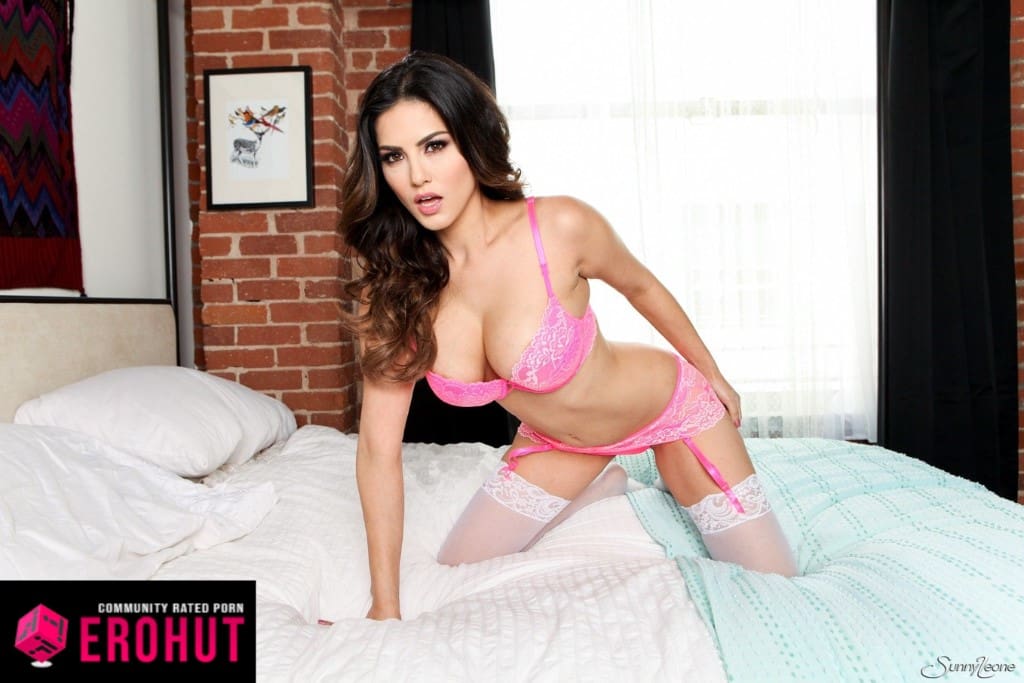 Karenjit Kaur Vohra, better known as Sunny Leone, is a Canadian pornstar with Indian roots. She holds the number one spot on our top list of the hottest Indian pornstars as well.
Everyone's favorite busty ethnic babe has a thick, fantastic body, a luscious ass, and smoky dark eyes. Combined with her sexual prowess, you get scene after scene of hot, intense sex, teasing, and plain old primal fucking. Don't forget to check her out on Brazzers.com!
#1 Ariel Rebel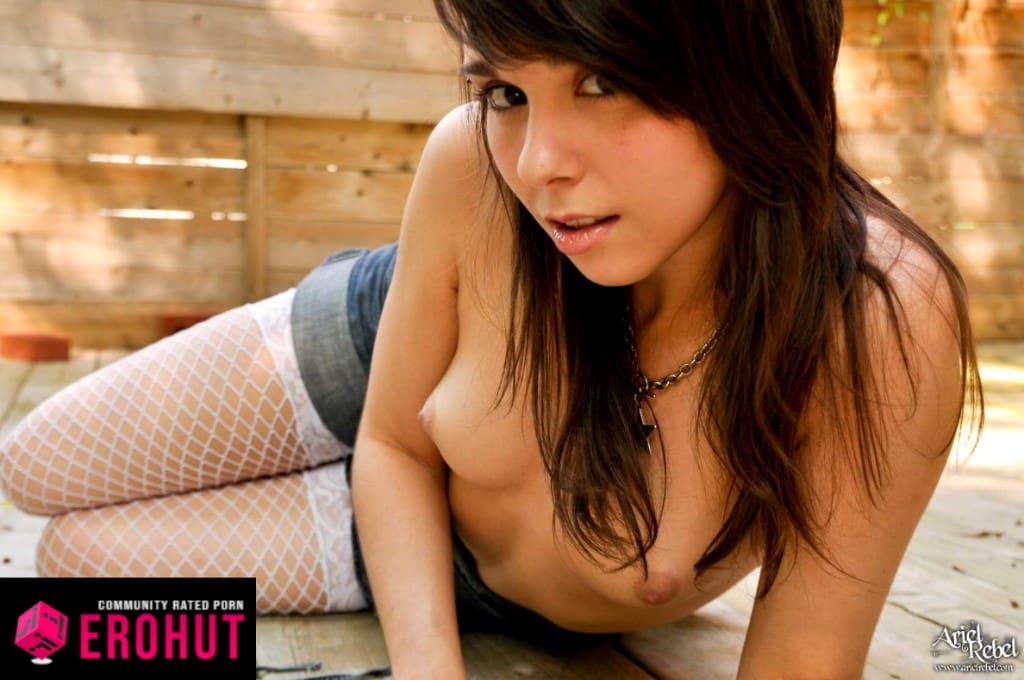 Who's this tasty, extremely hot pornstar with a sincere look and smooth as my cum face? Meat and "meet" Ariel Rebel, a gorgeous brown-haired teen from Canada. Pour maple syrup on that pussy and eat it for breakfast, dinner, or brunch.
The other side of Amber is also as stunning as the front. Despite being a Canadian pornstar, the only flat pancakes you can see are at the top front. Everything else is as curvy as knuckles.
After you watch her on RealityKings.com, there is no turning back.
Let us know what you think. Have we've missed someone in our top 10 list? Leave a comment below and share your thoughts with us.