If there's one thing that's guaranteed to rile most men up, it's hot lesbian porn. And since EroHut has already covered virtually everything else with our top 10 pornstar lists, we thought it was about time to switch things up.
Yes, it's the perfect day to give the spotlight to some of the sexiest pussy loving ladies the porn industry has to offer. Before you are more than 10 of the best lesbian pornstars in our opinion. You'll find a bit of everything looks-wise. Basically, readers are bound to be happy with at least a few of our choices.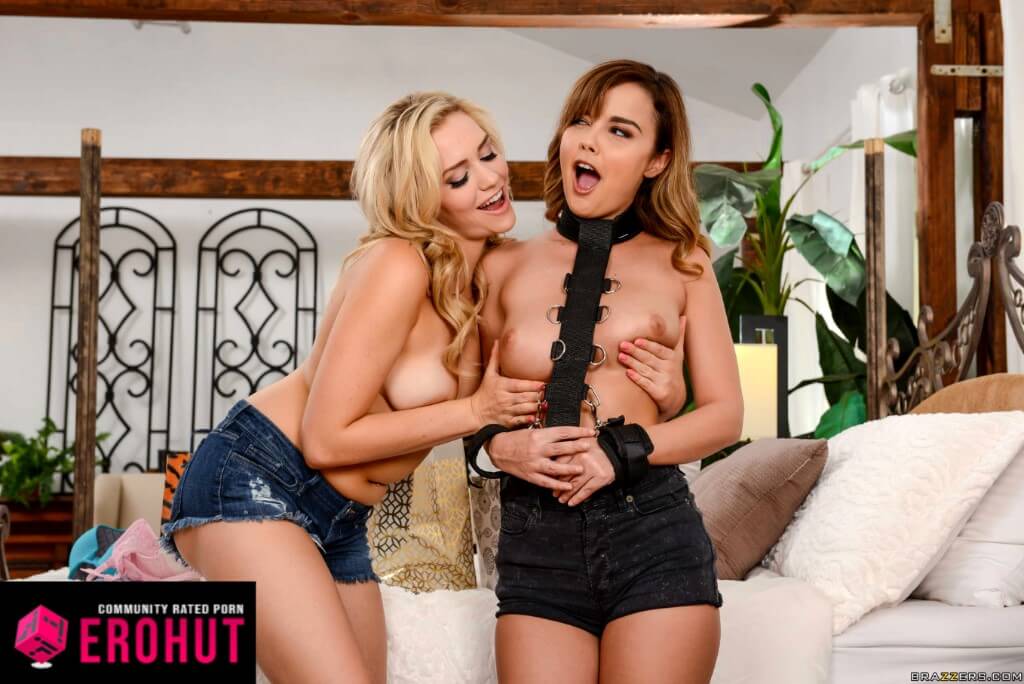 Dillon Harper is young, busty, incredibly cute, and best of all a sworn lover of pussy. When she's not getting her hairy snatch licked, you can find her banging her brains out in smutty lesbian porn. Or grinding clits with a MILF to change the pace.
Her work is available on Brazzers.com, where she gets to fuck every single pornstar imaginable. An absolute treasure of a lesbian pornstar that must be saved for new generations.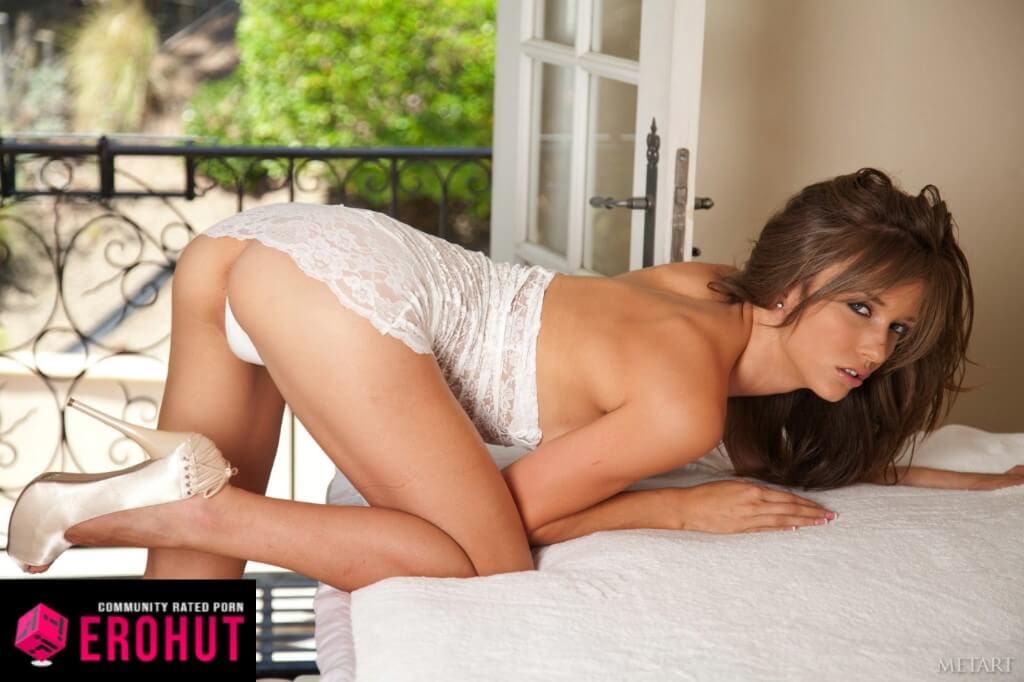 Malena Morgan is a skinny, adventurous babe that by all accounts prefers to bury her face in pussy. She's starred alongside stars like Dani Daniels in hot lesbian porn videos. Most of which were filled with rampant rimming, gasps, and kisses.
Malena also likes to do it slow, sensual and tongue a tight cunt into submission. Either way, you can find her on RealityKings.com for some hardcore lesbian action or MetArt.com.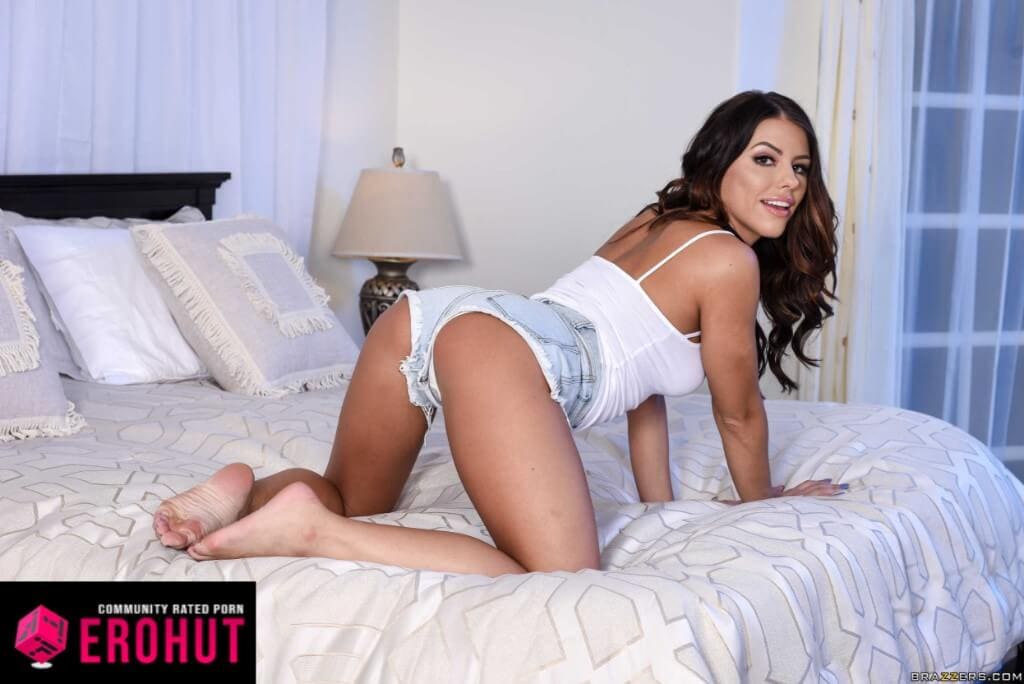 She's hot, extremely sexy, and fucking crazy in bed. We're, of course, talking about Adriana Chechik. Fisting, strap-ons, anal gaping, squirting, and all around rough and wild sex, puts her among the top lesbian pornstars. It's weird how such a good-looking woman can be so bizarre in bed, for all the right and wrong reasons.
If you're ready for some of the most extreme lesbian sex, watch her on EvilAngel.com.
Don't hesitate to share your favorite lesbian pornstars. We love to hear from lovers of passionate porn.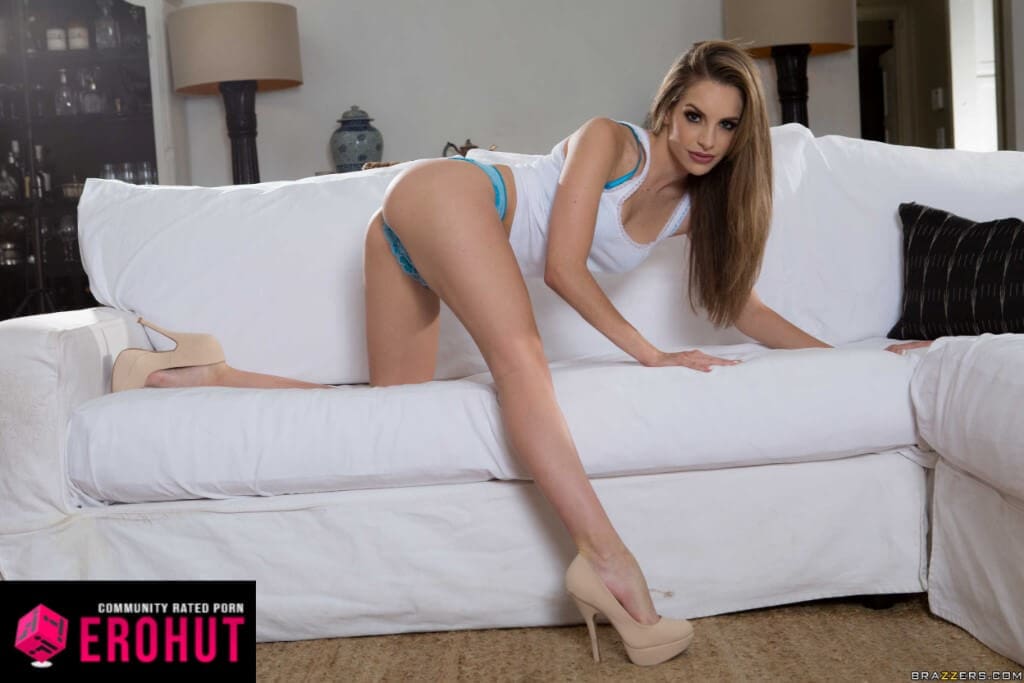 Little Kimmy Granger is up there with the best when it comes to riding big cocks, but we think her heart lies in pussy licking female costars. This cute, young pornstar, makes a feast out of every clit she gets to tease with her tongue, and doesn't pick based on age.
In other words, Kimmy loves teens and MILF lesbian pornstars alike. Fans will find her on sites like Nubiles-Porn.com. Wipe your mouth now, it's drooling.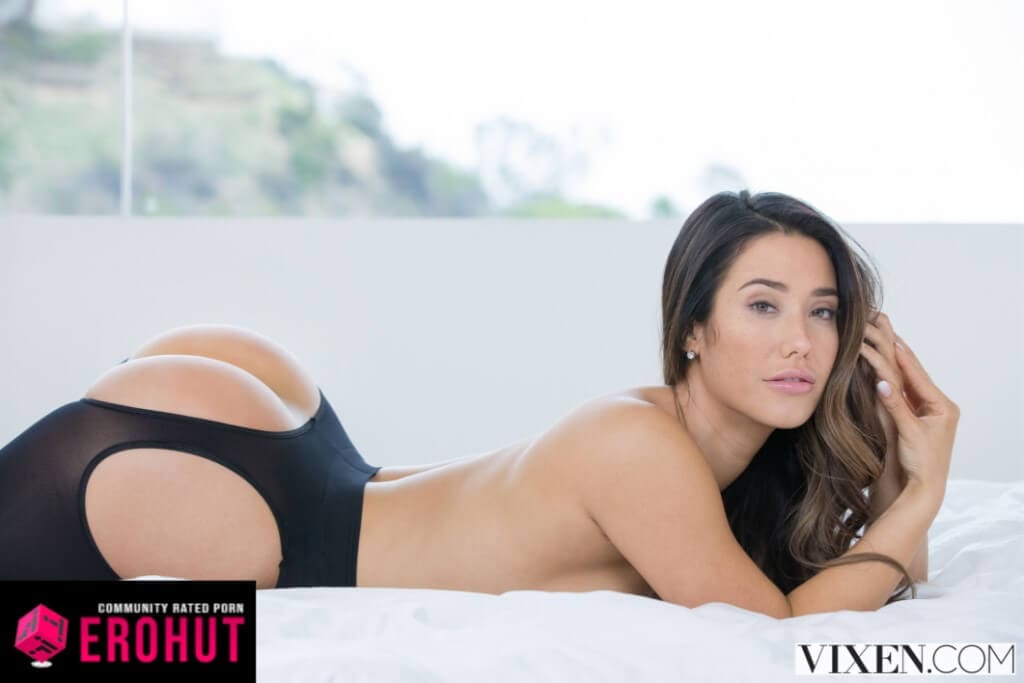 Eva Lovia, also known as Mia Marx, is a petite beauty that needs no special introduction. If you want to watch one of the hottest lesbian pornstars in action, now you know who to turn to.
There are no constrains or templates that Eva chooses to follow. She does it slowly, kinky, and she does it hardcore with reckless abandon. Satisfy your fantasies with this hot babe on RealityKings.com. There are plenty of videos that will drive you to the edge of exhaustion.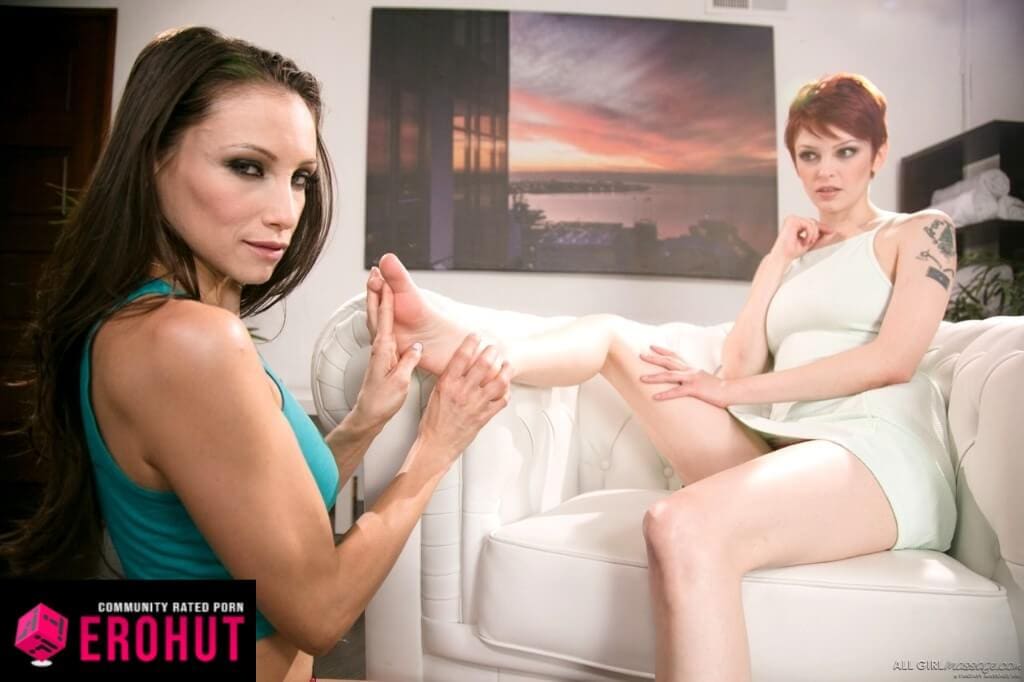 Bree Daniels is a hot short hair pornstar with green eyes, natural boobs, and long legs that hypnotize. If you want to see her in action, check out the hot scene above, or her wild lesbian romp with stepsister Chloe Amour.
Our recommended place to start would be RealityKings.com. All porn scenes are filled with pussy juices, nasty smells and sticky fingers.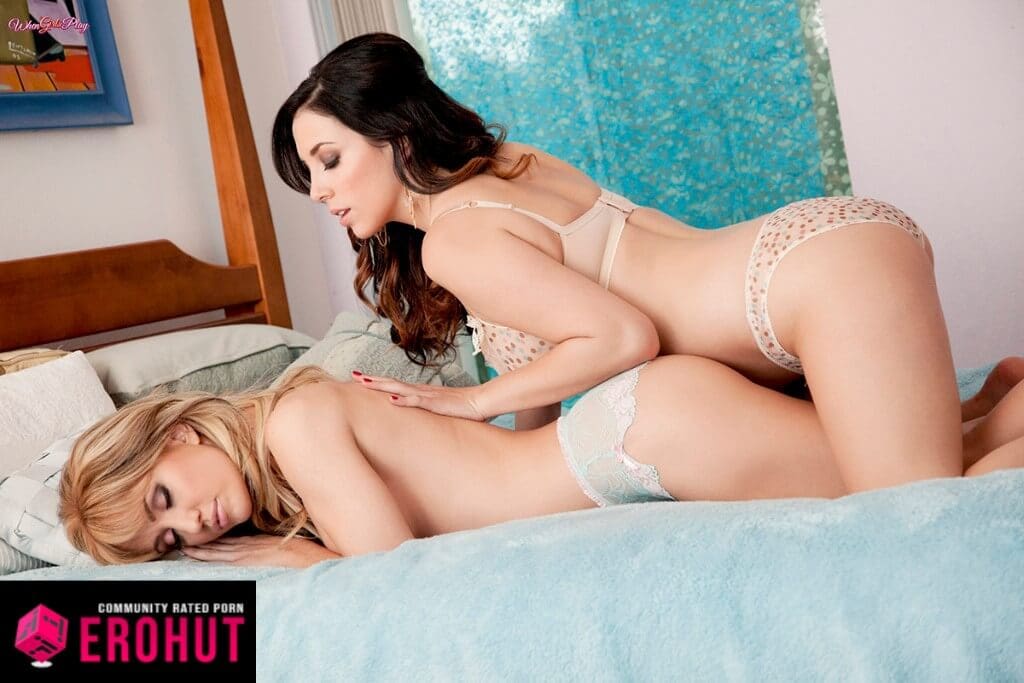 At 5"10', big tits brunette Jelena Jensen, is a sight to cherish. As a curvy MILF pushing past 30, she uses her imposing body to seduce babes almost half her age. As you can see from the photo above, Jelena particularly likes getting a pussy licking from a sexually curious schoolgirl.
See more of this sizzling whore on Brazzers.com. Highly recommended if you love hairy bushes too.
P.S. We have some of the best lesiban porn sites listed by rating score. Assuming you adore such porn.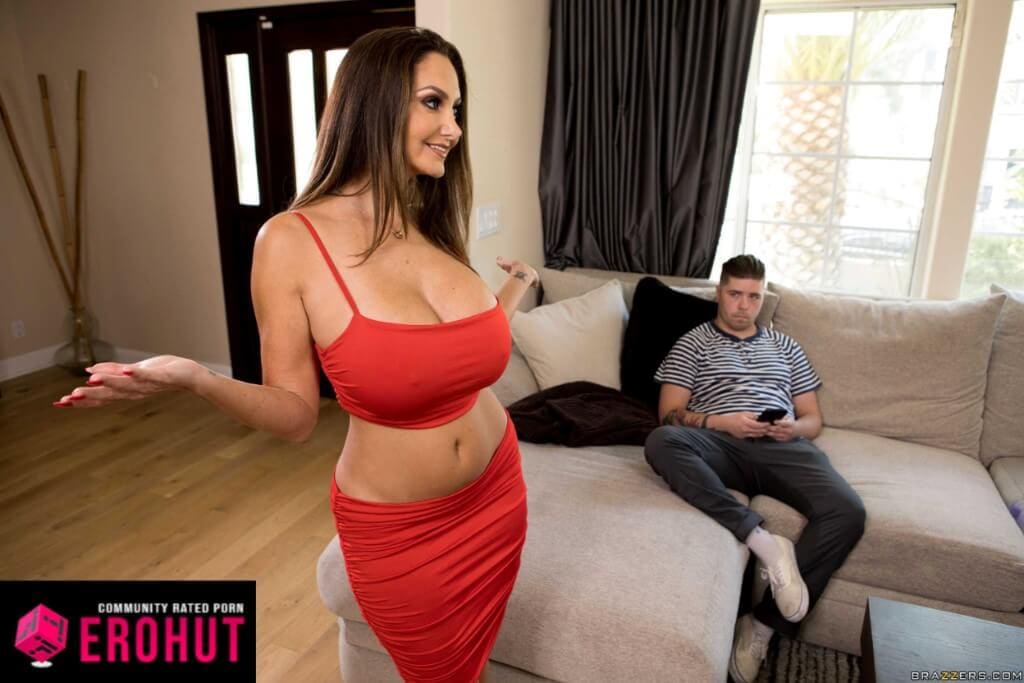 What can you say about Ava Addams other that she's an absolute porn legend? Fucked a bunch of lesbian pornstars in the process. Giant strap-ons? Check. Lesbian MILF love affair? Affirmative. Teaching lesbian teens the ropes? Also done. Scissor fucking till she cums? Of course.
See more of her on Brazzers.com, with hundreds of steaming hot videos. Just a porn legend that will bury girly tongue inside either hole.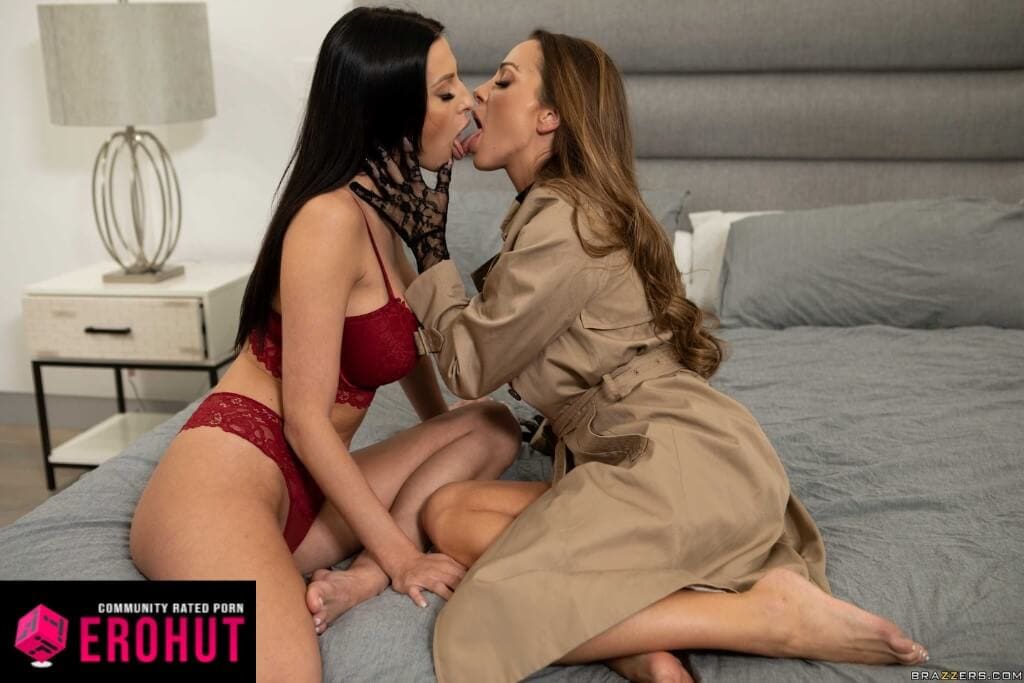 Dining on pussies like fat chicks do on chicken wings, Abigbail Mac is another hot lesbian pornstar that joins the rest. Always showing fingers down girl's pussies, assholes and throats. It's like she has too many fingers and other don't know where to hide them all.
Abigbail does not even have to undress for us to start imagining all the dirty things we would do to her. Thankfully, she is a bi-sexual and can stick a finger down your ass too.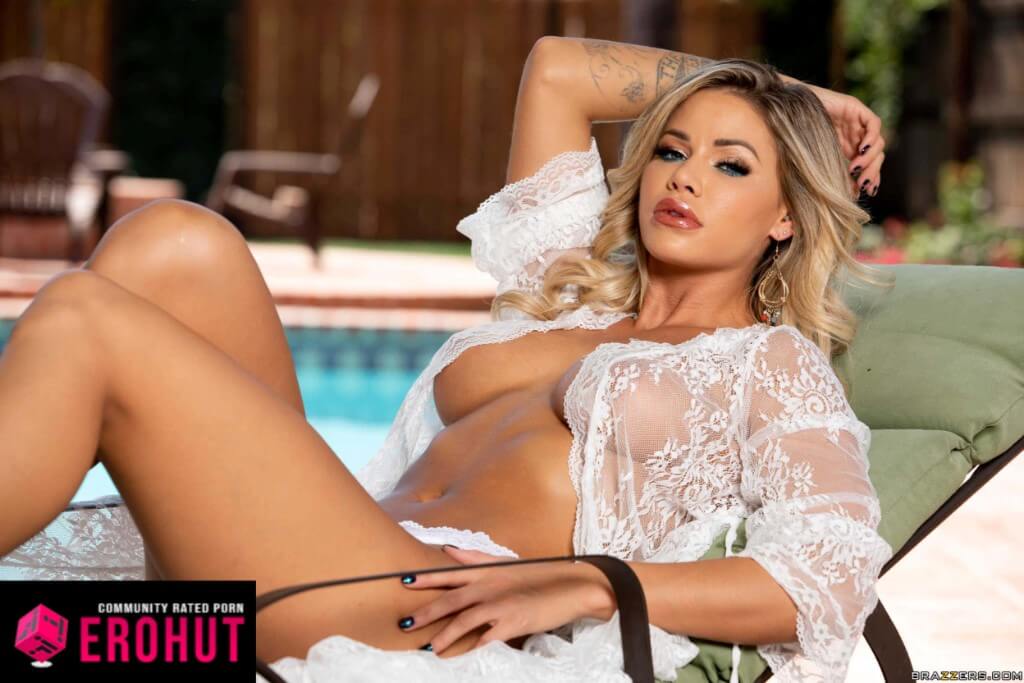 When you reach the age of Jessa Rhodes, anything goes. Even better? You learn to let yourself go and enjoy the fun. That applies to Jessa Rhodes and the MILF on the left. Wait, isn't she only 26-years old? It's young versus old and this lesbian couple had quite a match.
By that I mean an absolute blast of a fuck scene with scissoring, oiled up bodies, passionate kisses and hardcore clit rubbing. Catch her on Brazzers.com.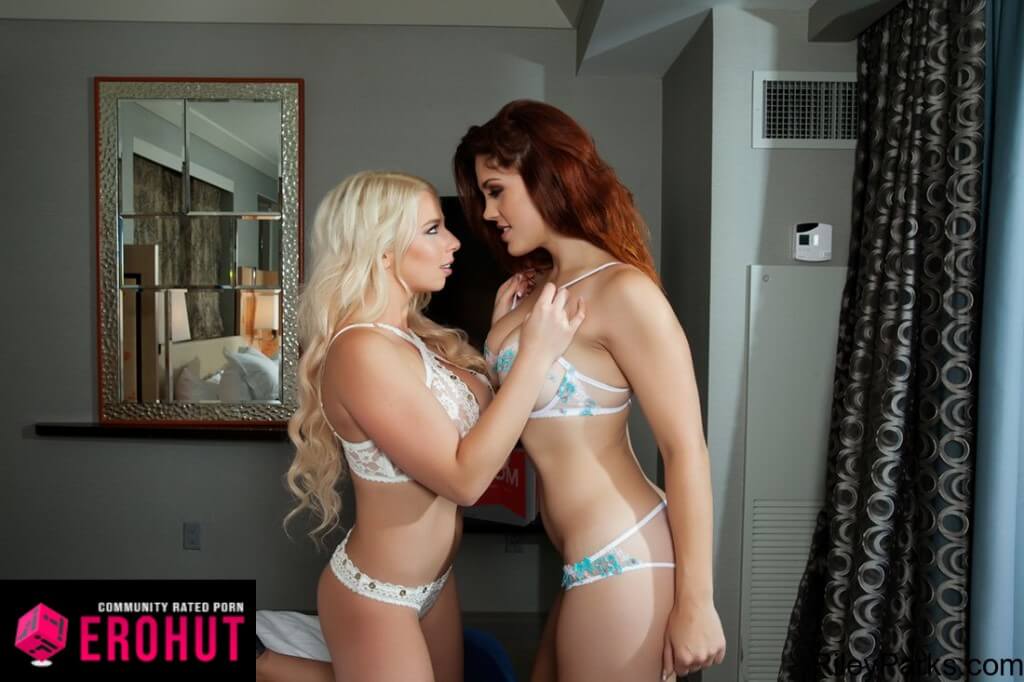 Actively working with Twistys.com, here's a real Lesbian hottie with red hair and a marvelous little cunt.
Did you catch the "real" part? Yes, this is another, woman loving pornstar that is addicted to feminine side as much as Americans are addicted to sugar. It's always a pleasure to watch Molly and we are not the only ones. She pulls millions of views monthly!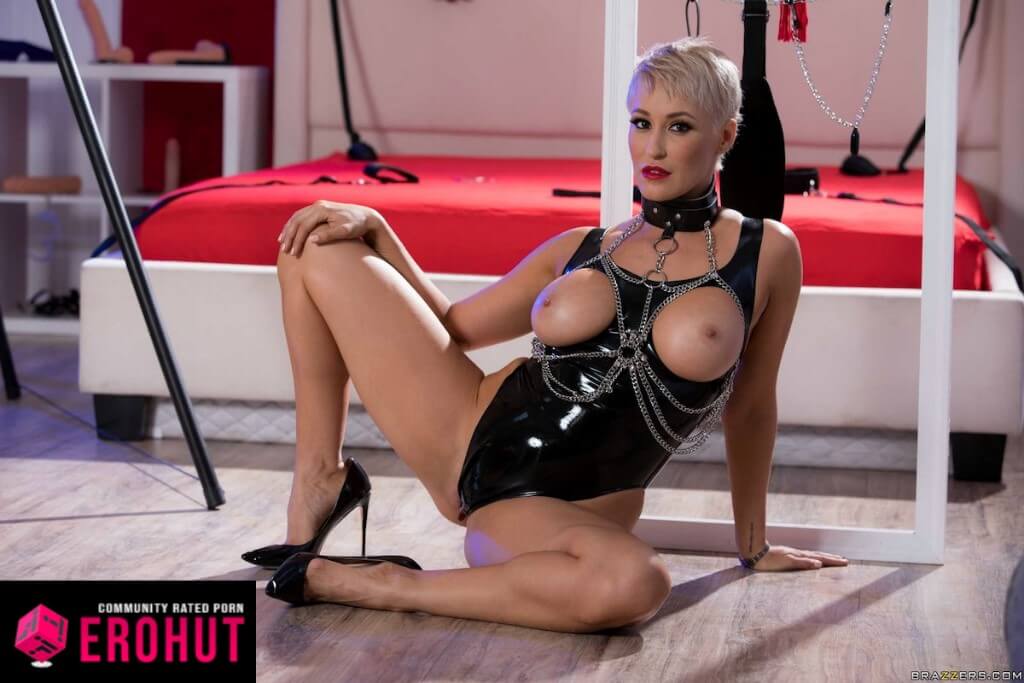 We have learned to associate lesbian pornstars with cuteness and sensual touches. Ryan Keely aims to change your perspective on girl-on-girl action and acts of BDSM. Just like feminists, this female loving hoe rocks short hair and a rather masculine look.
If you were in relationship with Ryan, don't expect to dominate her. This chick breathes and lives bondage porn. In other words, you will be the bitch.
Starting with a finger down the bum hole, Veronica Leal transitioned from a shy Lesbian pornstar into a hardcore loving slut. It took some time for the body to just, but that's the joy about discovering new pornstars early.
You get to follow their full journey from amateurs to cock (or pussy) hungry whores. What else can we tell about Veronica Leal? This one is a California born blond that in just few years accumulated hundreds of videos, not all are with females though.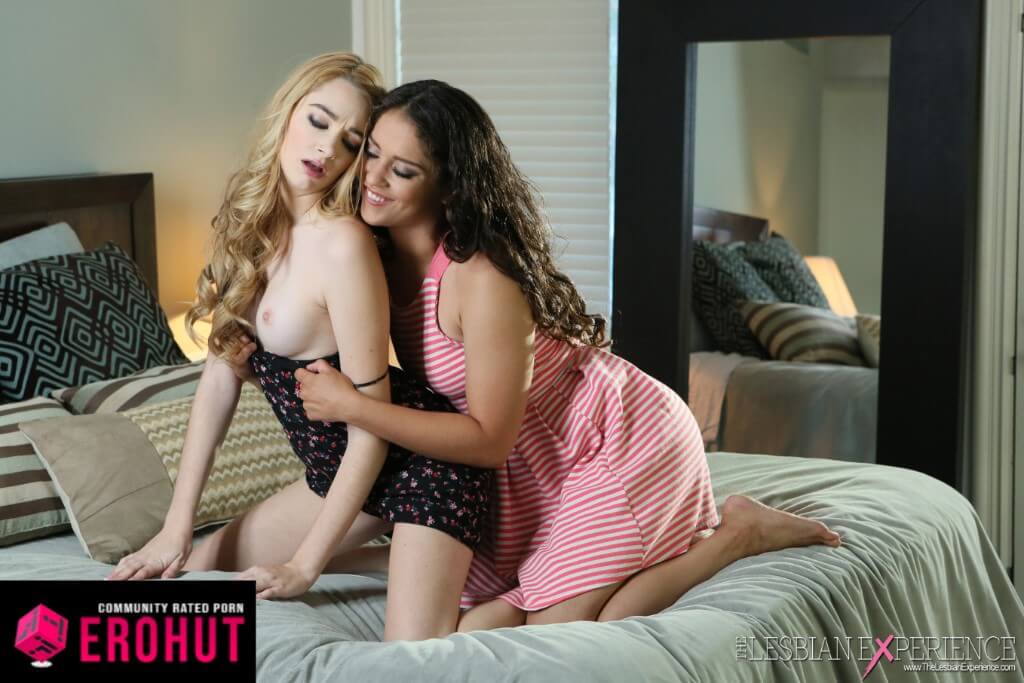 How happy of a face can you pull of when your tongue us buried inside someone's pussy? We bet it's not as exciting or ecstatic as the one from Ivy Jones. She's a real lesbian pornstar that hasn't touched a male body in any sexual way.
Sadly, there are only few videos of this incredible babe and Twistys.com is your best bet at this point. You demanded real girls? Here, now support her!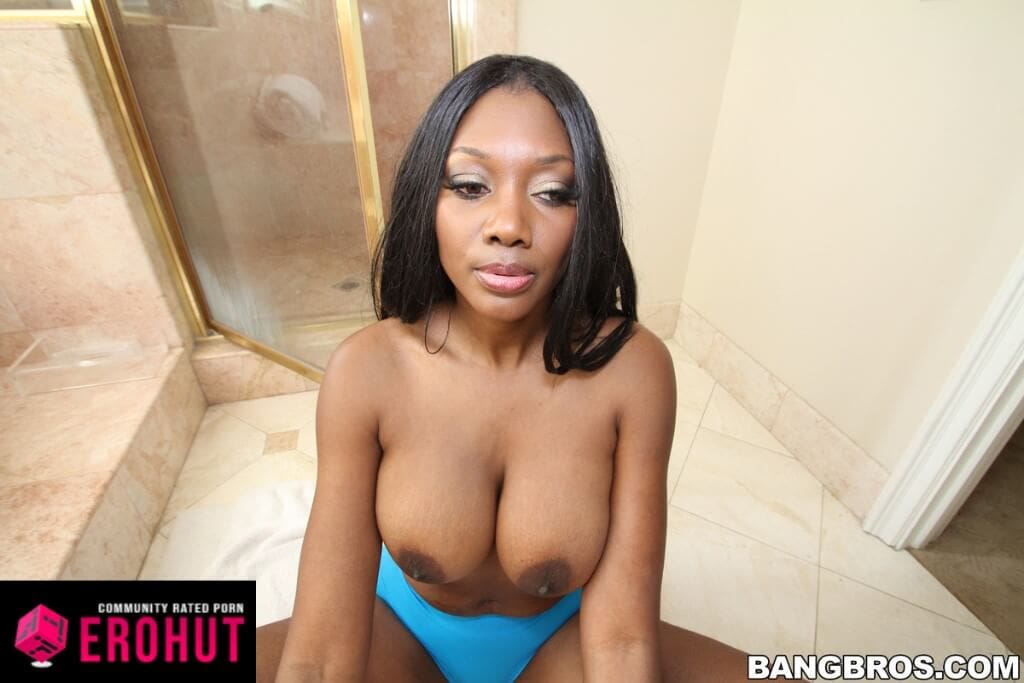 As porn connoisseurs, leaving out an ebony lesbian like Nyomi Banxxx would be a total travesty on our part. The black lesbian porn she films is some of the best around, not in the least because of her big chocolate tits and round ass.
She goes black on black and interracial, devouring all white and black pussy before her. See this ebony butt naked and going crazy on Brazzers.com. The home of hottest shit on the planet.
Not ashamed to explore the bisexual side of herself, this pornstar might not be committed to pussy exclusively, but it doesn't matter. Why? Because the spectacular shows and scenes Chloe Cherry puts out are among the greatest.
This thumbnail shows what one can expect from the dirty blond pornstar. Lots of squirting action, hot lesbian girlfriends and freshly squeezed pussy juice that most of us would love to try.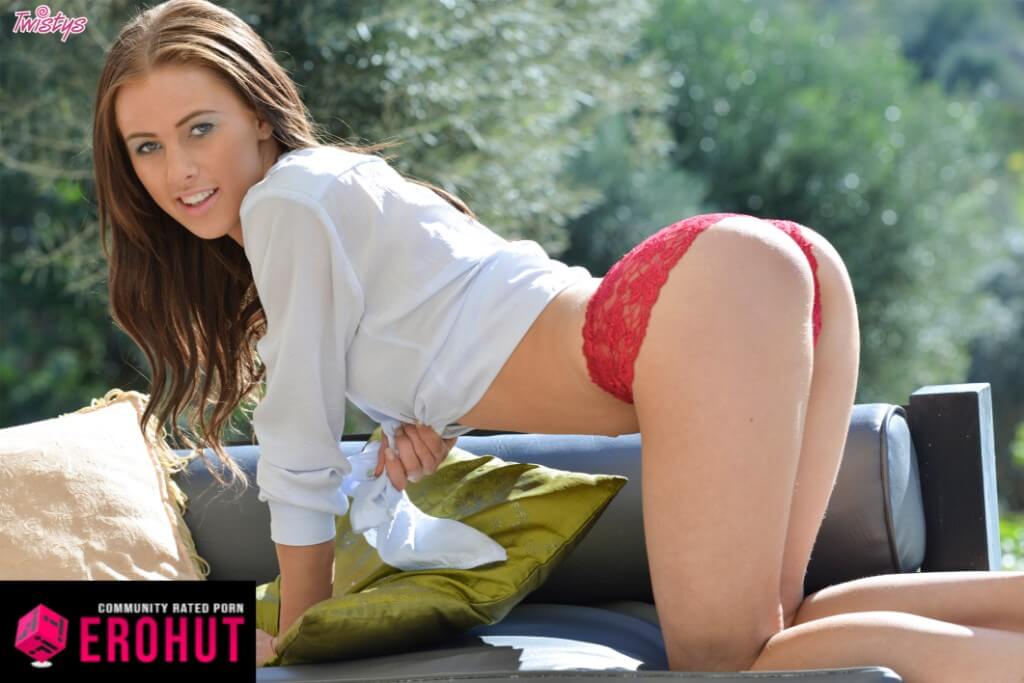 Even lesbian pornstars can't live without a good dick. Sucks to be attracted to the shape yet creatures that don't have one. Lucy Heart is a Russian pornstar born in 1990 at the time when Soviet Union was still in place.
She can be seen I the middle here, riding rubber dildo and making out with an exotic looking girlfriend. Who is the performer on the left? It's a mystery.
Turning 25 few months from now, Kristen Scott (in the middle) is a 5 ft 2 in American pornstar that gets turned on by dominant partners. Been in business for four years and is yet to unravel a full potential. While Kristen loves to draw the alphabet on moist cunts, her another passion is singing. That too requires some tongue and throat action.
Anyhow, she enjoys lesbian threesomes and passionate evenings with a single female partner.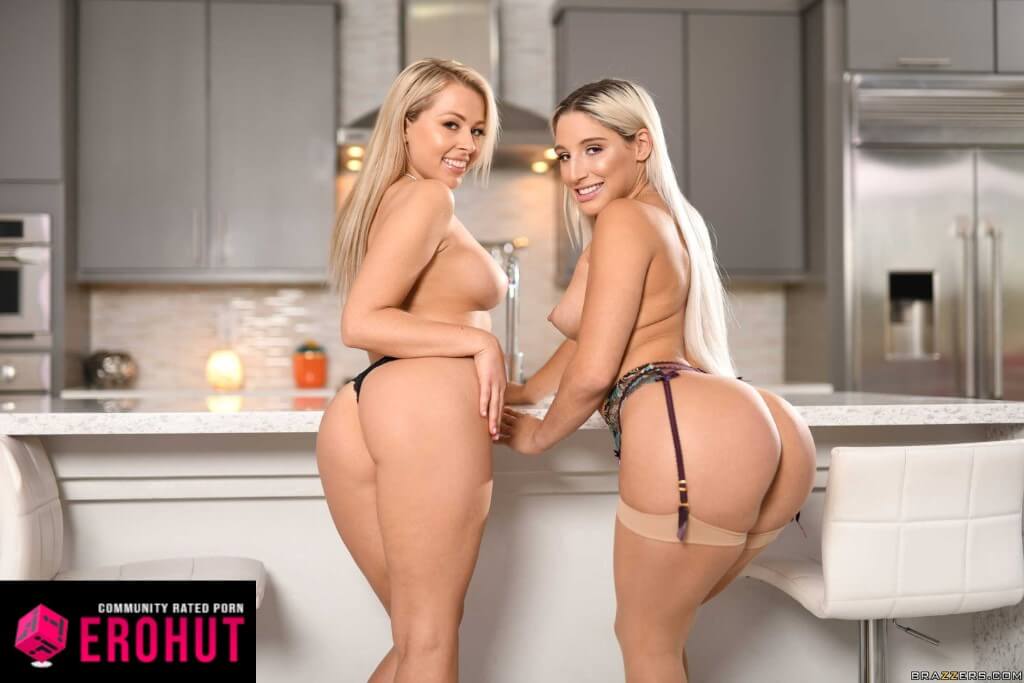 Originally from Detroit, this pussy slave has been involved into all kinds of scenes. Girl-on-girl is a given since this is a top 10 of the most interesting lesbian pornstars. However, Zoey Monroe never managed to find the brakes.
Double penetration, interracial lesbian orgies, pussy worship and the jewel of them all, tranny videos. If someone asks you to bring a fun girl to the party, you bring Zoey.
Justine Joli or Swan Hope is a pale redhead lesbian with hoe eyes and a body that drives both men and woman crazy. Although she has recently retired (after 15 years in porn), we still love watching her girl-on-girl and lesbian group sex scenes.
In the end, if you like nasty sex, check her out! Same goes for slow and sensual porn on networks like MetArt.com. Justine is as versatile as a pair of tweezers.