Thanks to all the hot nerd girls and office porn, glasses have become a big turn-on for many people. Also, there's now a multitude of adult performers that like to star in such scenes. I do mean pornstars that wear glasses regularly or opt-in for some artificial lenses. So let's bring these sexy hoes back! Maybe this trend will catch up in the 2020s.
Thus, after careful consideration, we've put together a top 10 of the hottest pornstars with glasses. We are doing everything in our power to fulfill your fantasies and exploit kinks.
#22 Sara Retali
Every secretary must come with tits as large as her preferred salary. For Sara Retali that goes to 36D, a size rarely seen anymore. She's a chubby Venezuelan whore with a questionable appearance. But all those questions come from your jealous wife since our side has no objections.
Your mind will have trouble unpacking Sara instead of your cock, but let's do a quick summary. She is just a 5'3" brunette with a short skirt, glasses, a curvy figure, and a big brain. Discussing the latter would help because dumb secretaries are as annoying as vibrating fleshlight.
#21 Jasmine Webb
We're all used to the idea of evil black chicks who whine and moan all the time. That's Hollywood movies to blame, as crazy momma was always African American. Jasmine Webb looks sophisticated while wearing glasses and is only crazy during sex.
Wife her, promote to the secretary position, or just fuck and dump. Whatever floats your cock. Looks brilliant, too, like every other slut with glasses.
#20 Lisa Ann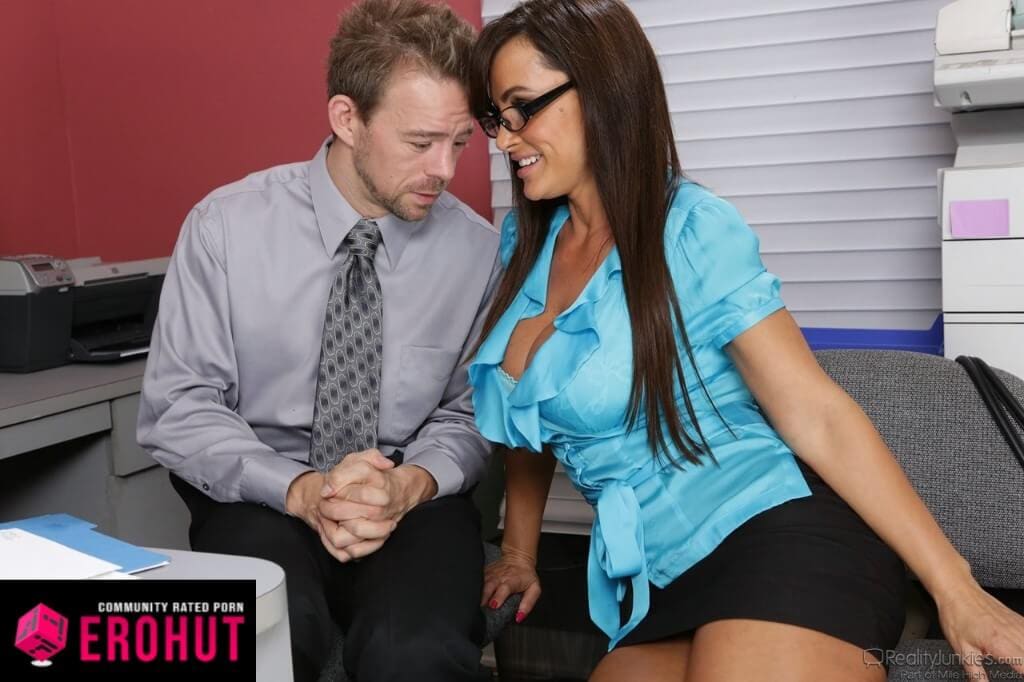 46-year-old Lisa Ann is a living legend that most of you know all too well. The MILF babe wears glasses on and off the set, which is great. As far as her videos go, Lisa has shot porn videos as a slutty secretary, cougar teacher, and former vice-presidential candidate Sarah Palin. The last one was in "Who's Nailin' Paylin?".
I highly recommend checking this cougar out on Brazzers.com.
#19 Amber Jayne
You can't meet Amber and not stare at her large fake tits. Her student doesn't even try to mask it, and that's what a real man should do! While this situation is different, I find it funny how women go to great lengths, lifting and pushing those tiny tits up only to scream at you for staring at them. Listen to me; you slut; it's you who's fishing for attention.
Amber Jayne is a sexy librarian or a schoolteacher that knows how to push knowledge into your face. Go for Brazzers.com to see it happening.
#18 Joseline Kelly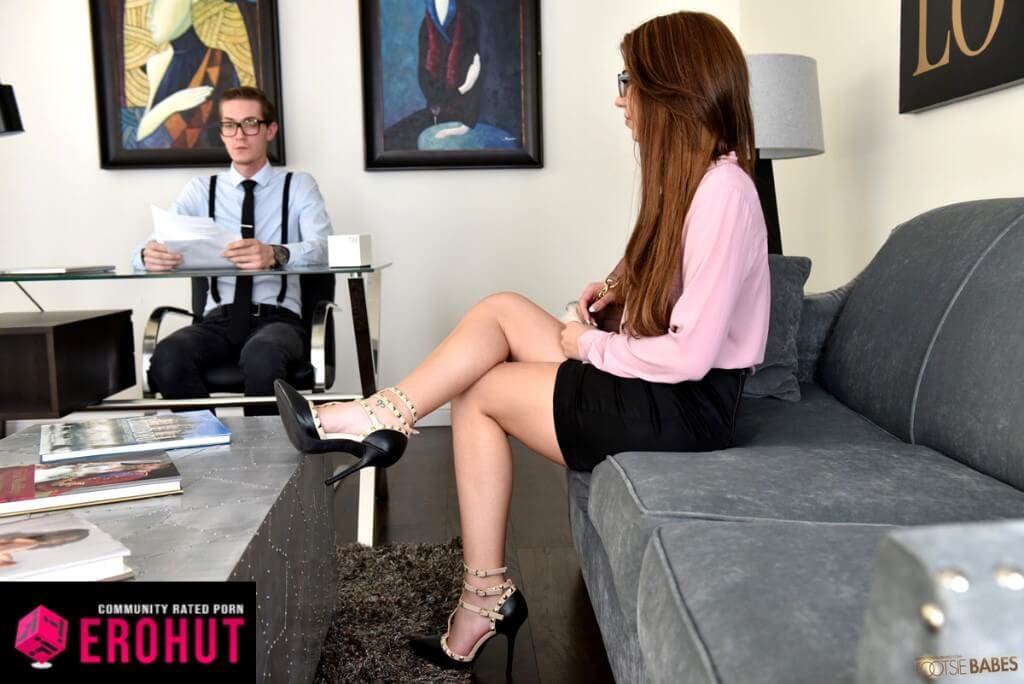 As one of the kinkiest pornstars of 1997, Joseline Kelly will make your secretary or librarian fantasy a reality. Born in Atlanta and rocking that Georgian attitude, this fuck toy has shot over 300 videos already.
So, are you into pornstars with glasses that have no trouble showing cups down their buttholes? Then Joseline is your kind of hoe, which lives inside the Mofos.com portal.
#17 Alice Lighthouse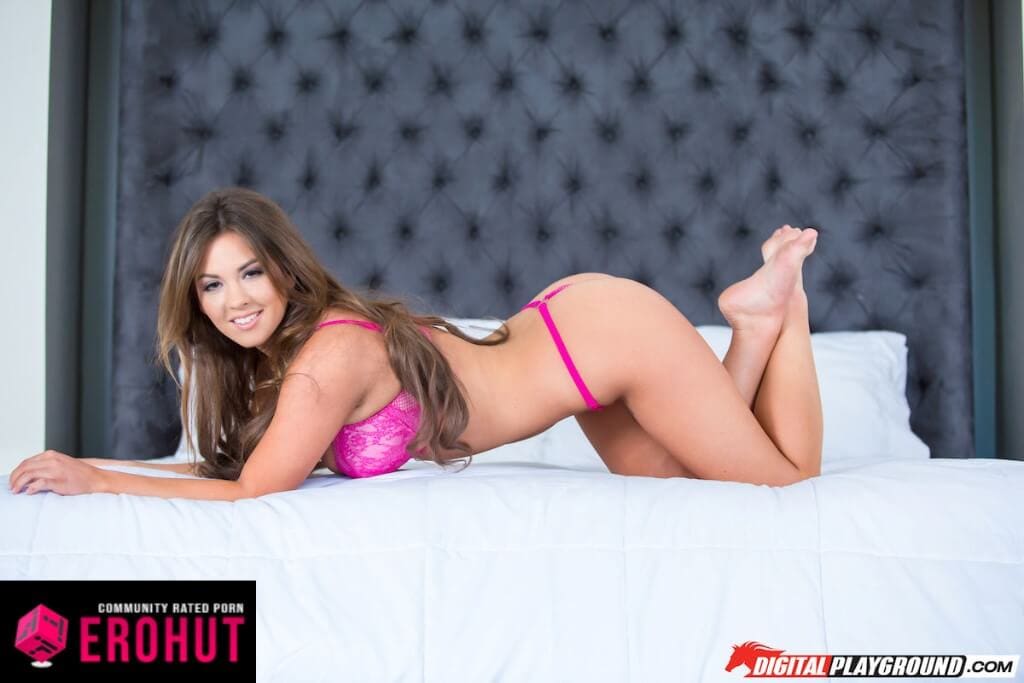 Southern belle Alice Lighthouse is a teen pornstar from Kentucky. She is mostly famous for her jiggly natural tits and cute face – a stunning pornstar with glasses that is as wild as is good-looking.
Although Lighthouse has many hot videos, we prefer the Brazzers.com "Big Tits at School" appearance. There Alice got groped and fucked by a teacher and went for a balls-deep cock ride.
#16 Dillion Harper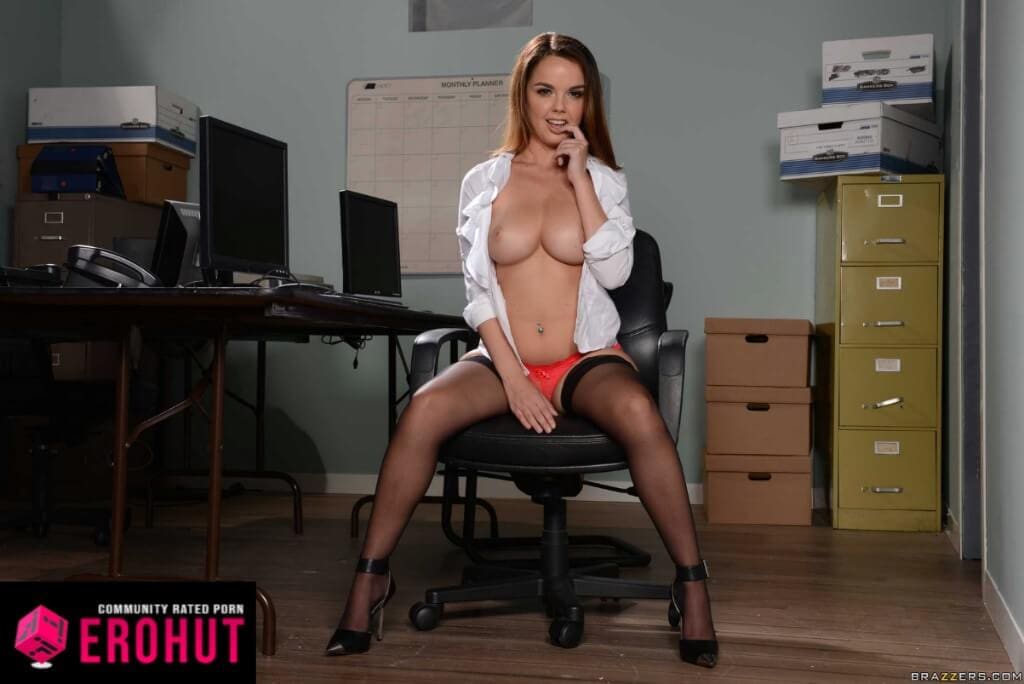 Speaking of cute, Dillion Harper should be the definition of it. There are no newbies on EroHut. Everyone here is a porn veteran and already knows that stellar ass or busty tits.
However, you might have missed Dillon's scene of acrobatic sex, which ends spectacularly. Yes, we mean cum on glasses. Pictured above is the very begging of this video. As you can see, this pornstar with glasses wears tight white yoga pants that most of us find irresistible.
Check out Dillon Harper on Brazzers.com.
#15 Penny Pax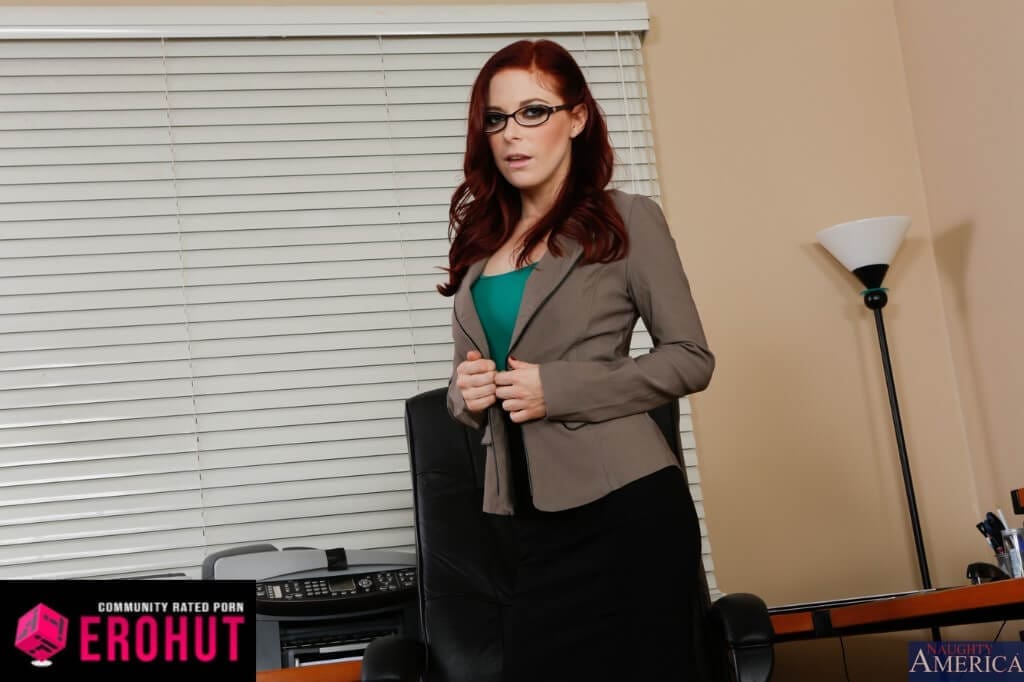 As I browsed around Brazzers.com, it was Penny Pax that immediately grabbed my attention. She has a busty figure and ginger hair and is a perfect role model for a geeky chick with glasses. Not an ugly duckling with the unwashed vagina or crooked teeth like we're used to. It's the nerds' revenge, and Penny might as well be crowned the queen of such movement.
Pretty much a solid 8/10, all-around sexy, enthusiastic, you name it.
#14 Leana Lovings
Today is as exciting as the day I've lost my virginity to a butt plug because a new pornstar got under my foreskin. Okay, whatever that joke was, it didn't work because I'm far too busy focusing my attention on parts other than Leana Lovings's glasses.
I know, I know, she is bad at sex, but there's an explanation for everything. The clips you've seen (or watch right now) are from the time when she was a year into cooking porn, 2021 or 2022. However, 2023 was a breakthrough year because she got so much better. Oh, and did you know that there's more than just a roleplay scene of her with glasses? Yes, she has glasses in multiple videos, making her an authentic, genuine, and original pornstar with glasses.
#13 Brandi Love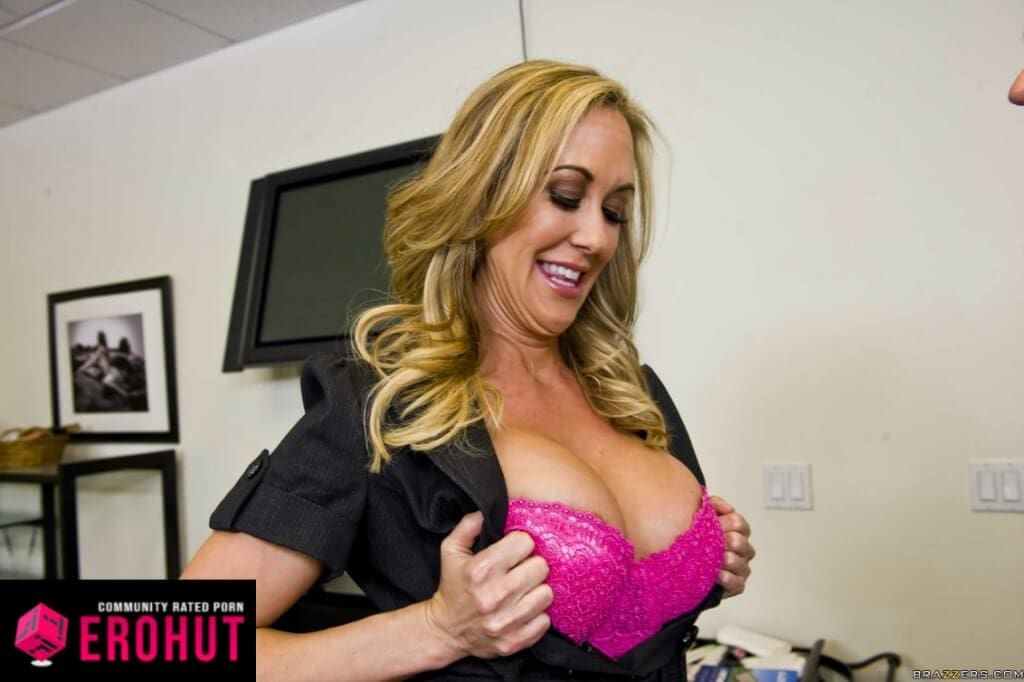 Pornstars with glasses appear corny while young, it just doesn't work well for this narration. That's where the likes of Brandi Love or Lisa Ann come into the picture. Solid age makes it easy to imagine both sluts working somewhere in the office, medical field, or even as schoolteachers.
Gray hair could be an advantage, too, especially for these roles! One of these examples is Brandi's latest scene on Brazzers.com where she portrayed a horny nurse.
#12 Lexi Lore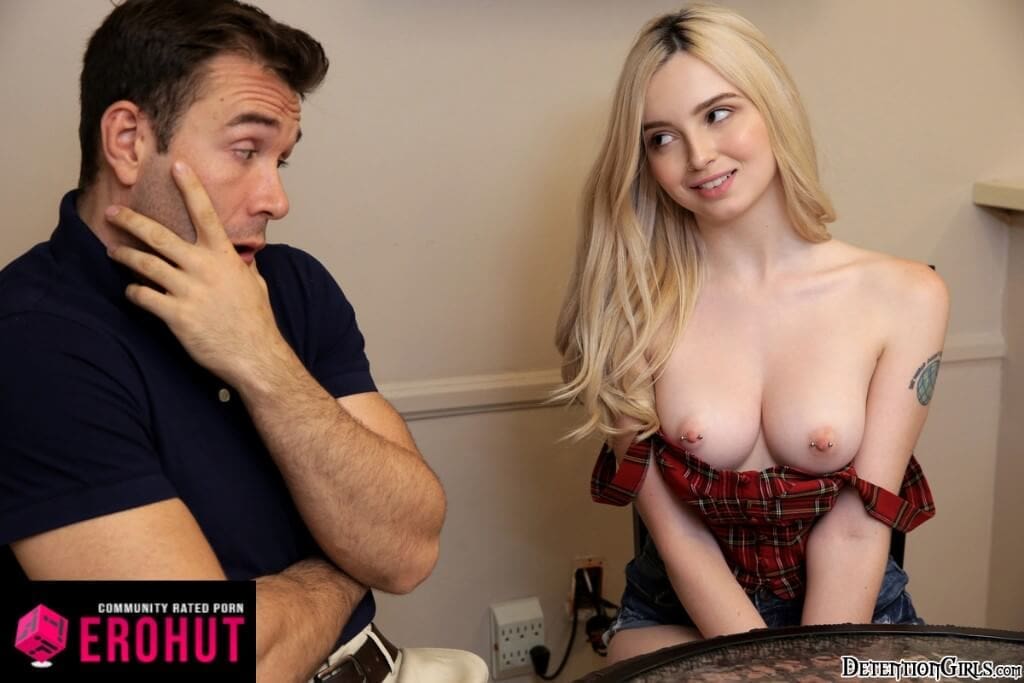 With the typical pornstar expression, Lexi enters our voting system and is here to read your comments. Is she good enough to even be there? My favorite aspect of this performer is not the ass or tits, although these are great too! Nah, that would be round, expressive lips. Perfectly shaped, not too thin, and not too thick. Picture your cock around them, and you'll see what I mean.
Or look for her scenes on any porn site if your imagination isn't working.
#11 Emily Grey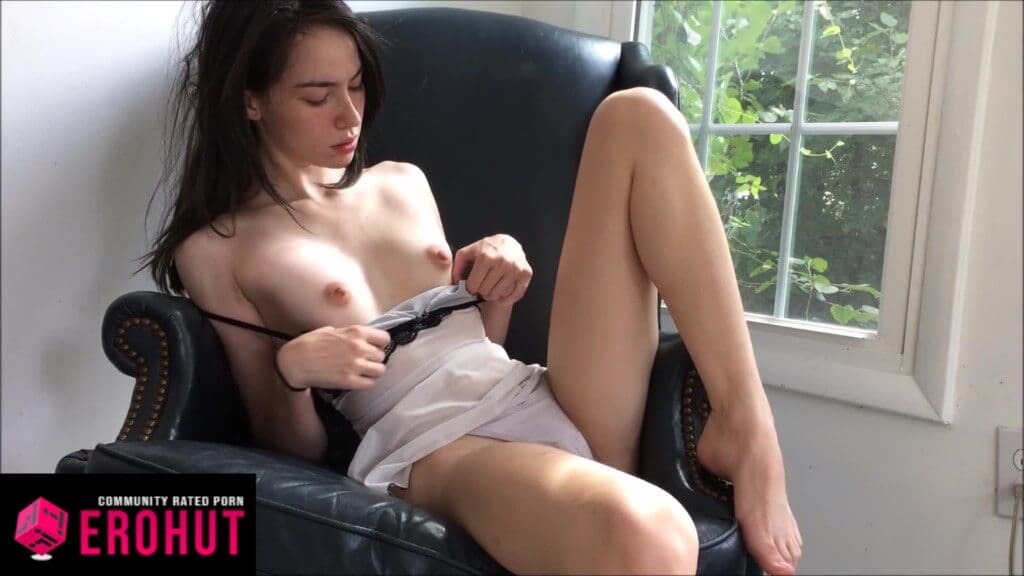 23-year-old Emily Grey is cute, super skinny, even nerdy when she wants to be. We also love her pale, silky skin and tiny boobs. For a masterpiece of teen porn, this one cannot be ignored.
Usually, scenes start slowly, with a foot massage, then go into petting, fingering, licking, and cock sucking. Then, Emily and her young lover start to fuck their brains out. However, that gaping pussy is not the most attractive thing.
#10 Carrie Cummings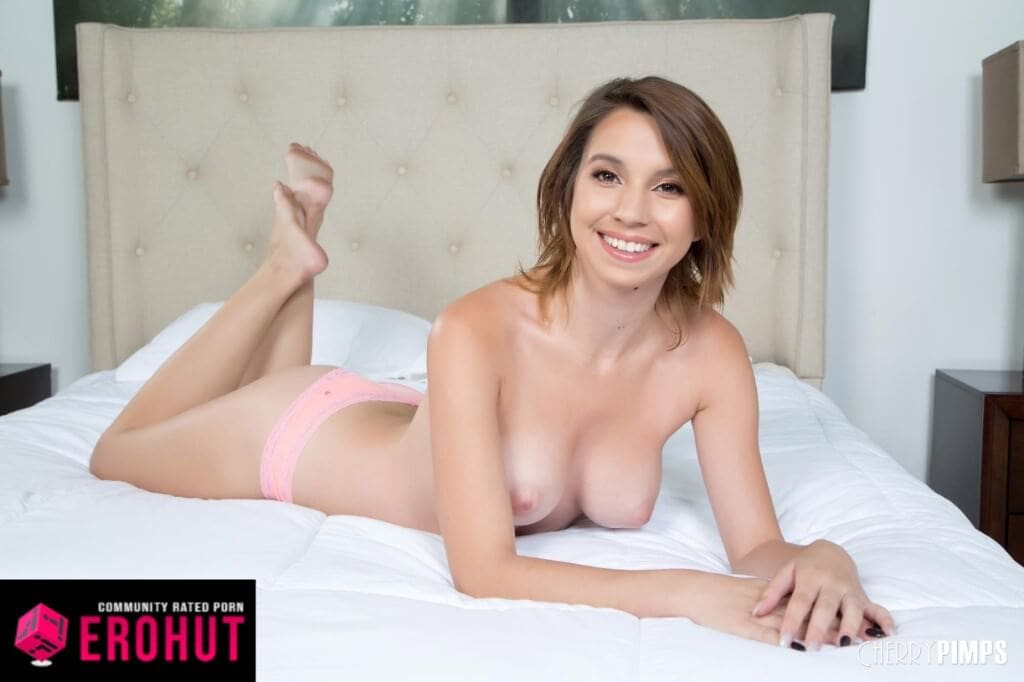 One of many Mofos.com superstars, Carrie loves to wear her pair of glasses. The obvious cumshot on lenses is as expected as morning coffee. However, she does not mind any of that and can act out in multiple roles. Be it a sexy secretary, librarian, or our favorite, the naughty university student.
So, how does Carrier Cummings compare against other pornstars with glasses? Her last name is as accurate as it gets for aliases.
#9 CeCe Capella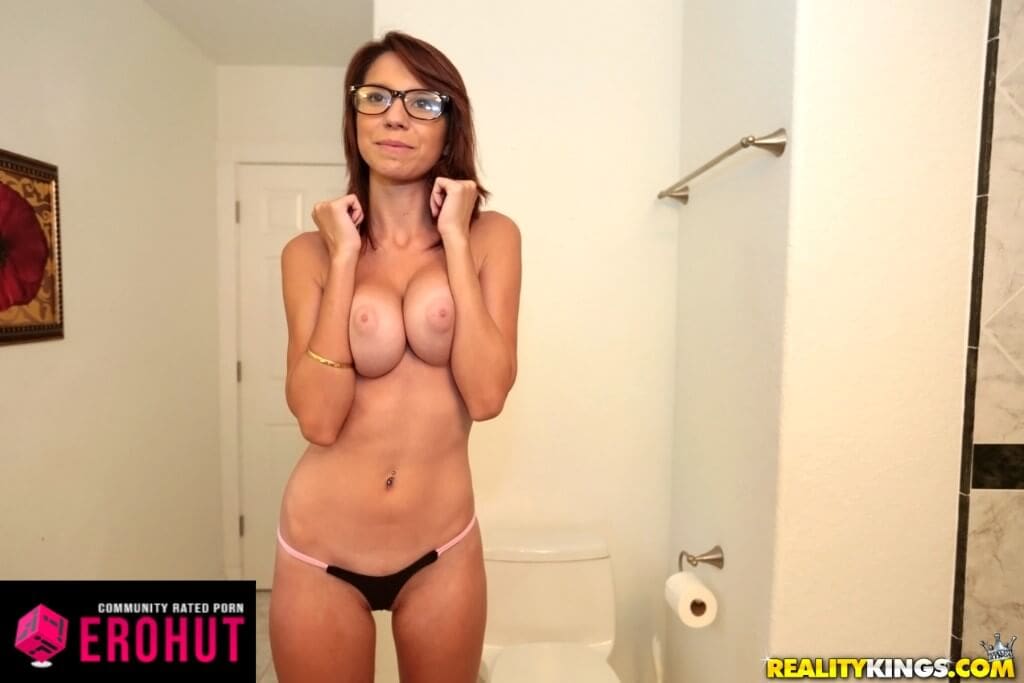 Unlike Lily, 21-year-old cutie Cece Capella has no problem getting down and dirty in full-on hardcore videos. However, this geeky pornstar with big firm tits has quite a few POV and amateur-like scenes that are always exciting to watch.
If we had to pick her best nerd porn video, it would be the first time anal, not to mention the rest of the videos.
#8 Crystal Rae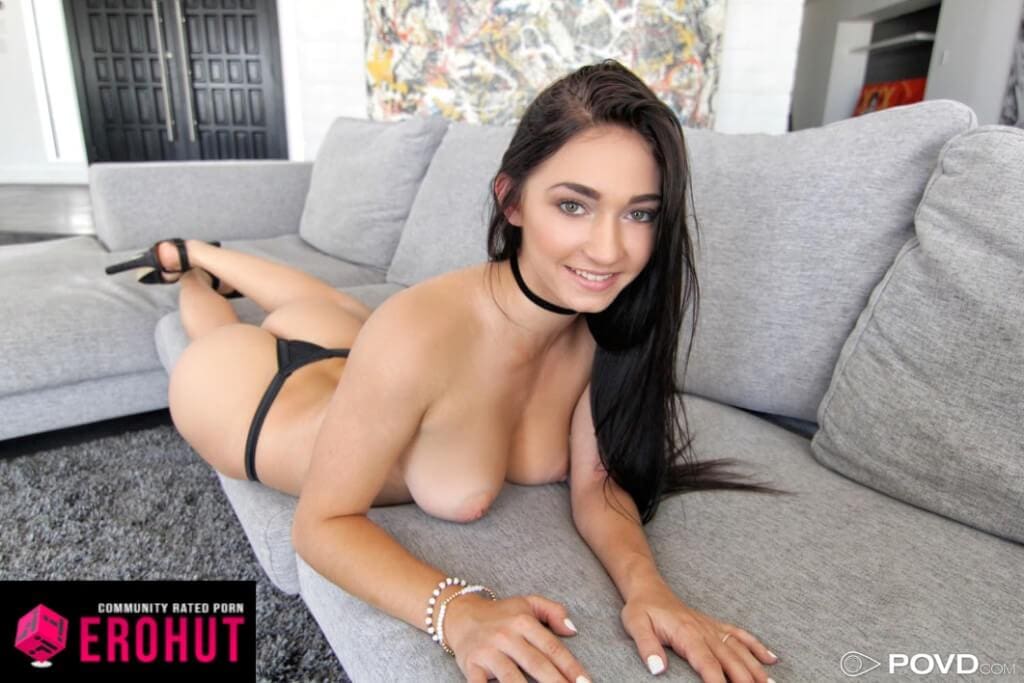 A young short brunette with candy tits, Crystal Rae, is our go-to girl when we want to see pornstars with glasses. The scene pictured above is one of her many boner-inducing encounters on RealityKings.com.
It particularly stands out because of the Halloween theme and her thick-rim glasses. Oh, Crystal is also only 21. So, we can only expect more of where this came from.
#7 Ava Taylor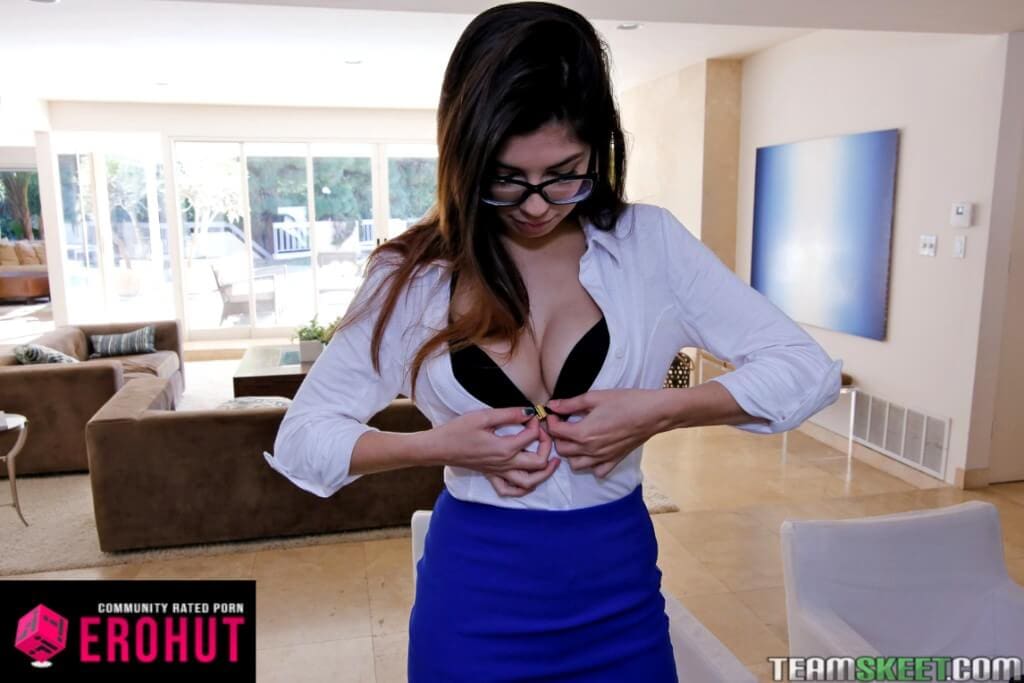 Rachel Bernard, better known as Ava Taylor, always comes to mind when we want to watch pornstars with glasses. Starting at the age of 18, the nerd babe spent four years shooting porn and wearing eyeglasses in many of the scenes.
Her young and innocent looks, budding young body, tight pussy, and cute face are something we cannot get enough of. If you feel the same, watch her on Nubiles-Porn.com.
Anyhow, hopefully, we've hit the mark when it comes to bespectacled pornstars with glasses.
#6 Cherie Deville
Without reading the title, I swear that Nina Hartley popped into your mind for most of you. Cherie is an identical replica, especially when wearing glasses. It's the wavy hair structure that makes them so similar. So what does Cherie Deville have in common with the said GILF? Nothing.
However, the flexibility and elasticity are undeniable for Cherie. She's like a sponge that can be bent in any shape. Her pussy, too can handle dicks of any angle or size.
#5 Tori Black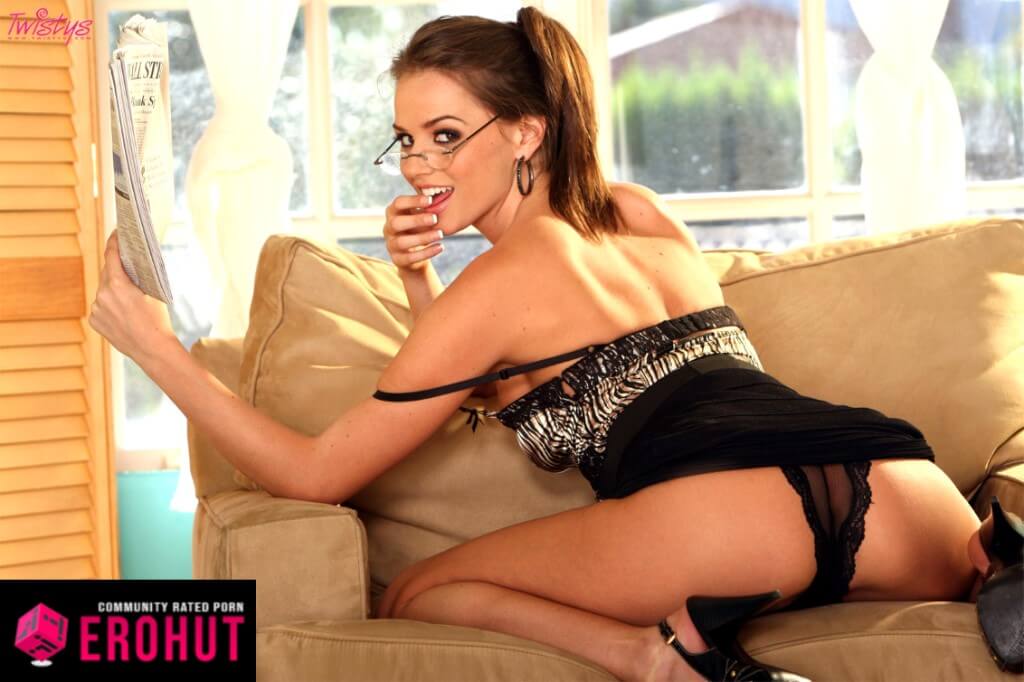 The sexy brunette Tori can be seen posing and fucking with glasses on in a few scenes. Our favorite video is her one on one with Manuel Ferrara. This barn burner quickly heads into rough sex territory and ends with a spectacular cumshot on her glasses.
Number two on our list is her office sex scene in which she plays a taboo-breaking boss starved for sex. See more of her on Brazzers.com, just order napkins.
#4 Jennifer White
Tits might taste bitter, especially if you like them big and heavy, but Jennifer has other great qualities. How about fresh and pure pussy, arched back, thick thighs? Or an intense look achieved only with a pair of sexy glasses?
No matter what style the frames are, it always works on her. Edges between the virgin librarian or university teacher look. That's the only four-eyed MILF I'd fuck without hesitation.
#3 Chanel Preston
Clean dark brown hair, precisely trimmed pussy, glasses with plastic frames… Who is Chanel Preston? Just a beloved pornstar that helped many of us to get rid of that tension. If masturbation were a crime, there wouldn't be a single free person left on Earth.
Chanel filmed a few scenes while wearing glasses, which makes her a non-exclusive performer. Of course, it could have been eye-contacts all along, but we can't see that!
#2 Lily Chey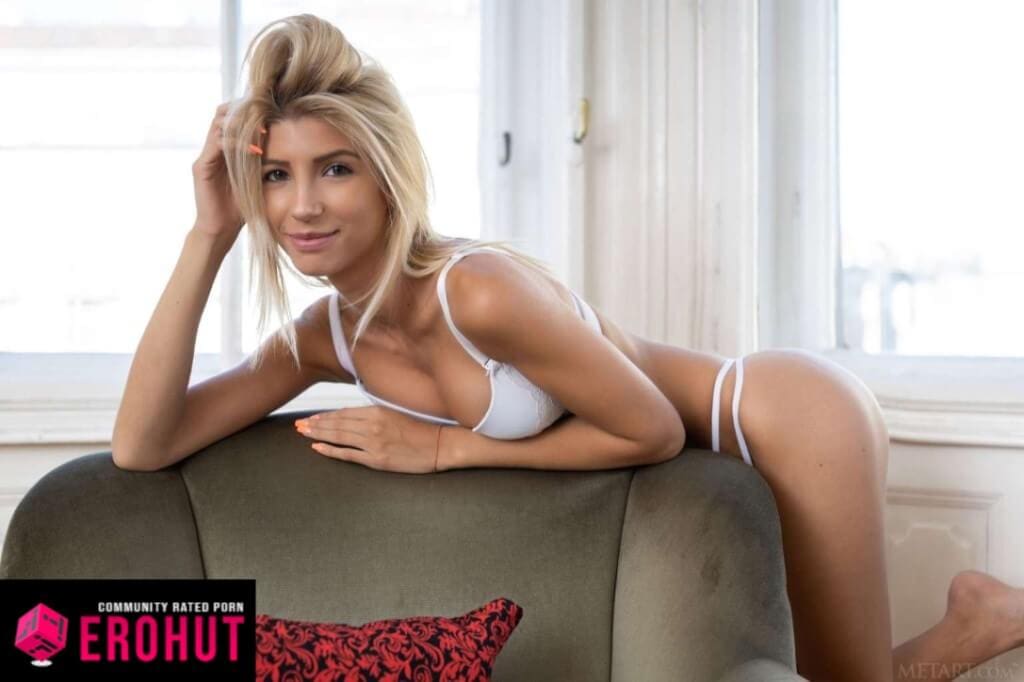 We know what you filthy animals think, but Lily Chey is not that kind of girl. This Ukrainian spinner has appeared under aliases such as Lily C, Natalie E, and Guerlain. This playful babe likes to pose, tease, strip, and fool around with other young beauties in erotic and softcore lesbian videos. Yeah, nothing hardcore or brutal.
With that in mind, her sensual scenes available on MetArt.com.
#1 Elsa Jean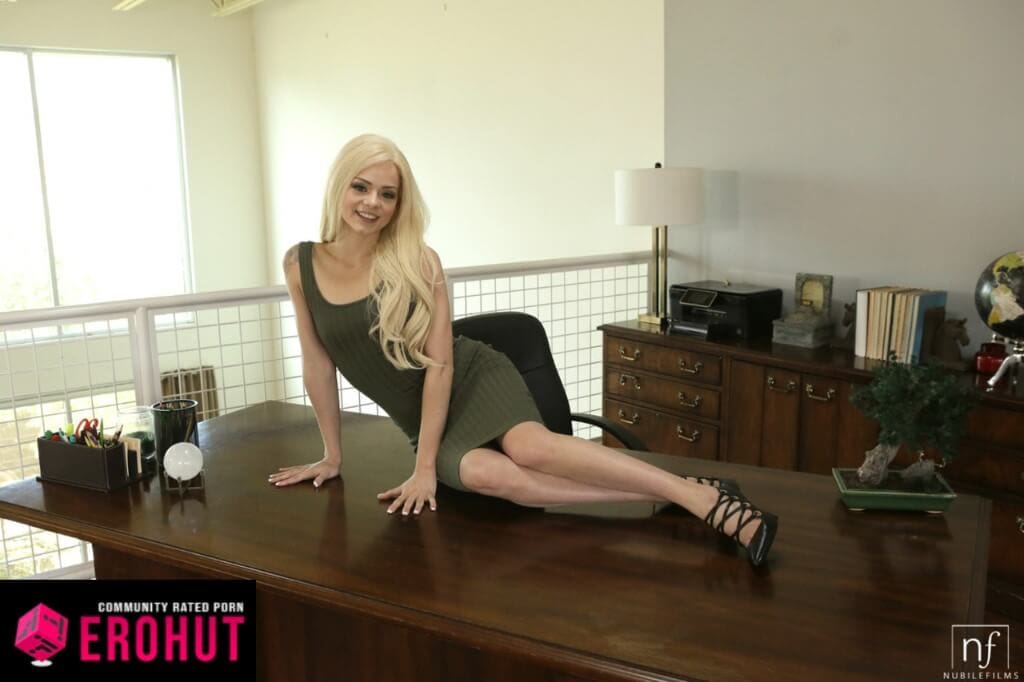 This little blonde pornstar with glasses is none other than Elsa Jean. Her platinum blonde hair, petite figure, and little boobs have propelled her into porn stardom. For sure, the combination of utter cuteness and big cocks also played a role in her success.
You can catch Elsa wearing specs in a few scenes. Basically, looking even more exciting because of them. Find her on our favorite site of them all, Mofos.com.