Instead of posting just a single picture of every celebrity nude, here's something extraordinary. How about we pick some of the hottest celebs out there who did sex scenes or had their privates revealed and then did a whole gallery? See? You can't jerk off to a single pussy picture. So here are all the celebrity nudes that we have for you today.
Penelope Cruz Nudes
Spanish enchantress Penelope Cruz broke into the mainstream in 2001 when she starred alongside fellow actor Tom Cruz inVanilla Sky. Until then, this busty 44-year-old mainly was known to Spanish and European audiences through her roles in Pedro Almodovar movies. However, this dark-eyed beauty always liked to show off her body. So much, in fact, that it warrants a top list of Penelope Cruz nude scenes.
With so many to choose from, we'll mention only our five favorite ones. However, you can visit Mr. Skin and check out all of her sexy photos and sex scenes from various movies and TV shows. Let's begin.
Open Your Eyes (1997)
Open Your Eyes, also known as Abre Los Ojos, is a great place to start if you want to see Penelope Cruz's boobs. In this drama/mystery, she drops her white lingerie, straddles her lover, and bounces on his cock while showing off her yummy natural tits POV.
Vanilla Sky (2001)
If you've only watched one Penelope Cruz movie, chances are it's Vanilla Sky. In this remake of Open Your Eyes, she plays the same role, but her sex scene with Tom Cruz is much more sensual. They kiss, roll around in bed, caress each other, and indulge in some pillow talk.
Elegy (2008)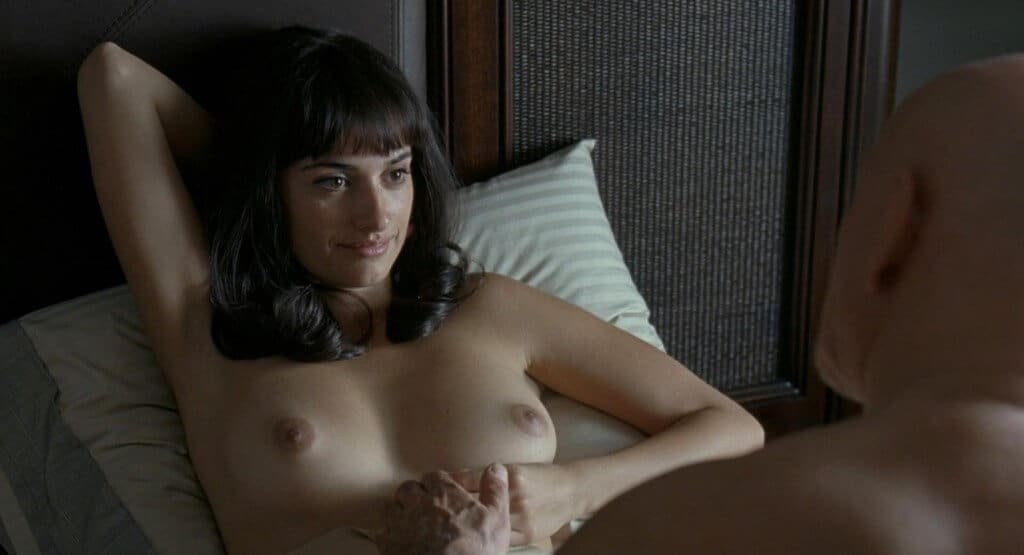 As far as Penelope Cruz's nude scenes go, Elegy is a bit of a goldmine. The plot revolves around a womanizing college professor who can't decide between two female students, one played by Penelope. This movie has slow, juicy sex, lots of topless shots, and a nice view of Penelope Cruz's ass.
Broken Embraces (2009)
Returning to work with Pedro Almodovar for the fourth time, Penelope Cruz plays the young mistress of a millionaire financier in Broken Embraces. As you could expect, she shows off quite a bit of skin. This movie has Penelope in a bra, topless, and having some hot, passionate sex.
Jamón, Jamón (1992)
When you put all her films together, none have better nude and sex scenes with Penelope Cruz than Jamón, Jamón. In this comedy/drama, working-class Cruz falls in love with the son of a factory owner. The disapproving mother schemes to get rid of Penelope, and in the meantime, we get to see tits, ass, boob licking, and fucking,
Jennifer Lopez Nudes
Despite her 55th birthday next year, Jennifer Lopez looks as hot as ever. Just yesterday, the dancer, singer, actress, and producer posted an impressive photo on her Instagram< account showing off her muscular arms and athletic physique.
Her residency and 15-show contract are almost at the Las Vegas Planet Hollywood. Thanks to regular workouts, J Lo is coming out on top despite a grueling schedule. As a result, she says that she's in the best shape of her life. After seeing her in this tight red dress, wouldn't you agree? Now, the good news: there's more where that came from. After reviewing her recent Instagram posts, we want to share a few jaw-dropping photos. Take a look:
If you've been following our blog, you know how much we love leggings and yoga pants.
You didn't think we would miss a chance to show you J Los butt, did you? Not many men get to sit down for dinner with a beauty like this. Yes, her age shows a bit, but who wouldn't bang Jennifer Lopez after seeing this photo?
We hope she did some jumping jacks in that slutty little top. And those celebrity pokies are finger-licking good.
Hot and sweaty after a workout in the gym, J Lo must be smelling yummy here. We know pornstars can look drastically different with and without makeup, but Jennifer Lopez is on another level. We'd venture to say that she's even more beautiful when she's ready to jump into bed. What do you think?
Carmen Electra Nudes
Just a week ago, former Baywatch babe Carmen Electra offered a juicy surprise to all her Instagram followers. Collaborating with photographer Eli Russel Linnetz, she produced a stunning set of racy and naked photos. Having taken a good look at them, we can say that they prove this 46-year-old still has a breathtaking body. Check out these all-new Carmen Electra nudes below. Even though they look a bit retro, trust us, they're hot off the press.
In a costume similar to Wonder Woman, Carmen kicks off the shoot and poses on a motorbike. Unfortunately, Instagram is strict on nudity. However, just seeing her ass bare like that with knee-high leather heels is enough to get us drooling. Slim legs and a tight body make you wonder how Carmen stays in such good shape.
Laid out like this on purple silk sheets, she can give any pornstar or sexy model a run for their money.
Thanks to her silky and toned figure, any man could have hours of fun with his fingers or tongue and Carmen Electra.
Her boobs look so big and firm, don't they? Giving her a titty fucking would be a dream come true for most guys.
Kicking it up a notch, she squirms and caresses her body in this incredibly sensual photo, which ends the batch of new Carmen Electra nudes.
We don't want to leave you high and dry, so here are a few of her hottest pictures on Instagram. After all, who can have enough of this incredible MILF?
We don't know about you, but we just remembered about Carmen Electra. However, after seeing these sexy pics and nude photos, we'll be keeping an eye out for her, that's for sure.
Elizabeth Hurley Nudes
Some of you probably haven't seen Elizabeth Hurley since the days of movies like Austin Powers (1997) and Bedazzled (2000). If you remember her from that period, you know she was a ten out of ten,  but it seems like she's only gotten better with age.
Even though she's pushing 53, Liz Hurley is as hot as ever in our eyes and a gorgeous MILF to boot. If you don't believe us, check out what she's been doing this summer through her hot Instagram posts. Her feed is filled with hot snaps of her in swimsuits and bikinis from her swimwear line.
Hurley has always had nice tits, but these twins aren't God's creation. Her amazing beach body results from a few tummy tucks, a pair of breast implants, and, of course, lots of sessions in the gym. One thing we also noticed when checking out these sexy Elizabeth Hurley photos was her silky and toned legs. They look incredible. In this picture, Liz showed off her tight but mature body by wearing a two-piece swimsuit. Trading her for two 25-year-olds would not be an easy decision.
Now she's just showing off, but her silky skin matches the silky pink nightgown barely covering her body and gives us a great view of her cleavage
Take notice, ladies; this is how you keep your ass tight but remember to push your hips up even higher.
This GIF is almost better than any photo we've seen. Look at those hips moving. They make us want to rip her bathing suit off.
We'd love to dive in with her and see what's happening below the surface. If you thought Elizabeth Hurley would flash her tits, you don't know what a tease she is.
If she was dancing barefoot, the after-party must have been even better. Once again, her big tits are just mesmerizing. Here's a kiss goodbye.
Since these photos will fire you up, we won't leave you high and dry. You can also check out some of the best GILF pornstars.
Kendall Jenner Nudes
Reality TV celebrity, Instagram star, and model Kendall Jenner make a living by teasing us with her young body. However, she's never shown as much skin as she does in these naked beach photos captured by famed fashion photographer Russell James. His new limited-edition book "Angels" shows the 22-year-old Kendall Jenner naked like never before. Here are ten of the best photos from the book:
Despite an overcast sky, Kendall perks us with her bare body from the get-go and brings her pony along for the ride.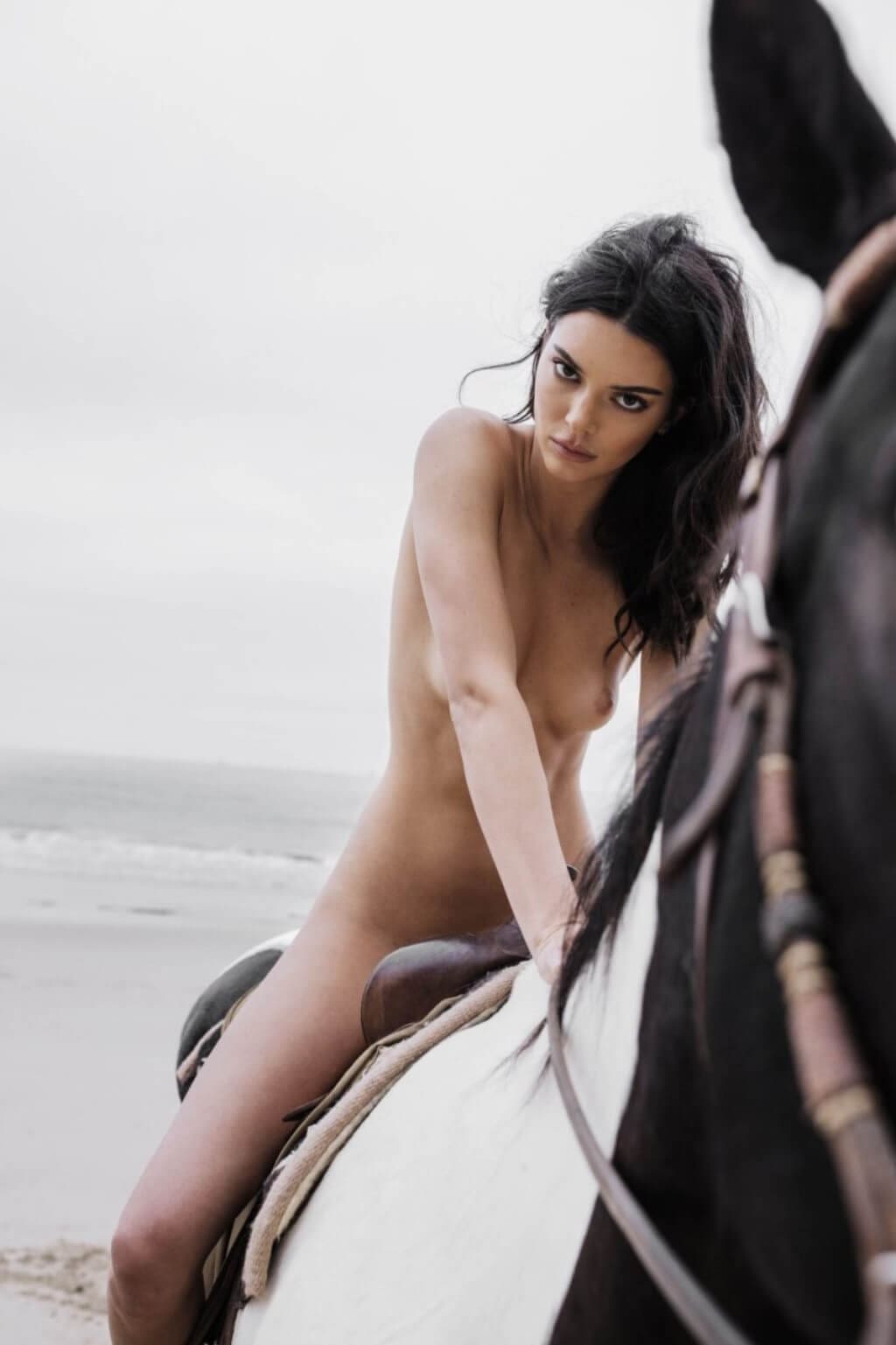 If there's anything better than a young beauty riding bareback, we'd like to know. Seeing the breeze carry her hair makes this sight even more sensual and erotic.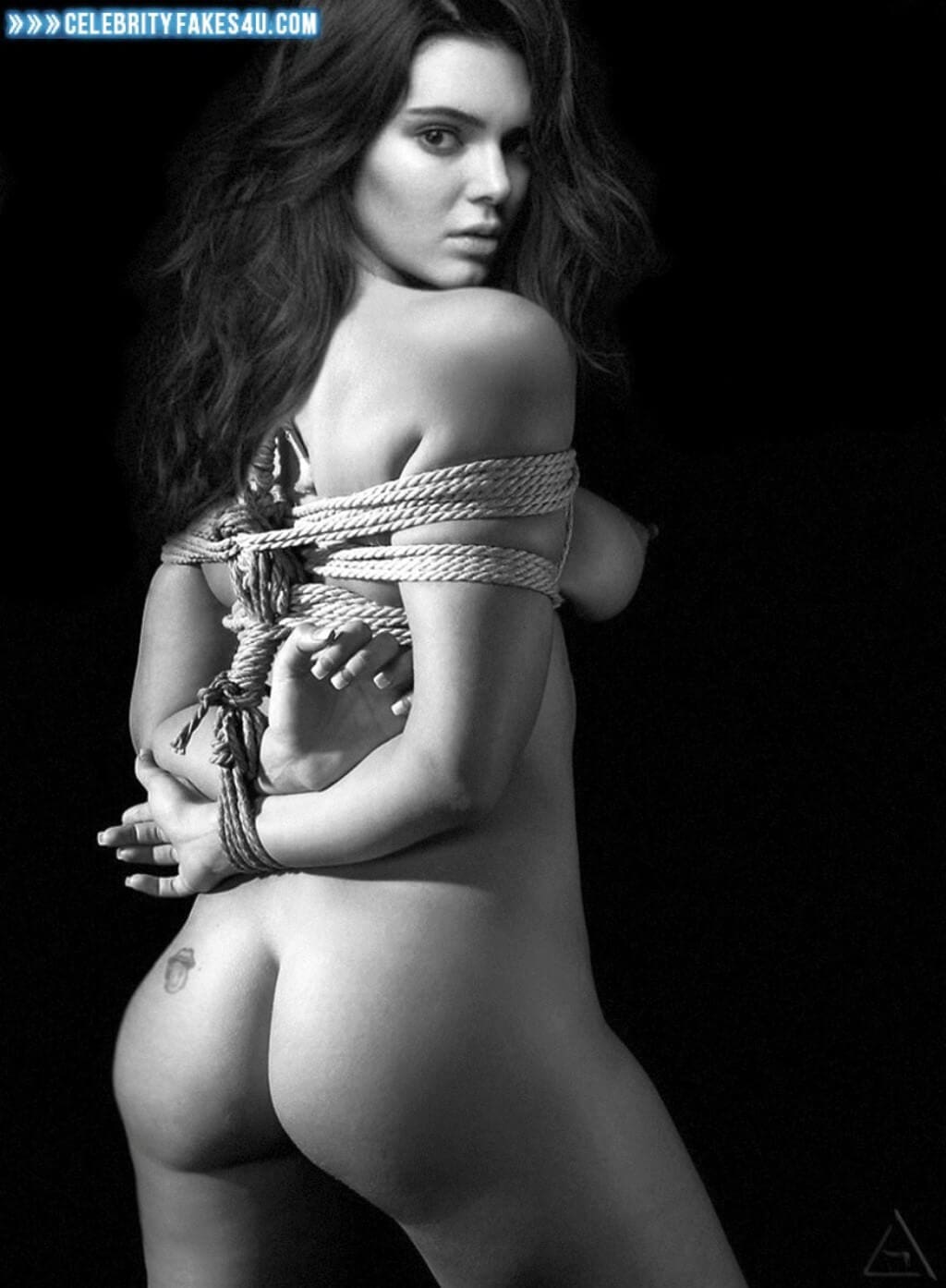 But, let's be honest, a little sideboob, especially when you're looking at Kendall Jenner nude, doesn't hurt. Also, this angle captures her peach-sized tits perfectly; we'd love to come up from behind and cup them in our hands, wouldn't we?
It seems as though Kendall is practicing her 100-yard dash for when she gets ambushed by the Paparazzi.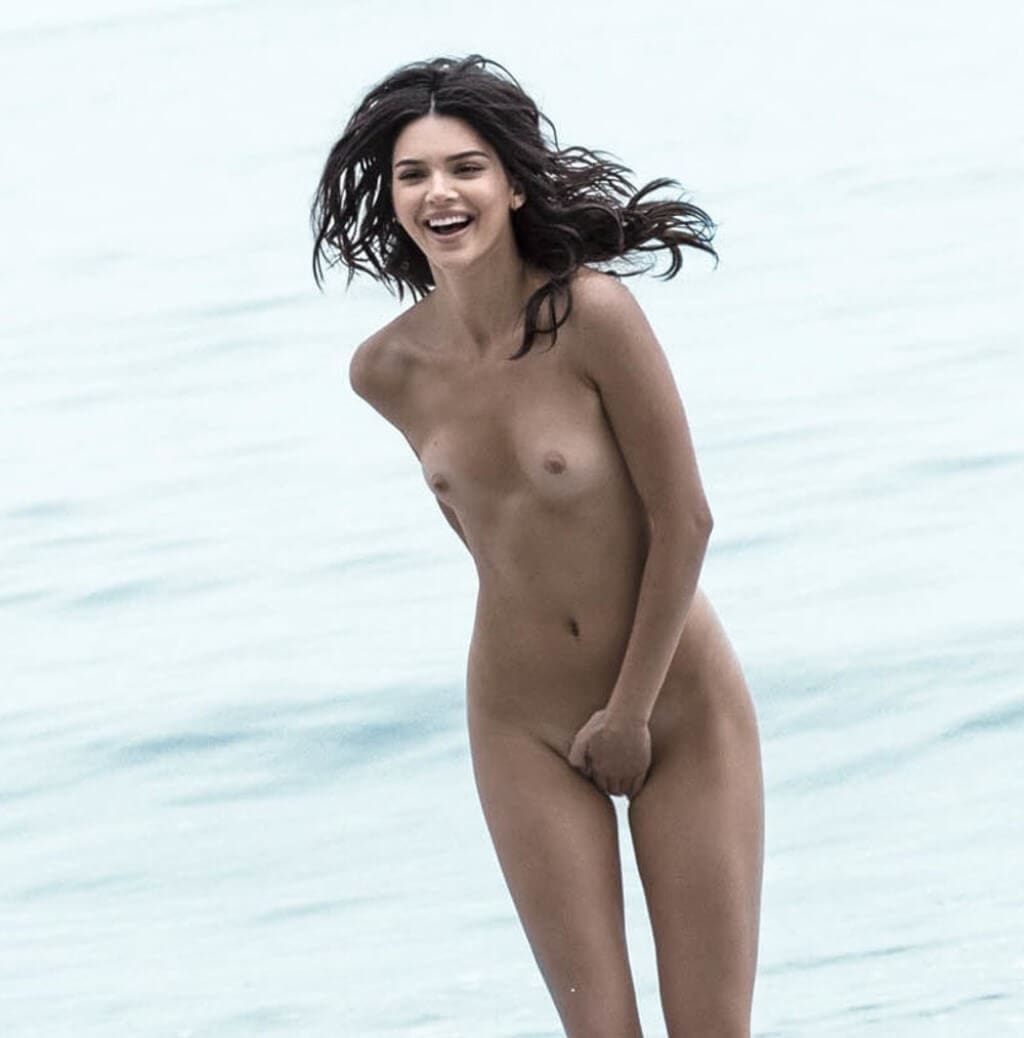 Now, this is more like it. Although Kendall's shown off her behind in bikinis and tight outfits before, nothing beats a yummy little au naturel ass. Is there a man on the face of the earth who wouldn't follow her in?
The blues and greys in the photos hint that the weather was chilly, but we weren't sure until we saw this expression on her face.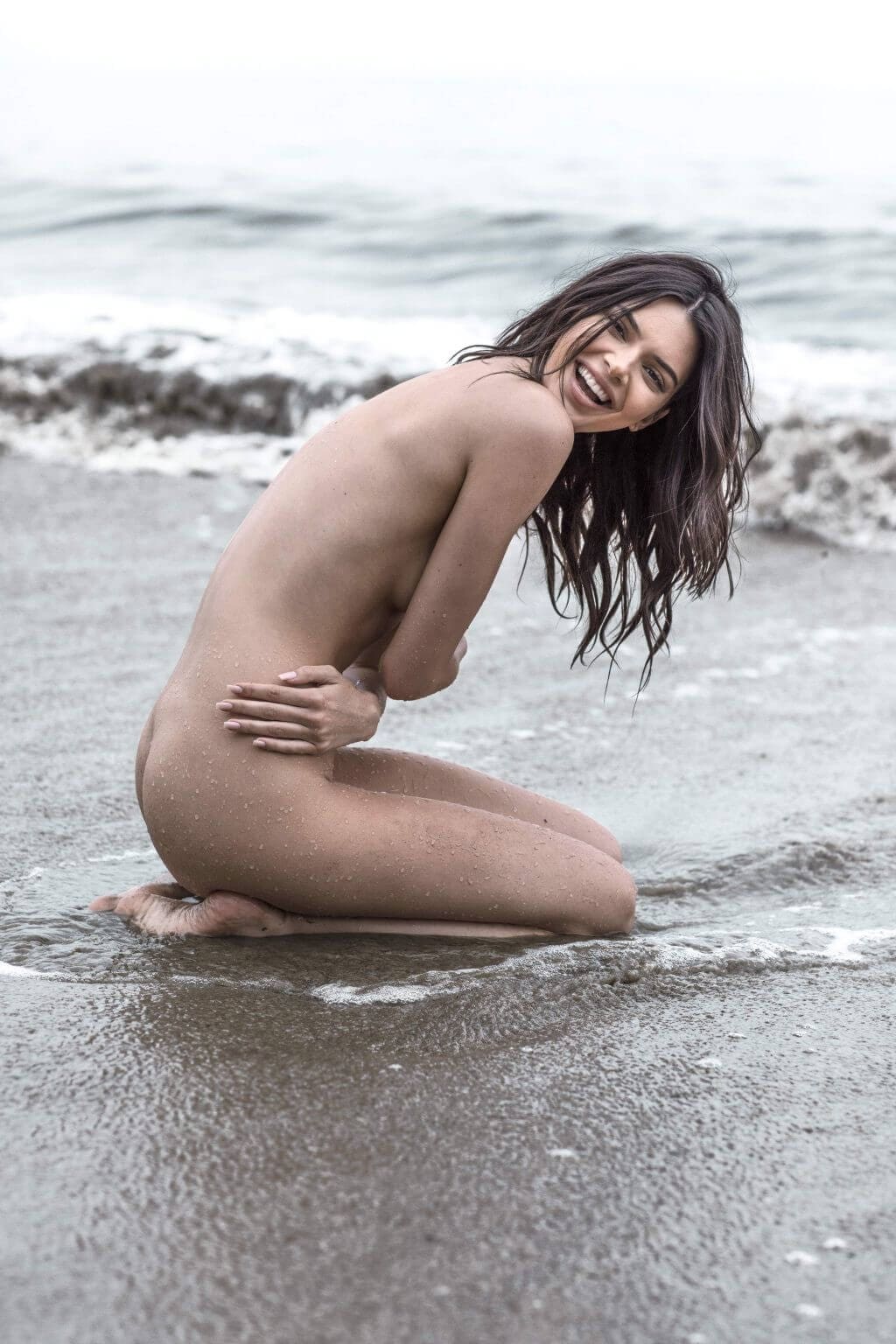 At least she doesn't have to deal with shrinkage. The worst that could happen is that her little tits perk up even more and that her nipples turn hard which wouldn't be so bad, would it?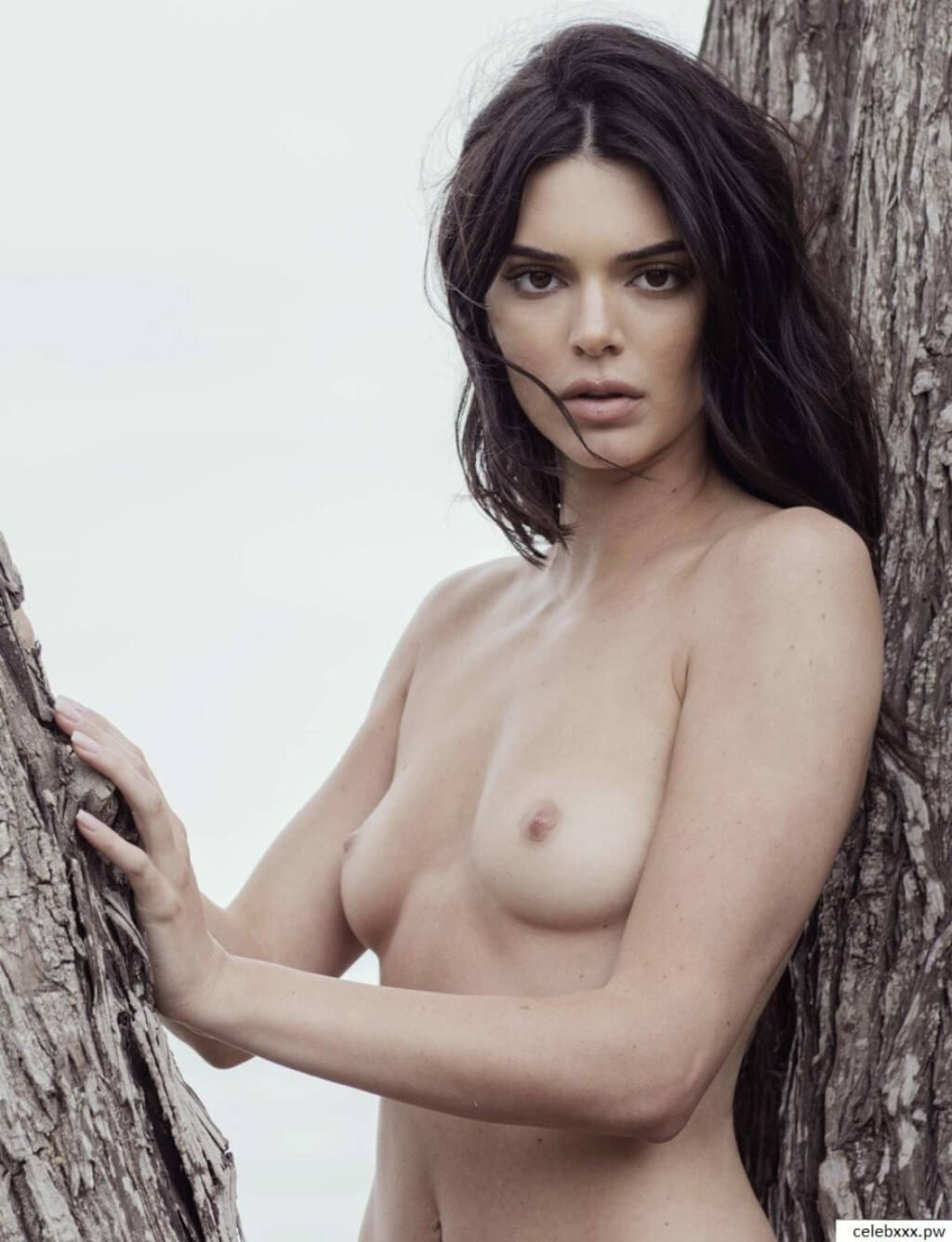 She came out just as quickly as she jumped in but, unfortunately, covered what we all wanted to see – her pussy.
R-rated Little Mermaid anyone? Kendall Jenner, nude and covered with seaweed, might be the hottest thing we've seen lately. It makes us want to order some sushi.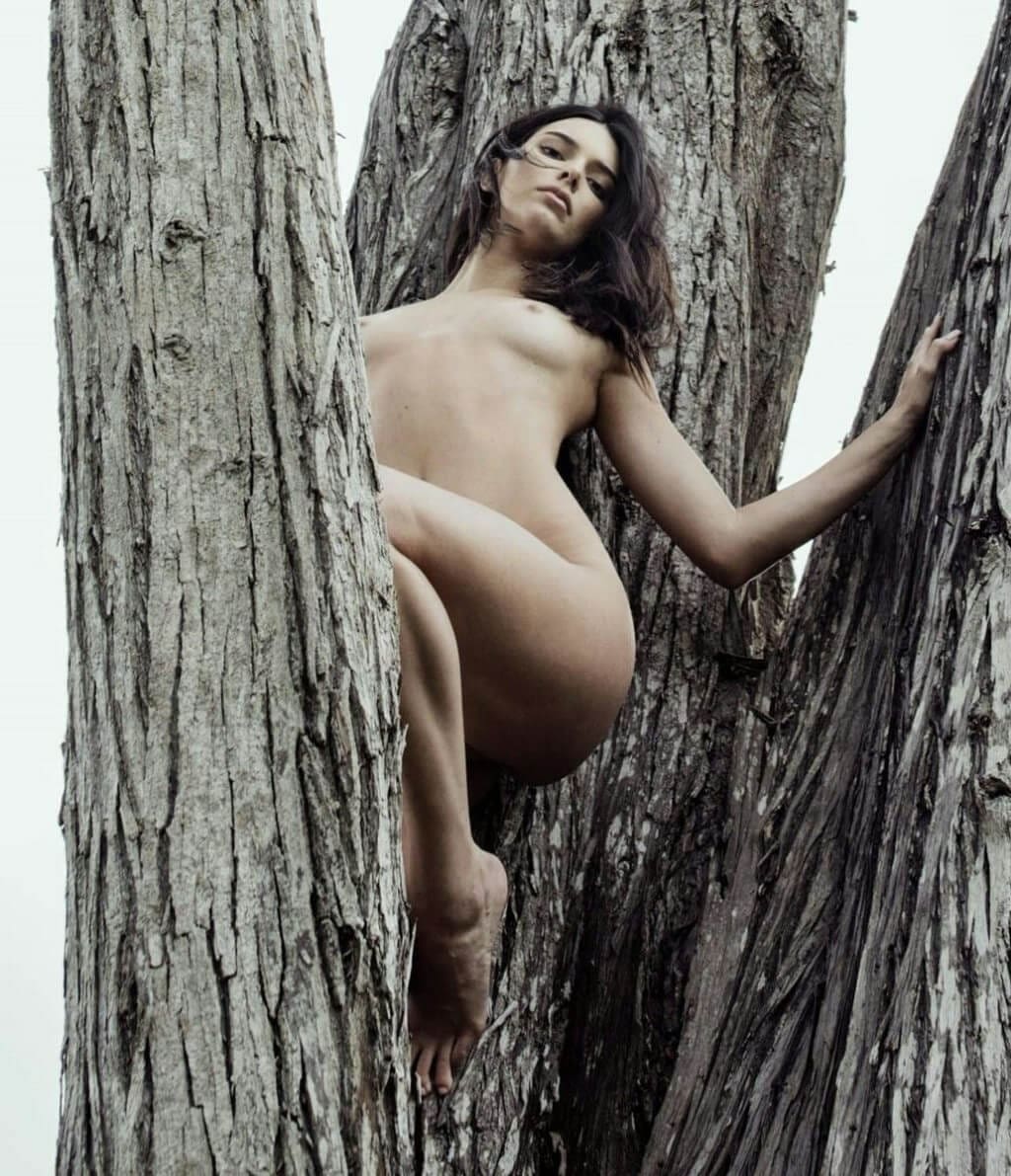 Well, this is just excruciating, but you weren't expecting her to show it all, did you? For that, we might have to wait for a sex tape.
If you're in the mood for more sexy photos instead of porn, then check out the hottest female athletes, or perhaps sexy female fans from the World Cup.
Marisa Papen Nudes
Young Belgian model Marisa Papen travels the world and snaps daring photos with the help of various photographers. Her work has led her to places like Venice Beach, New York, and Jamaica.
Each time, she defies public nudity laws and sometimes even causes an uproar. For example, her nude sunbathing pictures on a building roof overlooking the Western Wall in Jerusalem, which you can check out archives.
But let's get back to the Cote d'Azur on the French Riviera and take a look at how she spent a few days in this famously glamorous beach resort.
Starting with a swim, Marisa Papen lets locals check out her golden, sunbathed body early in the morning.
Right after taking a dip, it was time for a noon coffee in "Senequier," a seaside cafe where people park their yachts instead of their cars.
Speaking of cars, she and her photographer rented out a classic car during their stay. We're glad they took advantage of the incredible view.
At 26 and all-natural, Marisa Papen couldn't be any hotter. Just look at those perky tits! Aren't they incredible?
Fearless in her quest for naked freedom, she flashes and dashes on busy streets.
A while later, someone forgot to fill the tank with gas. It doesn't matter; it's another photo opportunity.
Rising at the crack of dawn the next day, Marisa Papen sneaks onto a private yacht, takes a shower, and takes a dip in the ocean.
Quite the sight. She looks like a circus acrobat ready for death-defying tricks.
It was time to dry off with the sun setting and bringing her weekend to a close.
A farewell picture gives us a glimpse of Marisa Papen from the rear and lets us revel in her yummy behind while she rides the merry-go-round. And if you're in the mood for more sexy girls, check out some of the hottest Instagram models.
Bettie Page Nudes
American model Bettie Mae Page made a name for herself in the 1950s thanks to a long line of pin-up photos and nudes. If you're a porn omnivore like we are, you've undoubtedly run into this blue-eyed and all-natural brunette hottie before. Even though most Bettie Page videos and photos are black and white, we're sure nobody minds. However, seeing this vintage babe in color is something else entirely. Check some of her best color pictures out:
Those Bettie Page bangs are iconic, and her body is beautiful, especially in comparison to the fake plastic pornstars of today. Foot fetish lovers will surely notice her soles and feet in this picture. We, on the other hand, don't know what excites us more: her small tits or her ass.
Here's a better view of booty lovers like us. This nude Bettie Page photo makes us want to grab a big old handful of her tight butt. For reference, she was five foot five and a half.
Milky white skin is a big turn-on for many people, including us, but a young sunbathed body like this is hard to resist.
One trend that we're glad is making a comeback is a hairy pussy like this one. Back in the 1950s and 60s, you couldn't expect anything else. Bettie Page rocked an inviting bush made for a pussy buffet.
Sometimes, colorizing black and white photos can mess things up, but this picture shows Bettie's sparkling blue eyes in all of their glory. However, despite their small size, we cannot help but gravitate toward her little tits.
Anyone whose appetite has opened up after this can check miss Page out on MrSkin. After all, she was one of the very first Playmates of the Month back in January of 1955.